Taking a Chance and Finding a Dream Job: Meet Kati, Ride & Show Technician
From performing preventative maintenance and repairs throughout the day to working on the audio-animatronic figures to ensure show quality, every day is different in Facilities Operations Services. Meet Kati, a Ride & Show Technician at Walt Disney World® Resort!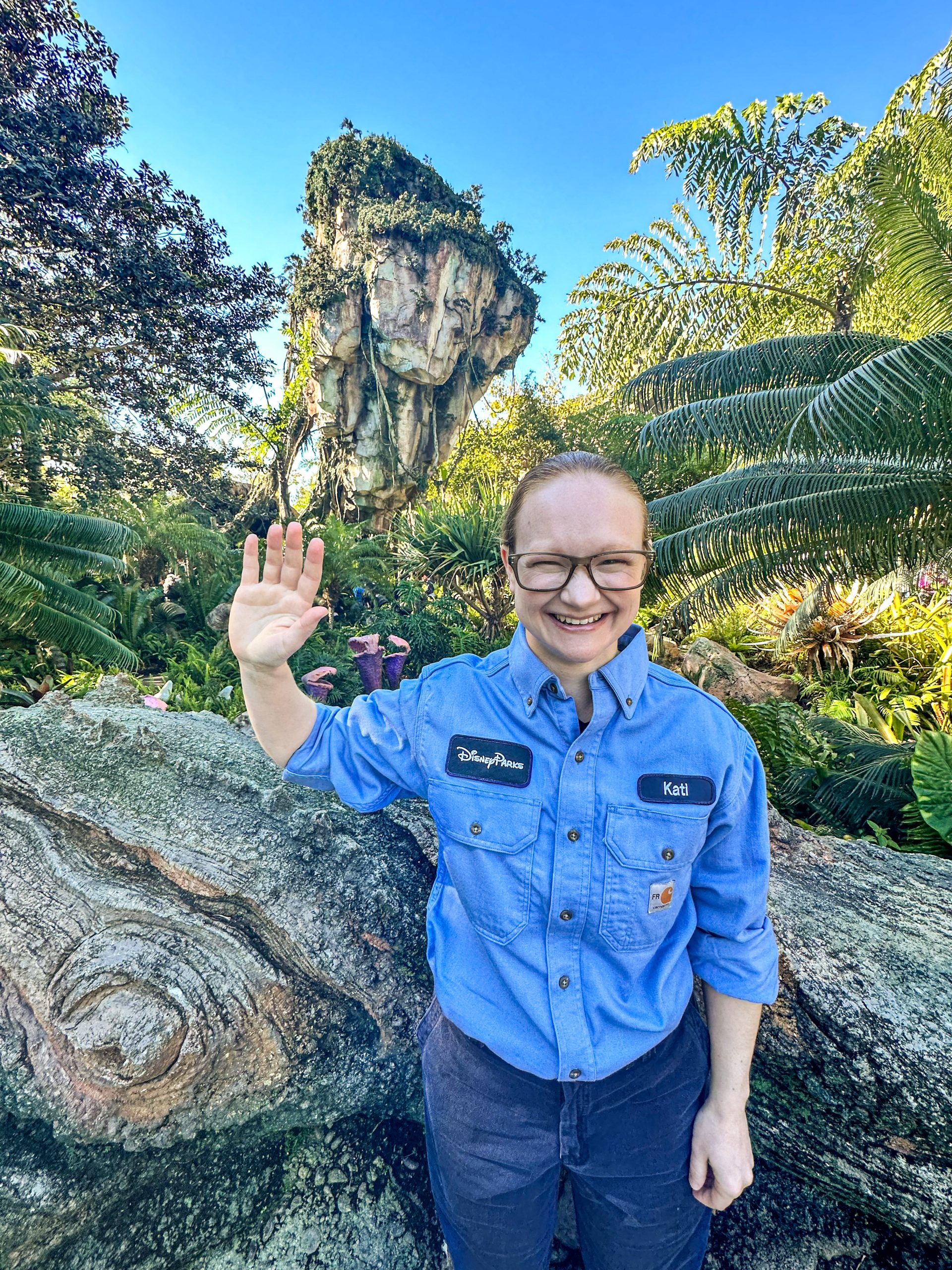 "We maintain the magic. By fixing things that break and doing preventative checks, we keep the attractions operational and functioning at their highest quality," said Kati. "Maintaining the small details helps separate a regular attraction from an immersive attraction, which we pride ourselves in at Disney. Our attractions remove guests from their day-to-day reality and immerse them into a different reality where anything can be possible."
Growing up in Central Florida, Kati came to Walt Disney World regularly and had family friends who worked for the company.
"I chose to work for Disney because I wanted to do something different. I remember feeling the magic and when it came time to find a summer job, Disney was the first place I applied."
Kati's career with Disney has spanned several roles and lines of business beginning on the Parking team at Disney's Hollywood Studios 12 years ago. While finishing her degree, Kati continued to grow her experience at Disney including roles in Attractions, being on the opening team for Pandora – The World of Avatar, training new cast members and being on the Test & Adjust team for Mickey & Minnie's Runaway Railway. From there she applied and was accepted to the Electrical Apprenticeship Program, a development program where technicians learn on the job, rotating locations throughout theme parks and resorts to become well-rounded professionals in their trade.
"In my current role, I think the most magical moment is going unnoticed. Guests notice if something is off or broken, so ensuring that nothing removes them from the story is key to creating the most magical vacation for our guests."
Regardless of her role or location, Kati has always valued the supportive camaraderie she has found with her fellow cast members.
"Every location I have worked at throughout my career, I have had a great team of cast members to work with. My current team is no different. The cast I work with will help you when you need help, even if it isn't work-related. We treat each other like family. Everyone comes from different backgrounds. Some people have worked in the trade for years and some are brand new. But we have each other's backs any day of the week. If you don't know how to do something, everyone is willing to teach you."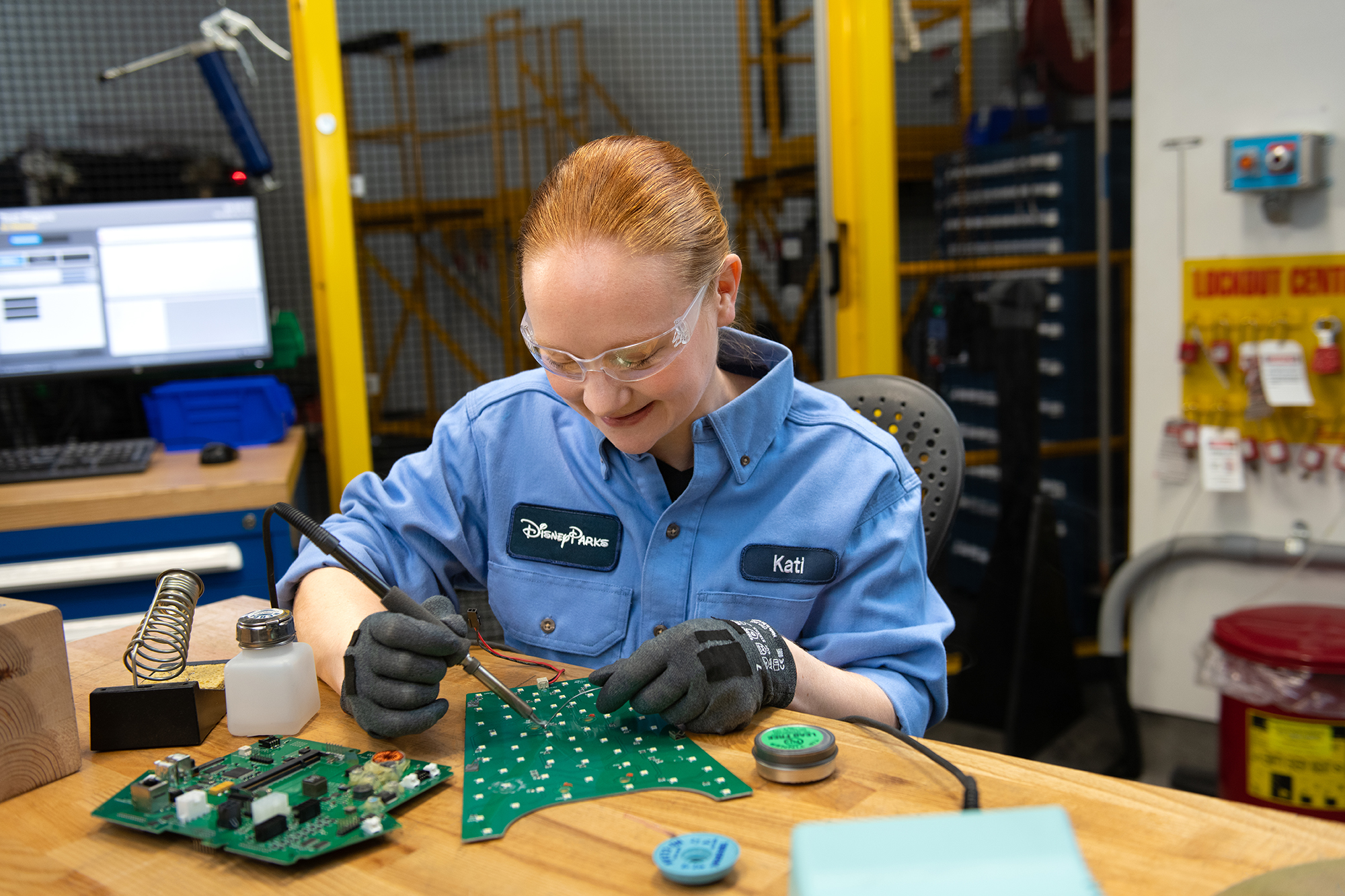 One of the most fulfilling parts of Kati's role is when she and her team are finally able to find a solution to a challenge and see an element working again.
"One of my favorite moments from the Animal Kingdom Lighting crew was when we got the model train running again in the Chester and Hester's gift shop. It had been neglected for a while and wasn't operational. But once we got it working again, guests were noticing and commenting about it on social media. Cast members from all lines of business were coming to watch it run again. It's one of the small details that you don't realize makes a big impact until something like that happens."
As Kati has continued her professional development through the apprenticeship program, she has set her eyes on the future hoping to incorporate her passion for training and become a journeyman where she can help new apprentices learn the attraction and make sure they feel welcome on the team.
"Inclusion is something I have always felt at Disney. I came into my role as what some may call a non-traditional worker with no electrical experience, and I feel like I can hold my own after going through the apprenticeship and having the amazing journeymen that I have had. As a female in a male-dominated trade, I have always felt included. I have never had an experience of anyone talking down to me or thinking that I can't do something. Everyone I have worked with in my Engineering Services experience has been willing to teach me and show me the skills I need to perform my job. I think the addition of the Inclusion Key was just embodying something that we already had implemented."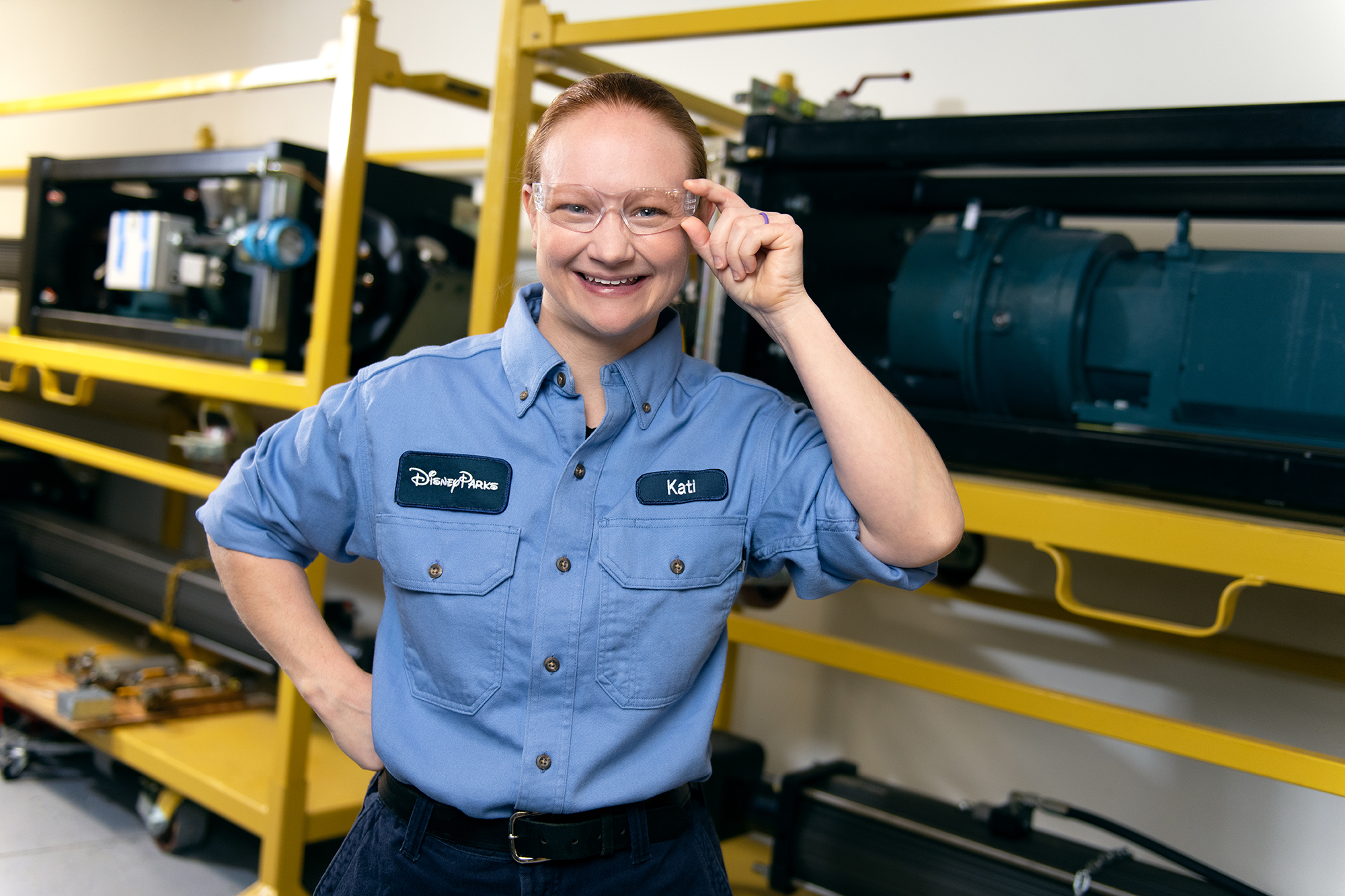 To anyone considering applying to a role at Disney, Kati shared this advice:
"The reason I have stayed with Disney so long is that there are so many opportunities available to me. Disney is a company that develops its employees and seeks to help you accomplish your goals. I started in one line of business and learned about my current role through another cast member. It was a role I never thought about doing before, and I am loving every minute of it. So, take the chance. You may find your dream job in a place you never thought to look."
Explore the possibilities of a role at Walt Disney World! Click here to view available opportunities.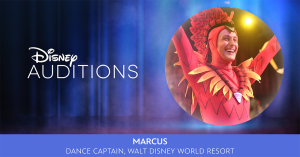 Since he was eight years old, Walt Disney World Resort cast member Marcus Boyle knew he would be a dancer.…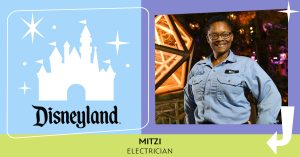 As the last guests are exiting the parks after an unforgettable day of experiencing state-of-the-art attractions known around the world,…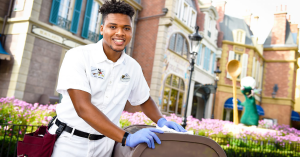 As a Custodial Host at EPCOT, Demetrius ensures the magic of Disney shines through for guests by maintaining the cleanliness and beauty of the park, but his role is much more than sweeping the sidewalks or wiping down trash cans.