Discovering Community and Camaraderie in Custodial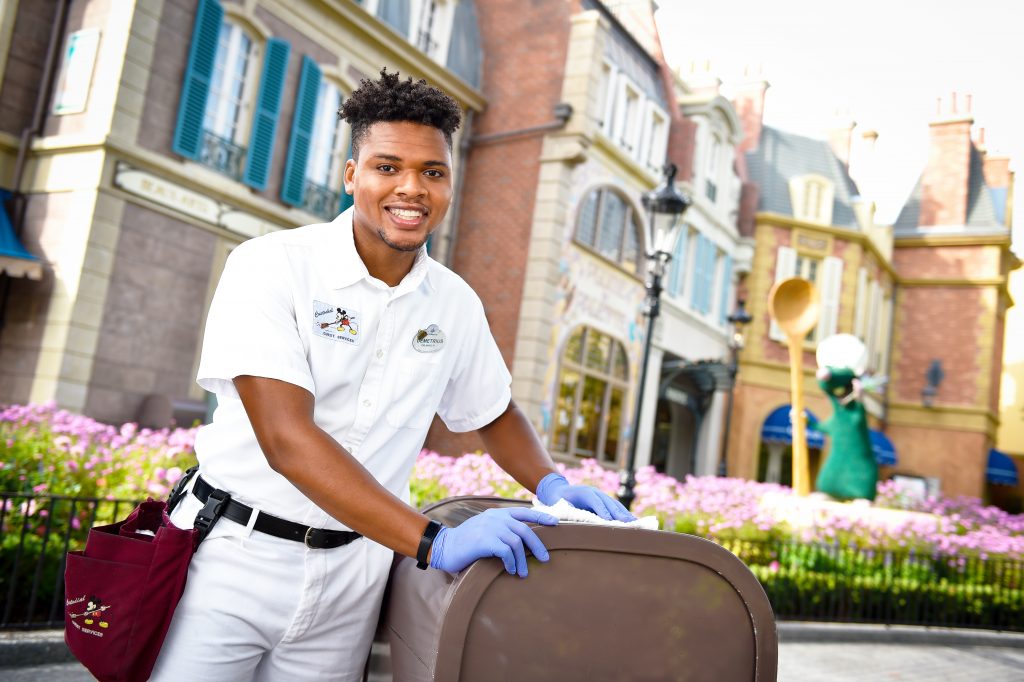 As a Custodial Host at EPCOT, Demetrius ensures the magic of Disney shines through for guests by maintaining the cleanliness and beauty of the park, but his role is much more than sweeping the sidewalks or wiping down trash cans. He and his fellow custodial cast members deliver exceptional guest service throughout the park assisting guests in finding their next attraction, providing recommendations for places to eat, or even pointing out hidden Mickeys they can spot nearby.
"The way I make magic in my role is by being able to interact with guests, making them smile, making them laugh," said Demetrius.
Keeping a park as large as EPCOT running at Disney's standards is no easy task, so teamwork is a necessity for our cast members.
"At Disney, it is really a team effort not just for custodians, but for all the cast members," said Demetrius. "With my custodial team, I have really helpful leaders and the coordinators. They are all really nice people. If you ever need anything, they are always there to help you right on call."

The camaraderie among the cast carries over to their backstage environment as well, with celebrations recognizing their work such as Custodial Appreciation Day or cultural events that help cast learn more about their coworkers' traditions such as Haitian Flag Day, Día de Los Muertos, Hannukah, and more!
"You feel welcome as if it's an actual family even though we are not related," said Demetrius.
In addition, as part of the addition of the inclusion key, cast members are empowered to express their cultures and individuality at work from gender-inclusive hairstyles and jewelry to nail styles, costume choices, and appropriate visible tattoos, we know that the cast can provide the best of Disney's legendary guest service when they have more options for personal expression.
"The updates to Disney Look allow people to express their hairstyles, their nail colors, their tattoos and I feel it's just a really big way to express yourself personally," said Demetrius.
Of course, cast members also enjoy a variety of great perks and benefits based on their role including complimentary theme park admission, tuition assistance, childcare support, and healthcare coverage.
"For me, the benefit that sticks out most is the 10 free sessions of mental health counseling," said Demetrius. "I feel as though it is really important that people are able to get help for their mental health and it goes a long way."
Discover where a role at Walt Disney World Resort could take you, click here to learn more.
by Disney Career Recruitment