Disney Cruise Line's Specialty Dining Team Brings Culinary Skills and Exceptional Service to the (Dinner) Table
Whether delighting in delectable French-inspired cuisine at Remy or sipping champagne over brunch at Palo, Disney Cruise Line's specialty dining experiences create memories guests will never forget.
But who creates these amazing experiences? A dedicated fine dining team composed of executive chefs, chefs de rang, chefs de parties, and many more bring their skills, talent, and proficiency to our luxury dining onboard. From Michelin-starred chefs with decades of knowledge to demi chefs de rang looking to advance their careers, this team comes together to provide exceptional guest service, and of course, create Disney magic.
Recently, we reached out across the waves to ask several of these crew members about their roles, what it's like to work onboard, and why they want to continue to make magic with Disney Cruise Line.
For Max, an executive chef at Remy on board the Disney Dream, his Disney career began in 2007 as a pâtissier in the French Pavilion at Epcot while on a Disney International Program. He continued with his culinary career after that program, gaining experience and working with different chefs, until he was promoted into his current position at Remy.
"Remy is a very unique place where we produce food from menus created by our award-winning chefs," Max said. "It is an honor to recreate the plates made by these great minds. Our guests expect the best fine dining food at Remy, and we thrive in delivering them a magical experience."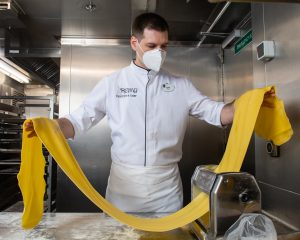 Max preparing to serve memorable meals to guests at Remy onboard the Disney Dream.
In his day-to-day, Max ensures the food and service delivered at Remy are up to the standards of the restaurant's collaborative chefs, Chef Arnaud Lallement from 3 Michelin Star restaurant L'Assiette Champenoise in France and Chef Scott Hunnel from 5 Diamond Award rated Victoria and Albert's in the U.S., along with Disney's guest service standards. "I also take care of the crew working for Remy, especially in the galley, where I will spend a large part of my day," Max said. "I help my team, finding solutions to any challenges that may arise and making sure every step and procedure of safety and health are respected."
Max not only enjoys the responsibilities of his role but life onboard the ship. "Working on the ships isn't easy every day, but it is rewarding," he said. "It's fun and a great experience. It teaches a lot about oneself and definitely makes us grow as individuals. My years with Disney Cruise Line have been full of challenges to overcome but also great times with great teams. It has been a pleasure to meet so many valuable leaders, and to integrate into their team."
Also on the Disney Dream with Max is Angelo, a chef de rang at Remy. He began his Disney career journey in 2013 on an internship at Disneyland Paris. Then, he participated in a Disney International Program in Florida, working at Chef de France, a restaurant in the French Pavilion at Epcot. In 2017, he began his Disney Cruise Line journey as a dining room server, and soon after, was given an opportunity to move into a demi chef de rang position and continued to advance his career to his current role.
"My role is to take care of our guests during their whole experience at Remy," Angelo said. "Making the guests feel welcome with our complimentary champagne cocktail called Colette, introducing our beautiful menu, and giving credit to our very talented chefs, Arnaud Lallememt and Scott Hunnel. I also take orders, serve, and explain the dishes from amuse-bouche to petit four."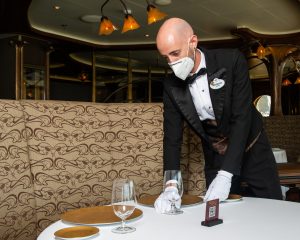 Angelo ensures the dining room is set up beautifully for guests.
"At Remy, we mainly work at dinner time," he continued. "But we do open for brunch and a desert experience on sea days. We also come every morning for maintenance and cleaning duty of our restaurant."
But it's not just the work experience that Angelo enjoys with Disney Cruise Line. "First and foremost, it is our restaurant, which is beautiful! The guests can view the sunset on the ocean while they enjoy a fine dining menu. It is in our china, glassware, and silver. It is our chefs who put all their talent to recreate the vision of Chef Arnaud and Chef Scott. It is in the details – the little details that make all the difference between a regular to a fine dining experience. We work hard to make our guests feel extra special when they are stepping through our door."
So how does one become successful in a fine dining role like Max or Angelo? According to Angelo, it is a passion for your work. "I always say that if you don't have the passion for hospitality, you can't do this job. Having passion is key, and it is more true to work in the specialty of fine dining. If you have the passion, it will show – and the guests will see it. "
It's this passion combined with the memories made onboard that keep them both more than happy to continue to sail the seas with Disney Cruise Line.
"Being part of a crew on board a vessel is like having a second family away from home," Angelo said. "You are building contacts, and you are creating connections with the crew from all around the world. But also you are creating a connection with the guests. And when they are coming back just to spend some time with you and experience your service again, there is no better feeling."
Do you have the skill, talent, and experience to join our Disney Cruise Line fine-dining team? Explore roles and apply today!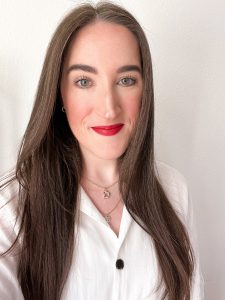 by Brianna G, Senior Communications Specialist