Be Our Guest with Catering Cast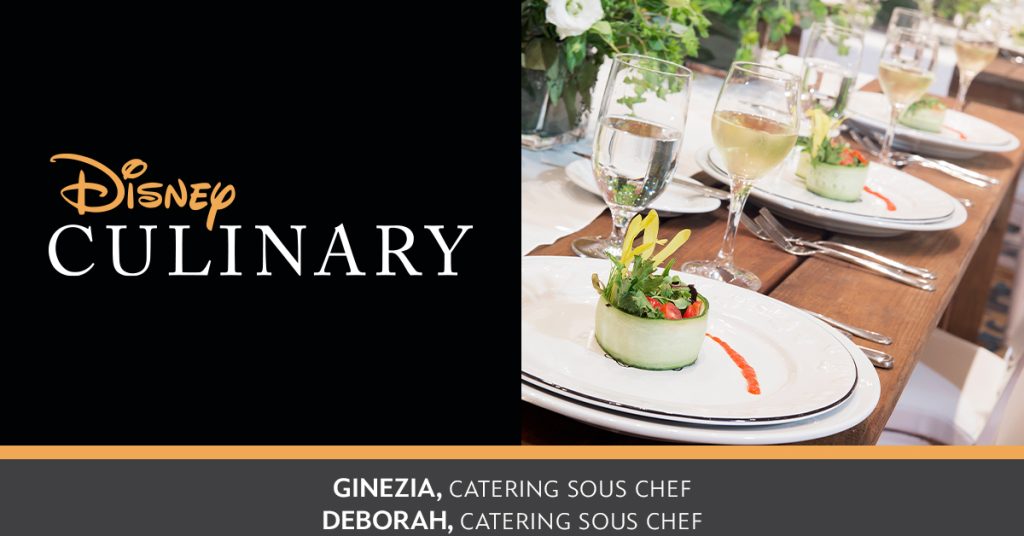 Across Disney properties, there are nearly 600 food and beverage locations. Disney offers a multitude of opportunities for your culinary skills, from pastry and bakery to quick service and more. But, behind the scenes of every conference, wedding and convention at Walt Disney World Resort is the Catering team crafting delectable dining experiences with a uniquely Disney flair. Meet Ginezia (Gina) and Deborah (Deb), two Catering Sous Chefs who help make sure each dish served up at our events exceeds the expectations of our guests.
As a Sous Chef for Global Conventions that welcome guests from near and far, Gina supervises the preparation, creation and presentation of the dishes. Born and raised in Venezuela, Gina began working as a silverware polisher in Florida to help provide for her and her daughter in a new country. She saw firsthand the beautiful food being created for events and began to dream about joining the culinary team behind the magic.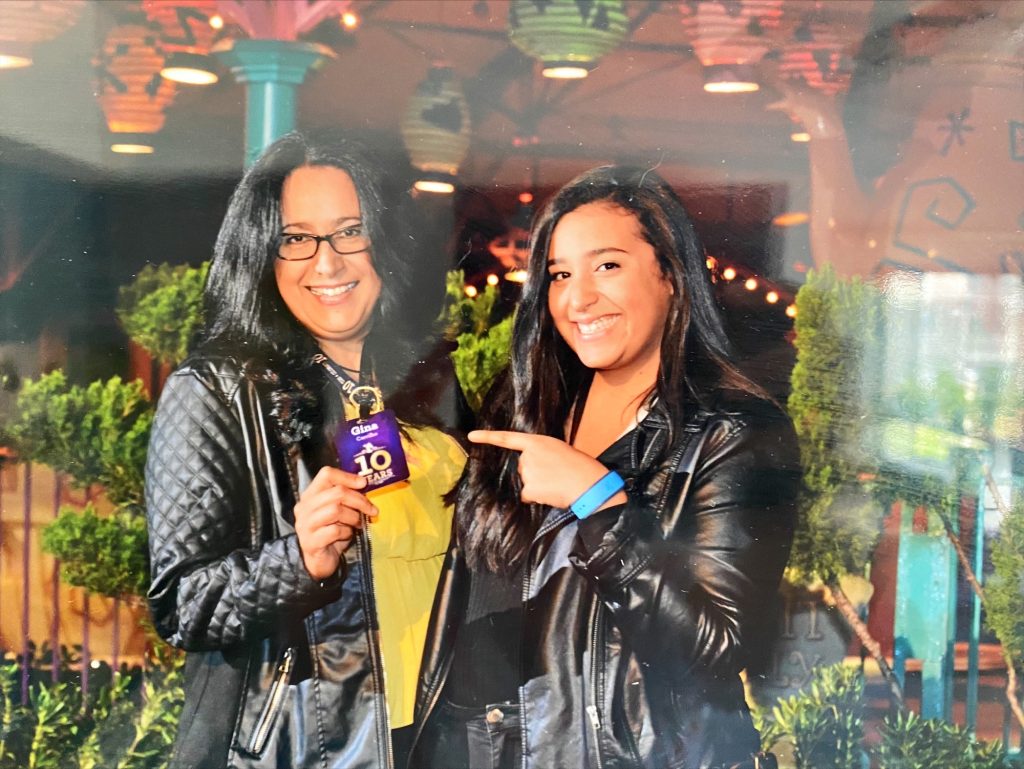 "There were amazing works of art being created every single day and it inspired me to do the same. I slowly started moving up — and I was able to make a lot of beautiful fruit carvings for events and began cooking as much as I could in every single role," said Gina.
Deb, a Sous Chef supporting events in the Magic Kingdom resort region, is responsible for the day-to-day operations for catered events and weddings at Magic Kingdom and its surrounding resorts. During her time as an hourly cast member, Deb grew a fondness for food while working with great chefs from around the world during various festivals at EPCOT.
"I learned so much about the complexity of flavors and presentation, so that environment influenced my culinary skills. It helped me to develop what would be the beginning of my own Chef journey here at Walt Disney World," said Deb.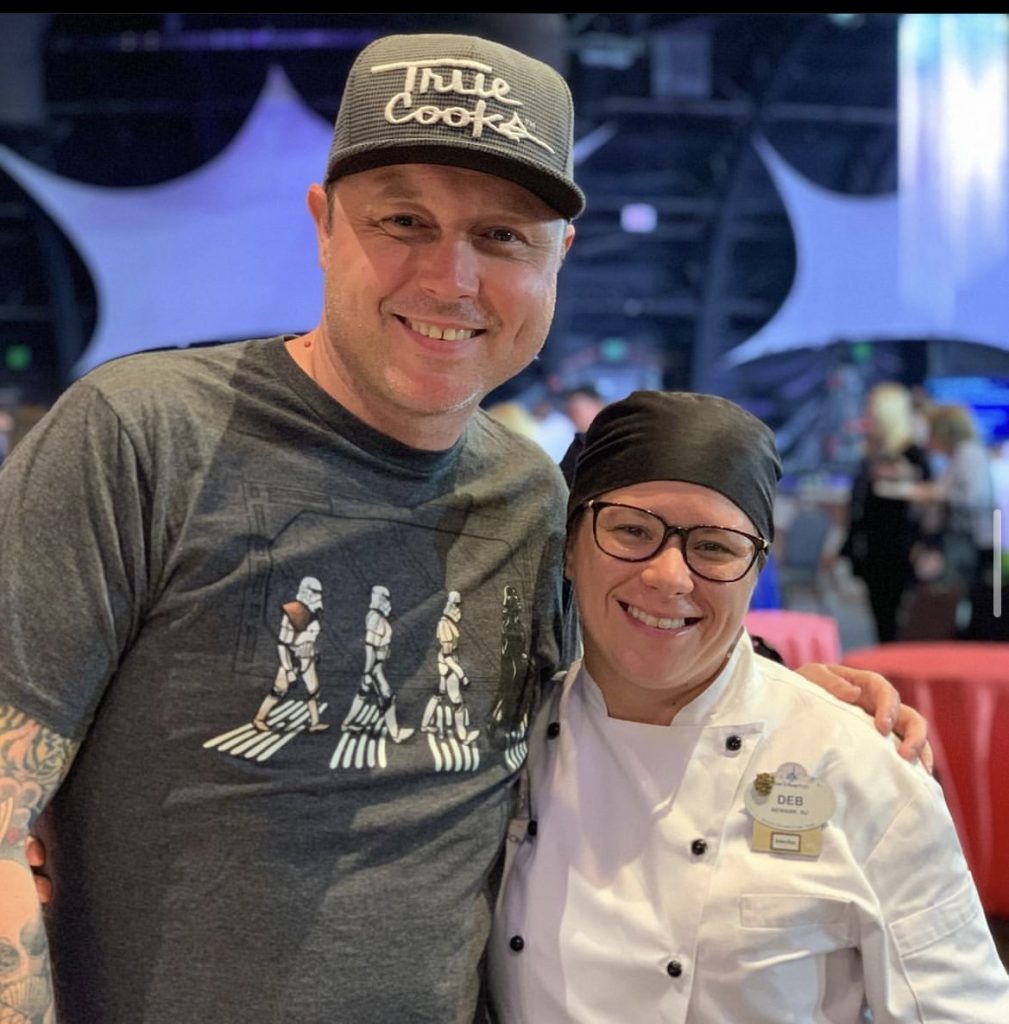 "Executing several events in different locations all in one evening can be very challenging, but the reward is that I get to learn a hundred different methods of how to achieve that goal. This part of my work makes for a significantly well-rounded Chef," said Deb.
Despite the ever-changing environment and pressure that comes with maintaining Disney's reputation for our guests, both Gina and Deb draw inspiration from the final result.
"My favorite part of the day is seeing our team's vision come to life. Knowing that our hard work and dedication was able to create such an infinite moment in the hearts of many of our guests who come to Walt Disney World to experience the magic," said Deb.
For Gina, the satisfaction of a job well done comes at the end of the night.
"Seeing all my events done and what we have all accomplished, and all of a sudden, BOOM! We'll be hit with the satisfaction of knowing we did a great job, and the guests were super happy for all of the work," said Gina.
For potential candidates, Gina and Deb shared their own wisdom and advice to those who might want to pursue a career like theirs.
"At the beginning, I joined Disney out of necessity. I was in a new country with my eight-year-old daughter. I wanted to create a life for her that was full of hope and magic. This job is truly rewarding. My inspiration really comes from loving what I do every single day, so keep pushing yourself to be the best version of you, and don't lose sight of who you are!" said Gina.
"Know that The Walt Disney Company is a company with wonderful traditions and customs, but it is also a company that values new ideas. There is a special place for everyone and anyone that would love to express their art form in each and every way," said Deb.
Click here to explore available opportunities to join our Disney Culinary team!