The Data Behind Every Exceptional Experience – Industrial Engineering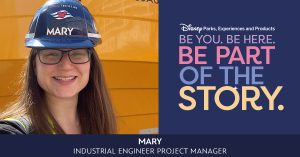 Disney Parks are known for their magical experiences and exceptional operating standards. Our teams of Industrial Engineers work behind-the-scenes with dozens of partners in the operation to ensure seamless visits for guests from around the world. Meet Mary, one of the Industrial Engineering Project Managers behind the magic!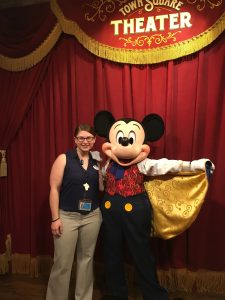 "I use data to understand how the business is performing. Are we maximizing the number of guests that can get on an attraction? Are wait times higher than what we'd like them to be?" said Mary. "We also use data to predict how a new experience may perform. We estimate the expected capacity and demand and balance the two based on our goals for the new operation. Other times, I might observe the operation and work with our partners to identify improvements."
Having been a part of the Industrial Engineering team for ten years, Mary feels the greatest pride when her role allows her to be a part of the magic when developing something new.
"The project that is most significant for me is our newest cruise ship, the Disney Wish," said Mary. "I was in Germany and the Netherlands supporting the building of the Wish and it was such a herculean effort to build such a massive ship."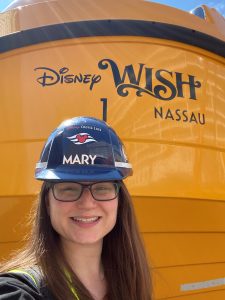 Between balancing limited resources for construction and logistics of the Disney Wish, Industrial Engineers were integral in keeping things on schedule in order to complete the project in a timely manner. "Shipbuilding is a 24/7 operation, especially in the home stretch of delivery! We created tools to optimize loading plans of construction material, furniture and even the trash. It was an orchestrated effort to make sure the vendors, crew, cast members and Imagineers had all the materials they needed to deliver a beautiful ship with everything needed onboard for our Guests to have a magical maiden voyage," said Mary.
Being able to efficiently operate systems and processes is incredibly inspiring for Mary within her role. Not only does she enjoy investigating what could be improved, but she loves being able to enhance the overall Disney experience!
"What excites me about my job is that I get to be a 'data detective.' I look for patterns and opportunities to discover better ways of operating. I love being able to put together the pieces to figure out ways to improve the life of cast, crew and guests! The chance to remove barriers makes both work and play more enjoyable."
Partnering with the rest of the Industrial Engineering team helps Mary gain insight into solving problems in ways she may have approached differently.
"I love seeing the different ways people think about approaching a problem and all of the various lenses and perspectives out there. It is an interesting opportunity to learn something new and understand different motivations and backgrounds, all while working toward a better solution," said Mary.
In addition to collaboration, Mary's favorite aspect about the Industrial Engineering team environment is their close-knit relationships.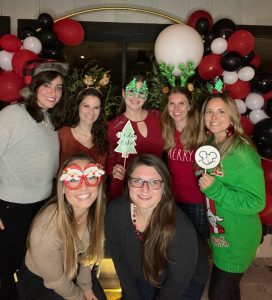 "I've met some of my best friends through the department and I genuinely enjoy working with my team. We have a culture where everyone is willing to help each other out and collaborate if we are challenged with a really difficult problem or something that has never been done before."
Whether it's during work or after hours, the Industrial Engineering team provides a welcoming environment that helps encourage and inspire.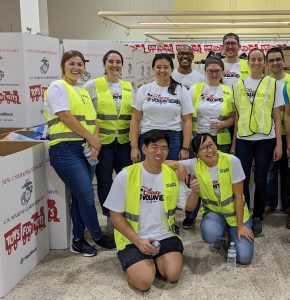 "The team building events are really fun and make me feel closer to others on the team. The culture is very much 'work hard, play hard' which gives a nice balance," said Mary.
When you visit a Disney destination, you may not realize the number of decisions and considerations at play to create the magical result seen. Whether you're experiencing a state-of-the-art new thrill ride or indulging in inventive cuisine, the Industrial Engineering team likely played a role in ensuring your visit went smoothly.
"Industrial Engineers focus on removing barriers, streamlining processes and coordinating logistics to enhance the guest, cast and crew experience. I am proud to help open so many new experiences from the Disney Wish, to Food and Beverage Mobile Ordering, to new Disney Parks experiences like Star Wars: Galaxy's Edge!"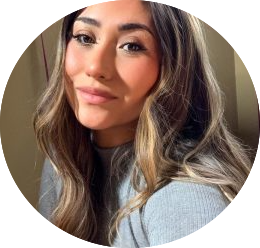 by Ava F., Communications Coordinator