Going Beyond 'The Bare Necessities' of Care with Health Services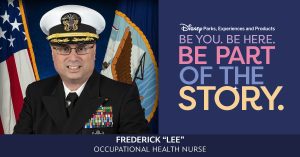 Our cast members are an essential element that make a visit to one of our Disney Parks magical and unforgettable. The cast members that make up our Health Services teams are particularly unique, not only providing care and comfort to our guests but to their fellow cast members as well!
Meet Frederick "Lee," an occupational health nurse who works backstage with our cast members. As a member of the Health Services team at Walt Disney World Resort, and a Registered Nurse, Lee tends to the overall care of cast members to support what they do best – making magic!
"My favorite part of the day is coming to work for my shifts and knowing I make a difference in someone else's day," said Lee.
Lee's career journey started far from Orlando, Florida, first serving 15 years as an electrician — and Senior Navy Explosive Ordnance Disposal Technician Diver, and 21 years as a Naval Nurse Corps Officer before retiring in 2021 from the U.S. Navy as a Commander after 36 total years of service.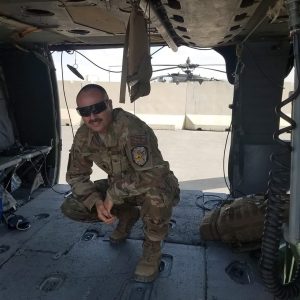 "My foundational nursing background in the Navy was attained through my training as a Medical Surgical and Critical Care Nurse. When we experienced September 11, 2001, the ensuing war saw me further develop into an EnRoute Care Nurse, Critical Care/Trauma Nurse, and Naval Nurse leader with three combat deployments," said Lee.
Because our cast members are at the heart of everything we do, Disney offers exceptional onsite care. Lee, along with the rest of our Health Services team, strives to make a difference in every life they touch.
"Knowing that each and every day I can make a difference, not just for our cast members, but for The Walt Disney Company as well, inspires my work. While I triage work-related injuries, I also provide a whole-person focus to enable our cast members to thrive in their daily lives," said Lee.
Although there are many ups and downs of being in the healthcare field, Lee is able to find great reward within his ability to provide support to those he works with at Disney – both patients and colleagues alike.
"I feel that my many years of leadership experience has provided me with a wealth of knowledge and wisdom. It is important to find and develop not just the eager beavers, but also that diamond in the rough," said Lee. "This allows us to continue to build a steady stream of rising future leaders within The Walt Disney Company."
Lee takes his role as a Registered Nurse within Health Services as a great privilege.
"My role is to sit down with those who I serve and to ask, 'What can I do to help you succeed and thrive?' or 'How can I help you reach your wellbeing goals?' I am here to assist with building them up to succeed," said Lee.
For our Health Services cast members, a desire to help others and forge partnerships across the organization is key to their success.
"The support each of us receives every day is tremendous, and ensures a great work-life balance! From the top down, we all get along and are passionate about what we do."
Lee even let us in on his secret to achieving big dreams: Find your passion and pursue it until you attain it.
"Once you have done that, find the next one, be it in the military or with Disney or somewhere else. When you find it, bloom where you are planted."
So what brought Lee to a career at Walt Disney World? After having immersed himself in the magic of every vacation he took to a Disney Park during his time in the Navy, Lee fondly recalls the bliss and nostalgia during each visit and began to map out his own path.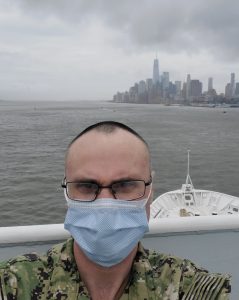 "I find myself transported back to my childhood and early adult years and my memories of when I visited Disneyland and Walt Disney World," said Lee. "I wanted to find a piece of that innocence and happiness again after all I have experienced in the Navy, and I have been able to."
Explore available opportunities in Health Services: http://di.sn/60003iwFI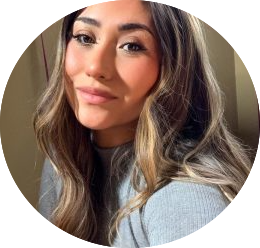 by Ava F., Communications Coordinator