Leveling Up Classic Stories Through the Magic of Gameplay: Meet Erin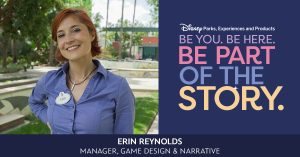 The Disney Games team is made up of creative thinkers who partner with developers across the globe to help empower and build the next generation of Disney and Pixar games and experiences.
Part of the team working with these developers to create games infused with Disney magic is Erin, a manager of Game Design and Narrative for Walt Disney Games.
"I support our very talented team of game designers and writers," said Erin. "The Game Design & Narrative team, along with other members of the Walt Disney Games team such as producers, artists, and the audio team, collaborate with external game partners who are bringing to life the worlds and characters of Disney. Together, we interact with developers, studios, and filmmakers to ensure that our games authentically capture the magic of Disney."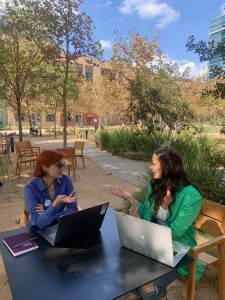 In order to help bring these games to life, Erin works day-to-day to incorporate a wide variety of factors.
"My day can consist of everything from playing work-in-progress game builds, to virtually meeting with our development partners around the world, to participating in internal brainstorm sessions about fun new ways to bring the many elements within the Disney universe to a rich, inspiring gameplay experience," says Erin.
Erin's love for the game industry blossomed through the "Think Tank" internship program in Disney's gaming division in 2004. This introduction to video game production and business development gave Erin a peek into The Walt Disney Company's creative process and approach to elevating the legacy of its most beloved characters and stories.
"I learned so much from that experience that has continued to inspire and empower me throughout my career," said Erin. "I went on to grad school to receive a Master's degree in Interactive Media, work in other areas within the games industry, and even ran my own indie game studio. Many years after that initial internship, I was thrilled to rejoin the Walt Disney Games team and reapply those learnings from the early days and the additional experience I've gained since."
Since then, Erin has soared to infinity and beyond in her Disney Career!
"There are so many things that I'm incredibly proud to have been a part of during my career at Disney! While I can't yet share too many details about some of the exciting things I'm currently up to, I can say that over the past year or so, I have had the immense privilege of working with the filmmakers of one particular franchise series – learning all about the philosophy behind every detail that goes into its character design, architecture, worldbuilding, and lore. While this opportunity has been absolutely extraordinary on a personal level, that knowledge has also empowered me to help our development partners create games within this world to authentically capture its magic and wonder and translate it into an immersive and captivating interactive adventure. It's an incredibly fulfilling process and just one of the ways we ensure fans and gamers alike enjoy the unforgettable experience they expect," said Erin.
Restoring new life to iconic characters can come with heavy expectations from their most adored fans, a challenge Erin viewed as an immense responsibility.
"I feel that we are responsible for ensuring that the magic of Disney is captured authentically and powerfully within the stories and experiences of our partners' games," said Erin. "My work helps to bring new ways to play with and become a part of the many worlds of Disney and all of the memorable characters within."
Erin takes great pride in being able to retell classic Disney stories in a new, interactive way.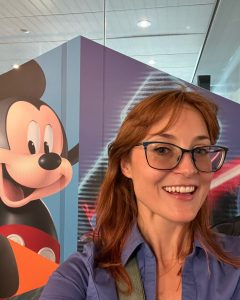 "Being a part of something that creates so much joy and wonder in other people's lives is a tremendous privilege that makes me excited to do what I do every single day," said Erin. "I am a passionate believer in the power video games have to make the world a better place. Games invite children and adults to play, explore, and adventure – to see the world differently and engage their courage, creativity, and cleverness. Video games can bring people together through co-operative play, casual competition, or even just through a shared moment in an interactive story."
For those who aspire to reach new heights in a career like Erin's, her advice is this: "Celebrate and believe in your own unique magic. The best creative ideas come from collaborations between individuals with their own perspectives, skills, experiences, and stories. Sometimes, being authentically yourself can feel intimidating, but it's that very authenticity that makes someone really stand out. Bring your willingness to grow along with your one-of-a-kind individuality and start that adventure, just as you are, right now!"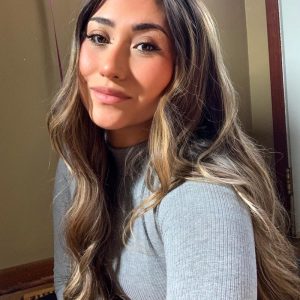 by Ava F., Communications Coordinator