Employee Spotlight: Michael Bandy, El Capitan Theatre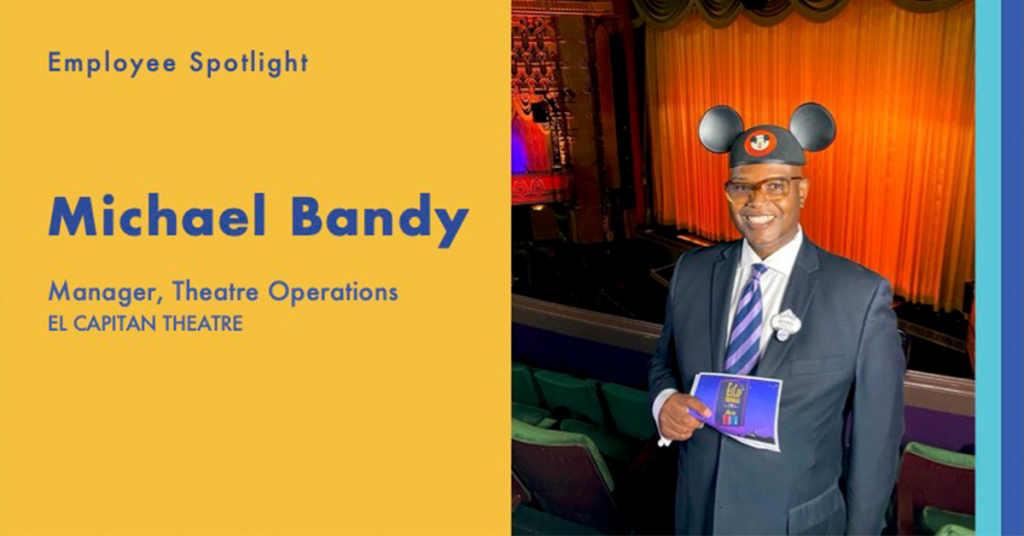 Michael Bandy is Manager of Operations at the El Capitan Theatre where he ensures from day to day that our guests receive a top-notch movie-going experience. He recently celebrated his 20th anniversary with The Walt Disney Company.
What makes Disney an exceptional place for storytelling?
Simply put, people don't just come to the theatre to watch a movie. They bring their passion for escapism. From the grandparent who remembers watching "The Mickey Mouse Club" to a younger audience member shouting and gesturing "Wakanda Forever," it's all about the story. I am an observer of life. On a daily basis, my goal is to never downplay what we do but to be a vessel that enlightens and allows our guests to revel in that energy.
Why is innovation so important when it comes to Disney's stories?
Innovation is important but the story takes the forefront. Innovation is the tool that reflects the technological advances that we have achieved. These innovative conduits make it much easier for stories to become immersed in our consciousness.
How does your team put the audience first when it comes to your work?
The great theatre businessman Marcus Loew said, "The experience begins in the line." At the El Capitan, we pride ourselves in letting the guests know that they are about to enter a special place like no other.
What does a reimagined tomorrow look like for you?
Reimagine! Wow! The vision I have within the labyrinth of my mind is that the creative product we produce is reflected in who we are collective.
What do you find most rewarding about your experience as a Business Employee Resource Group (BERG) member?
Knowing that there are collective groups that are dedicated in the realm of support. As we Alabamians say, "Y 'all ain't in this alone." I will never be able to describe the bounty of love that I have received during my experience here.
Check out more spotlights on BERG members across the Company on Reimagine Tomorrow!
BERGs are formed around a shared identity, interest, or pursuits. These employee-led groups bring together employees for insights, support, career development, and community engagement. All colleagues are welcomed and encouraged to join.
by Disney Career Recruitment