Phyllis Ma Inspires 'Momentous' Experiences at Hong Kong Disneyland Resort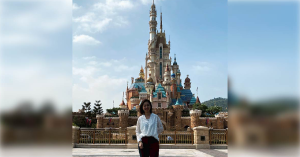 In celebration of all the new memories at Hong Kong Disneyland Resort—such as the unveiling of The Castle of Magical Dreams and the launch of the breathtaking nighttime spectacular, "Momentous"—we are excited to introduce you to Phyllis Ma, one of the innovators behind the magic!
As a Senior Marketing Manager at Hong Kong Disneyland Resort, she enjoys finding unique opportunities to share the power of Disney storytelling through an array of immersive experiences, ranging from themed merchandise and food & beverage items to entertainment and hotel offerings.
"By bringing magic to life, we create special moments that will live in guests' hearts forever," Phyllis said.
She first started incorporating the joy of Disney into new offerings for the domestic markets, but over the years has expanded her role to include areas like mainland China and international.
"I've had a lot of opportunities to widen my horizon in marketing," she said. "Even if you stay in one department, there are always new ways to get involved in order to continue developing your skills."
With each project, Phyllis brought a creative mindset and innovative outlook that guided immersive experiences within the Annual Passholder program, the launch of new hotel marketing campaigns and the development of exclusive offerings for the 15th Anniversary celebration.
The park anniversary began earlier for her than most, as she was asked to join the small task force of 20 cast members to help define the underlying theme of the event two years prior to the official start date. During the brainstorming period, Tokyo Disneyland was celebrating its 35th Anniversary, so the team had the exciting opportunity to travel to Japan and experience firsthand how other parks were observing similar occasions.
"It was wonderful to witness how they (cast members) engaged with guests," Phyllis said. "You could feel the excitement in the air and see the happiness on the cast members' faces. It was as if they were celebrating their own birthday."
Her efforts to bring that energy and pride to the cast of Hong Kong Disneyland were successful, and she used similar learnings when she began to look at the marketing approach for "Momentous"—a show that reminds us to take the time to appreciate our families and loved ones and to celebrate life's joyful moments as we look forward to an encouraging future ahead.
"This show summarizes what we should treasure, especially after all we have gone through during the pandemic," said Phyllis.
As the consumer mindset shifted and the team adjusted to what was happening around the world, they discovered an opportunity to reflect and consider how to approach tasks in a bigger and more meaningful way. Like the show, they want to continue sharing positive messages with guests and focus on the many memorable moments to come.
#TheMagicIsYou #HKDisneyland #CastFirst
Does Phyllis' career path sound like the adventure you are looking for in your next role? If so, learn more about the Sales and Marketing roles at Hong Kong Disneyland Resort and discover where your Disney journey can take you at HKDLcareers.com.
by Disney Career Recruitment