Building a Career with Hong Kong Disneyland: Meet Sam Chan
We're excited to shine a light on Sam Chan, a Senior Manager of Marketing at Hong Kong Disneyland Resort! As part of the Integrated Strategy and Planning team, she supports the marketing initiatives for Hong Kong, China, and international markets by analyzing consumer research and providing recommendations on the type of new products and interactive experiences that should be brought to life.
Read along as she shares how working for Hong Kong Disneyland Resort has given her tremendous opportunities to learn, explore new fields and create magical memories for guests.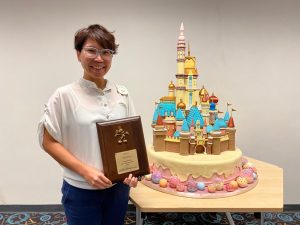 "How is working for Disney different from other employers?" Sam shares, "I work for one of the biggest entertainment and storytelling companies in the world! I feel very proud to be part of this company's history by helping with expansion projects and new product launches for guests to enjoy."
"It's very emotional seeing their reactions to new offerings," she mentioned. "All the work and effort that went into the product pays off. Sometimes it may take us 18 to 24 months to prepare but seeing the guests happy and overjoyed makes every part of the journey worth it!"
Her positive impact is noticed outside of marketing as well. Recently, Sam joined the Leadership Immersion Program for Disney Parks, Experiences and Products. These 60 participants were selected for many reasons, such as their strong performance and leadership capabilities, career development potential, as well as their diverse professional and life experiences.
During this program, participants focus on enhancing their skills when it comes to developing a commercial mindset, driving operational excellence, cultivating creative sensibilities, and demonstrating leadership versatility. Also integrated into these lessons are the foundational success components needed for the business and people to thrive, which includes inclusive, change, and entrepreneurial leadership.
Sam shared that the participants meet with multiple senior leaders across the world and are completing a project demonstrating how to move the business forward while incorporating key learnings from the program.
"The program was an eye-opener for me," said Sam. "I got to know a lot more about the company as a whole and hear about the exciting disciplines and opportunities available within Disney."
"Like the Leadership Immersion Program, there are other training opportunities available for cast members to develop in their career," she said. "It's wonderful to see that the company is committed to growing and building talent."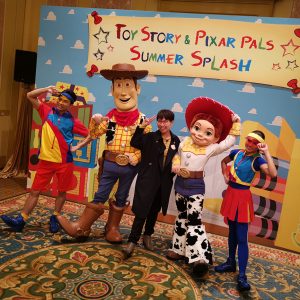 In addition to career growth opportunities, Sam added that she is thankful for the diverse work environment at Hong Kong Disneyland Resort. She contributes to these efforts by participating in diversity, equity, and inclusion forums with cast members across Shanghai, Hong Kong, and Tokyo.
"I enjoy hearing about the different perspectives because we all come from different cultural backgrounds and have our own way of doing things," she said. "These forums enable us to widen our perspective to think differently, and most importantly, to respect the opinions of others."
She continues to share that the company's strength comes from its respect for diversity. "This drives us forward because our different backgrounds all contribute to the company in unique and positive ways," Sam added. "Seeing how the company embraces diversity enabled me to be my authentic self."
#HKDisneyland #CastFirst
Interested in learning more about Sales and Marketing roles at Hong Kong Disneyland Resort? Click this link and discover where your Disney journey can take you at HKDLcareers.com.
by Disney Career Recruitment