Behind the Magic with Industrial Engineering: Meet Kennedy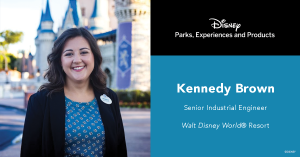 Have you ever wondered about what goes on behind the magic coming to life at Disney Parks? Whether planning the opening for a brand-new attraction or the day-to-day park operations, our Industrial Engineering team ensures everything runs smoothly, safely, and efficiently to ensure a seamless experience for our guests.
Meet Kennedy, a Senior Industrial Engineer providing strategic and analytical support to the EPCOT Park Operations team at Walt Disney World Resort.
"My work involves data analytics and thought-partnership to inform business decisions," said Kennedy. "I love that we get to partner with such a diverse set of individuals. From fellow engineers to other support partners at different levels and lines of business in the company—we are able to pull all those perspectives together with analytics to make strategic recommendations that tell the complete story."
Having been with the company for over four years, Kennedy is inspired in her work by being able to improve operations to help each guest's visit live up to their expectations.
"Walking through the parks on my way to meetings, seeing kids using their bubble wands or feeling their excitement over an attraction or character… It helps me remember both how important the parks are to our guests and how important it is to enjoy the work I do," said Kennedy. "I try to remind myself that it's a privilege to work in a place that fosters precious memories for so many."
In these roles, it can become difficult to pull together different perspectives and make a decision for a challenge that doesn't have a clear next step.
"My goal is always to facilitate respectful dialogue and make sure everyone involved has a chance to weigh in," said Kennedy. "This results in forming stronger relationships with my partners and the best possible business decisions."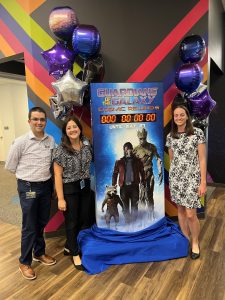 Throughout her Disney career, Kennedy feels most rewarded by having been able to support an array of expansions at the parks, including Stars Wars: Galaxy's Edge and Mickey & Minnie's Runaway Railway!
"Out of all these openings, Guardians of the Galaxy: Cosmic Rewind was the one that I was able to be closest to for the duration of the pre-opening planning," said Kennedy. "I framed up the options and made recommendations for the preview capacity, virtual queue, resort access options, queue capacity, and Grand-opening event capacity planning. The goal was to maximize the number of guests and cast who will experience this amazing new attraction and to provide the best experience."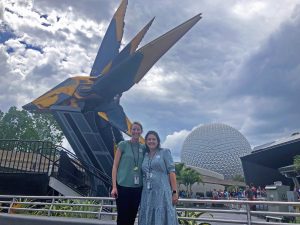 When fondly reflecting on her journey with Disney, Kennedy is most surprised by the sheer volume of projects she's been able to work on and the relationships she has been able to form.
"In less than five years, I have probably worked directly with hundreds of different cast on thousands of projects," said Kennedy. "I've even had the opportunity to work with the same people on completely different projects. It doesn't take long to build relationships and begin to feel like Disney is a small town rather than a giant company."
Interested in joining our Industrial Engineering teams? Click here to explore available roles and apply today!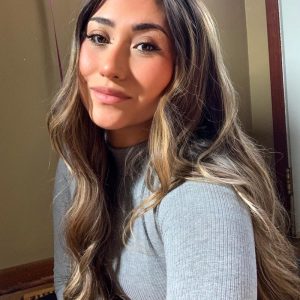 by Ava F., Communications Coordinator