Sailing the Magic Across the Sea: Helen Sims, Third Officer, Disney Wish
This past May, Disney Cruise Line and the maritime industry around the world celebrated the first International Day for Women in Maritime! While we celebrate all our crew and officers always, it is important to recognize the contribution of women in this industry as they continue to increase their impact and leadership.
One of those women is Helen Sims, a third officer who began her Disney Cruise Line career this year and is a part of the Disney Wish opening team! Helen didn't start her life with big dreams of working in the maritime industry, but a passion developed over time and now she is committed and determined to grow her career at sea.
We recently asked her a few questions about what she does, why she chose Disney Cruise Line, and why she would encourage other women to join her onboard.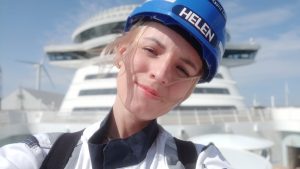 Tell us about your inspiration to work in the maritime industry and how you started your career.
Becoming a seafarer was not my childhood dream, but I have always enjoyed being at sea. I knew I had time to decide who I wanted to become, and I did not have any pressure from my family.
I signed up to go to the Estonian Maritime Academy rather late in my life compared to many fellow seafarers. Nevertheless, by that time I knew who I want to become. Sometime after I started my studies, I became aware that I have rather many relatives who worked or are working at sea. I think being at sea runs in the family, despite whether we acknowledge it or not!
Why did you choose to work for Disney Cruise Line?
There is only one company that stands out from other cruise companies. This family-oriented company enchants people all over the world in every possible way – animations, parks, vessels, charity, and so on. The first thing you see is this majestic cruise vessel. In each vessel, there are so many details that prove how much Disney Cruise Line contributes to storytelling and keeping up a high reputation. I'm proud to be part of this magical company.
Tell us about your role and responsibilities.
I'm in a third officers' role, which means that I take part in navigational watches as well as safety-related jobs. My specific responsibility is taking care of fire stations and extinguishers that need to be ready to use at all times. But during the last couple of months, I've had the unique opportunity to be a part of the vessel commissioning team. We are almost ready to sail with our newest ship, the Disney Wish, and we give our best to present it to our guests in all its beauty.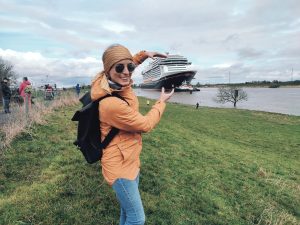 Tell us about your experience as a woman in the maritime industry.
I think I have had good support from my colleagues, from past times and now. I was looking forward to working in an inclusive environment. We have four female watchkeepers in the bridge. This is a somewhat new experience for me as well as a positive surprise that there are so many of us. We support each other 100%.
May 18 was the first-ever International Day for Women in Maritime! What did this new day of recognition mean to you?
It is great to see that different companies in different industries have more and more female officers working onboard the ships. It is a truly sweet feeling that we are recognized, but we should give credit to male seafarers also. Ideally, everybody should be able to choose any profession they want without judgment or prejudice.
Want to join our crew? Visit DCLjobs.com to explore roles and apply!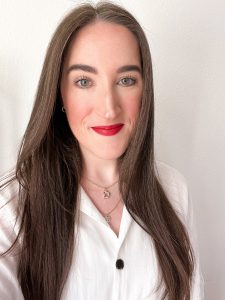 by Brianna G, Senior Communications Specialist