Purposeful Work and Magical Moments: Meet the Castaway Cay Crew
Guests of Disney Cruise Line often find that a day (or two!) spent on Castaway Cay, Disney's private island in the Bahamas, is a highlight of their cruise vacation. What they may not realize is that there are crew members who not only work but live on the island.
These dedicated crew members are responsible for everything from horticulture maintenance to security, tram driving to animal programs, and so much more. But no matter their role, they all agree that Castaway Cay is a special place, and working there creates happiness for guests and crew.
Let's hear from some of our crew members on the island about their backgrounds, magical moments, what motivates them, and more.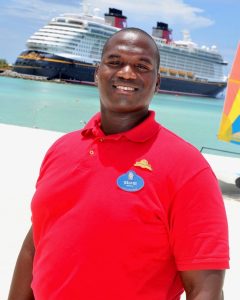 A Moving, Magical Moment
"A few years back, there was an elderly lady guest coming from the ship when it docked, and who I could see she was having trouble getting around. She said, 'I want to see the island.' I called one of the guys letting him know that I'm going to do a special tour of the island with this lady. She really wanted to see the island, and we don't do island tours. But I did arrange a special tour for her because I wanted to show her the island because she reminded me of my grandma.
While I was driving, we had a conversation that made me tear up a bit. She and her husband used to come on vacation together. And though he had passed away, she still came to the island. I showed her around the island as much as I could before taking her back to the ship. It was one of those memories that stuck with me. She started crying and I said, 'Don't cry, because I'm going to cry!" It's that extra step that makes it special – that's the actual magic right there."
-Jeramie, Island Services Manager
More Than a Castaway Crew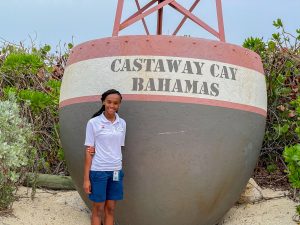 "My team is amazing. We're like a family. Since many of us are from the Bahamas, we have a strong understanding of one another. I love that our department is responsible for so many things. It's never the same thing every day. You're always learning something new and never know what to expect when you wake up in the morning! Leadership is also very respectful and helpful. If we don't understand how to do something, they will stay with us until we do. You can be comfortable, laugh and have fun, and be at ease while you work. Sometimes our managers see something in you that you don't see in yourself. It's amazing to know that someone else believes in me. They push us to do better and are committed to growth and development for our team." – Okeamah, Custodial Host/Hostess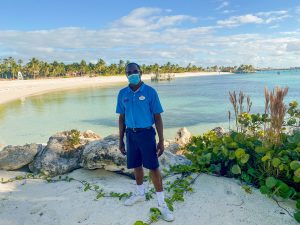 Inspired by the Island
"Nature is something that I love and am really fond of. So at Castaway Cay, just the nature of the island gives me a chance to appreciate wildlife. I can walk from one end of the island to the next and see the beaches and take in the beautiful sights. It just brings me that feeling of serenity and tranquility. No matter what the day may bring, I find myself still being happy. There's always something to be happy about. If there is something on my mind, I can go out on the beach and sit down and meditate. I can go to different parts of the island and start to unwind. So, this is a great experience on a daily basis, and there's hardly a dull moment here at Castaway Cay." – Angelo, Horticulture/Guest Transportation Manager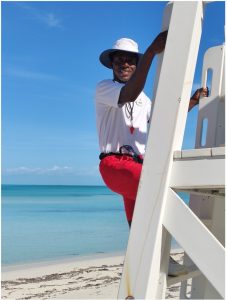 Finding Purpose in Everything They Do
"What motivates me to be a lifeguard is my kids. I have two kids, a boy, and a girl. Secondly, there was a life-changing situation that happened to me a long time ago when I was a teenager. I was at a pool party and had to rescue another young girl from drowning and ended up saving her life.
Five years ago, when my son was being born, that same woman walked up to me and my wife inside of the hospital, and she asked, 'Do you remember me?' I said no, and she told me, 'You're Braven. You saved my life when I was 10 years old at a pool party, and because of what you did for me that day, I'm having my third child today.' She asked what I do for a living, and I told her I am a lifeguard.
From that day on, I decided to be more serious about my role. I went on and got my license to be an instructor. I started to teach and learned that I love to teach. That is what really motivates me. My passion for lifeguarding is...I can't explain it. It is something I know I want to do." – Braven, Beach Lifeguard
Join the Castaway Cay team!
Our Castaway Cay crew members live on the island, but it's the relationships they develop with their peers and leaders that make it a home. They create memories for guests and each other, and they leave work every day knowing they made a difference.
Do you live in the Bahamas and want to join this team? Explore opportunities and contact a procurement ally at DCLjobs.com!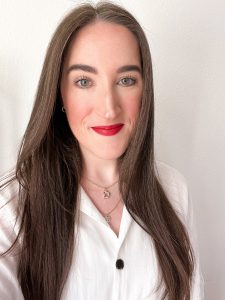 by Brianna G, Senior Communications Specialist