Cast Members from Disneyland® Paris Celebrate 30 Magical Years with Disney
Join us as we celebrate the 30th anniversary of Disneyland® Paris! To kick off the special occasion, we talked with two cast members—Sophie Chauvin, a deputy manager at Disney's Hotel Cheyenne and Natasha Ferrey Hamon, a recruiter at Talent Acquisition—who are also celebrating 30 magical years at Disneyland Paris. Keep reading to learn more about their exciting career journey with Disneyland Paris.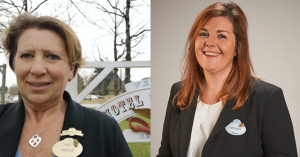 How long have you worked for Disneyland Paris, and what has your career path looked like?
Sophie:
I began on March 5, 1992, and I have not left the company since!
My career started at Disneyland Paris in catering as a hostess for the Blue Lagoon Restaurant, now known as Captain Jack's, Pirates' Restaurant. Since then, I discovered my current role as a deputy manager at Disney's Hotel Cheyenne, which has become a real "passion job" for me!
I climbed the ladder in this new role, thanks to my state of mind and desire to do well, and thanks to the leaders I met on my way, who developed, trained, and trusted me.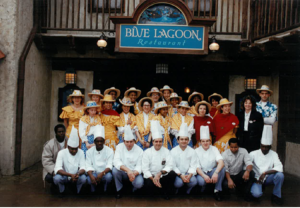 Natasha:
I started working for Disneyland Paris as a ticketing hostess in June 1992. A few years later, I was promoted first to assistant manager, then to manager.
By 2001, I became the ticketing manager for Walt Disney Studios® Park, which opened the following year. It was a fantastic experience recruiting and preparing for the opening!
After 15 years in park operations, I came across an opportunity in the casting department and decided to continue my career as a recruiter with the Talent Acquisition team.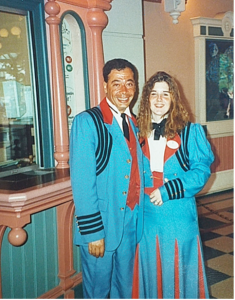 Why did you want to work for Disneyland Paris?
Sophie:
Working for Disney has always been my dream because of the animated films and my trips to the United States where I never failed to visit the parks. So, when casting went to Lyon—my birthplace—to recruit for the opening of Euro Disneyland (the name changed to Disneyland Paris in 1994), I rushed to the interviews and was selected!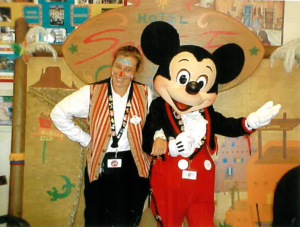 Natasha:
My initial plan was to stay a year to get experience in guest relations. Then, I intended to go abroad to work in the hospitality business.
However, I stayed because I felt so happy with the great working atmosphere, team spirit, and opportunities to evolve in the company!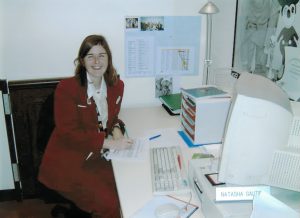 What is growth and development like in your role? How does Disneyland Paris help set you up for success, and what does that look like?
Sophie:
At each stage of my development, I was coached and monitored by my managers, but I also benefited from the training and development courses created by Disney University. Many training courses are now digital, which allows greater independence and personal investment.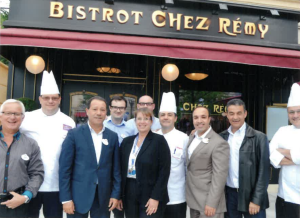 Natasha:
Throughout my evolution, my leaders in park operations provided professional training and guidance to help and support me. Now on the Talent Acquisition team, my leaders have provided useful training to help me be more efficient in my current position.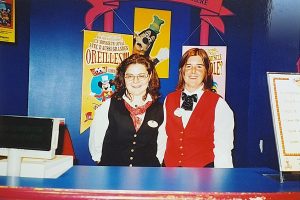 How has working for DLP made an impact on your life/career?
Sophie:
Working for Disneyland Paris allowed me to find my way and build my professional career according to my desires, skills, and available opportunities.
Natasha:
I met my husband at Disneyland Paris! We met on several occasions for meetings and action plans regarding improvements I requested on an attraction, and it was love at first sight! We got married in 2009 and have three beautiful boys—Joshua is 14 years old, Pierre 12 is years old and Gabriel is 9 years old.
All thanks to Disney!
How would you describe your working environment?
Sophie:
Disneyland Paris is a big company but also a real family! We celebrate the important moments of our professional and even family life, together!
Out of all the different benefits and perks, what do you find most valuable? How does Disneyland Paris promote a healthy work-life balance?
Natasha:
While working from home, I appreciate having a bit more time with my family. Especially during lunch breaks and at the end of the day, when before I would spend the time-traveling home.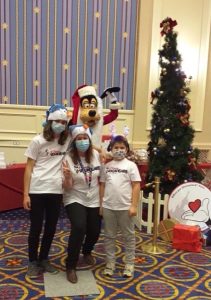 by Disney Career Recruitment