Cultivating a Culinary Career: Meet Chef David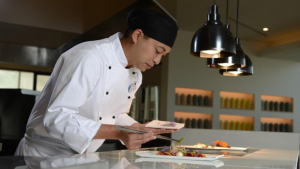 "I became interested in cooking at a young age, as we cooked every day with my family," said Chef David. "My mother was my biggest inspiration to get into the culinary field. Cooking at home and realizing how amazing food can taste when made with passion and love made me want to do the same for others."
Chef David began his culinary career at Disney on the Disney Culinary Program in 2007 at the Flying Fish Café at Disney's Boardwalk.
"The experience working for the company and the people along the way have helped shaped me into a better cook, better leader, and better person," said Chef David. "Being able to work under amazing leaders helped me develop my cooking and leadership style early on in my career, which led me to my next opportunities."
From there, Chef David continued to cultivate his culinary career through sous chef roles at EPCOT and Magic Kingdom, before being promoted to his current role as a chef at the Jungle Navigation Co. Ltd. Skipper Canteen.

"Disney is so diverse with its food and beverage offerings that a chef can learn about different types of cuisine without ever leaving the company," said Chef David. "Cooking techniques, flavor profiling, and plating design are some areas of our culinary field that are always changing and evolving. Because of that, everyone brings something new to the table each day."
Even after 13 years of service at Disney, Chef David continues to discover opportunities to grow through his partnerships with the rest of the Disney Culinary team.
"One of my favorite parts of my role as a chef is the people I get to work with each day," said Chef David. "Learning from one another is something I enjoy, as there is always something I can teach them and there is always something they can teach me."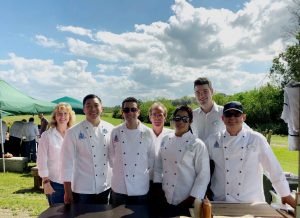 And, just as he learned in his mother's kitchen, Chef David infuses his passion for cooking throughout the dishes he creates with his team, and the results continue to delight our guests.
"The greatest reward for me as a chef is seeing people enjoy the food my teams and I worked so hard to make," said Chef David. "A smile is all I need to know that what I do is worth it."
Discover how you could build an exciting and fulfilling career as a part of our Disney Culinary team. Click here to explore available roles.
by Disney Career Recruitment