Joseph, Cast Advisory Council Chairman, Brings Joy to Cast Members During the Pandemic at Hong Kong Disneyland Resort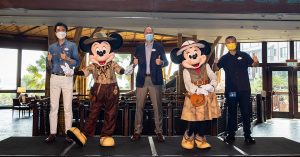 At Disney, our cast members bring unforgettable experiences to guests every day. To support and help them feel the magic for themselves, Hong Kong Disneyland Resort created the Cast Advisory Council (CAC)—a committee addressing opportunities for growth within the company to improve the overall cast experience.
Over the past few years, the CAC helped cast members with public transportation challenges, improved the function and workflow of work environments, developed wellness activities that prioritize health and well-being, and more.
The council members and Joseph Yip—the CAC chairman and director of Security, Safety, Fire and Health Services—also work with senior leaders to find solutions for any needs that require management's attention or support. Since Joseph was nominated as chairman in October 2021, the committee has participated in monthly brainstorming sessions to discuss upcoming projects.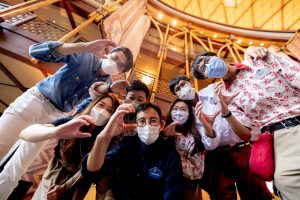 Their efforts continued in February when the park closed due to the pandemic as committee representatives worked together virtually to create the CAC Channel. This channel was an online offering that cast members and their families used while working from home.
"I wanted to do something that is special for the cast members," Joseph said. "During our park closure, I was thinking about how they would want some connection even while working from home, so we came up with the idea of the CAC Channel."
The committee hosted an event every Friday on the channel, in which cast members and family members could easily participate with minimal resources required. "We already provide these services and entertainment to guests, so we thought they would be easy and fun activities to provide on the CAC Channel as well," Joseph said.
A few of the events they offered included a class on creating Disney towel art, a lesson on drawing Mickey Mouse, and a performance by entertainers. Unsure of how many people would participate when the channel launched, the CAC was excited to see it was an immediate success, with more than 180 attendees at the first event.
"I turned on my monitor, and I was so happy to see all of the cast members and kids with their parents," he said. "There are a lot of happy faces during the classes, and we've received great feedback. It's been rewarding to see."
Joseph continued to mention how each activity is a team effort, with cast members from multiple lines of business supporting the channel by suggesting future class ideas, bringing the necessary equipment together, and sharing communication about the channel to teams across the company.
"I feel happy to have an opportunity where I can put my efforts towards helping other cast members, see what their needs are, and create a better workplace for them," Joseph said. "This is just one of the many CAC initiatives that we hope benefits cast members."
#TheMagicIsYou #HKDisneyland #CastFirst
We're thankful for cast members like Joseph, who bring people together and are committed to creating a more positive experience and sharing Disney magic. If you would like to become part of the magic and learn about Hong Kong Disneyland Resort careers, explore the available opportunities and apply today. Click here to learn more.
by Disney Career Recruitment