Latin America Graduate Trainee Program 2022
Who are we?
The Walt Disney Company Latin America is the leading entertainment company in Latin America. Today, it has integrated businesses throughout the region and offices in Argentina (where the regional base is located), Brazil, Chile, Colombia, Mexico, Panama, Puerto Rico, and the United States (Miami).
The Walt Disney Company Latin America is responsible for giving Latin Americans the ability to receive Disney and its brands in their homes, through TV and streaming entertainment; in stores, where they can find consumer products; as well as the opportunity to enjoy Radio Disney, live shows, music, and movies in theaters.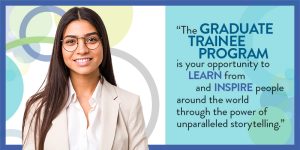 As a company, our brand promise is to offer entertainment with a heart, as we seek an emotional connection with our audiences, to "ignite hearts." For many years, Disney has accompanied the consumers' emotions with quality content designed for all ages, with moments that somehow reflect or recall real life, thus preserving a message that remains current and leaving a lasting mark on their memory and hearts.
The Walt Disney Company Latin America delivers personalized entertainment experiences to consumers through its Direct-to-Consumer services, Disney+ and Star+. Disney+ is the streaming service for movies, series, and other content from Disney, Pixar, Marvel, Star Wars, and National Geographic. Star+ is the complementary but independent sports and general entertainment streaming service to the Disney+ service in this region.
At Disney, we are committed to innovation and we believe it takes amazing people to create memorable experiences, products, and services that our consumers know and love.
We are a team of storytellers and we promote a corporate culture of belonging and inclusion that enables our employees to thrive.
Do you want to dream with us?
As part of our Early Career Program, we are constantly looking for talent at the beginning of their professional paths, willing to give them opportunities to learn with us and, at the same time, allowing us to learn from them.
The LATAM Graduate Trainee Program lasts 24 months and is a career accelerator for future leaders of The Walt Disney Company Latin America. The segment focus for this year's program is Disney Streaming, where our teams work everyday to bring the best stories and experiences to consumers on Disney+ and Star+.
We are looking for candidates who have graduated between 2019 and 2021, with ideally two years of experience, are passionate about building a career in the digital area, and are willing to learn and develop within our company.
See an exclusive message from Natalia Scalia (Head of Direct-to-Consumer Business & Digital Media Operations, Latin America):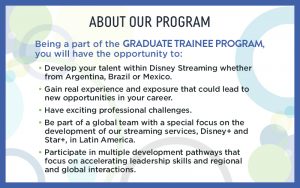 Opportunities are available in departments including:
Growth Marketing
Business Intelligence
Social Engagement & Content Marketing
Content Operations
Customer Support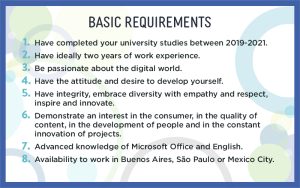 Frequently Asked Questions:
Which countries will the LATAM Graduate Trainee Program take place?
In this first edition, the program will take place in Argentina, Brazil, and Mexico.
Will the Graduate Trainee Program be launched in other countries across the region in the future?
We love meeting talent with diverse visions and stories, so in the future, we plan to extend it to other countries where we have offices.
When will the program launch and when will it close?
April 4: Applications Open
April 8: Applications Close
What business areas are participating?
On our Disney Streaming team, you can find opportunities in Growth Marketing, Business Intelligence, Social Engagement, and Content Marketing, Content Operations, and Customer Support.
What are the basic requirements for candidates? (e.g., have 2 years of experience, speak fluent English, etc.)
We are looking for recent graduates who have ideally two years of experience in digital roles, have a desire to work with colleagues from around the globe, are fluent in English, and want to participate in a program focused on developing leadership experience.
How long is the contract?
24 months.
Is it necessary to live in the country for which you are applying?
Yes.
Is it a requirement to have a university degree? Can potential candidates who have not yet graduated but have work experience apply?
For this program specifically, it is necessary to be a graduate and have ideally two years of experience. If you are still studying and want to be part of our company, keep an eye out for future updates! Very soon, we will disclose new opportunities for young talent within the Early Careers Program!

#BEPARTOFTHESTORY

by Disney Career Recruitment