Disney Cruise Line Celebrates World Maritime Day 2022
Each September, the world celebrates the importance of the maritime industry on World Maritime Day.
At Disney Cruise Line, we are always happy to recognize our amazing crew members onboard our ships and at Castaway Cay, a Disney destination located in the Abaco chain of The Bahamas. This year's World Maritime Day theme is greener shipping, and we were excited to speak with several of our crew members about why conservation and "going green" are important to them both professionally and personally.
Saoirse is a cruise staff crew member from Ireland on the Disney Wish who has worked on four of our five ships during her time with Disney Cruise Line. Her career with the company started because she considered Disney to be a well-known brand for entertainment, and she wanted to join a company that brought joy to many people. During her time on board, she's inspired by being part of a company that is committed to minimizing its impact on the environment.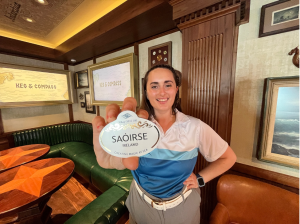 "Focusing on sustainability and conservation helps our oceans. We only have one planet, and it is our responsibility to leave a world behind and to protect it for generations to come," she said.
"In my role, we save electricity by turning off machines when not in use. We are also given our own reusable water bottles and have numerous refill stations," she explained.
Over on the Disney Fantasy, a fellow entertainment crew member from Mexico also began her Disney journey after being a fan of the company. Veros, entertainment integration manager on the Disney Fantasy, said, "I was always that little girl wearing anything Disney! I always loved Mickey Mouse, and on my 15th birthday, my parents bought me a trip to Walt Disney World Resort for the very first time. The day I stepped into the Walt Disney World Resort, I knew that I wanted to be part of this magical company." Veros' main responsibility in her role is to update digital signage onboard the ships as well as the Disney Cruise Line Navigator app. She said she is proud to work for Disney because the company's projects focus on sustainability, conservation, and protecting the environment.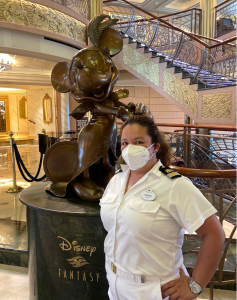 Back on the Disney Wish, Alessandro is an LNG engineer working on Disney Cruise Line's first ship to be powered by low-emission liquified natural gas.
"LNG helps reduce greenhouse gas emissions," he said. "Sustainability and conservation are very important for our oceans as well as for our planet because the impacts of human activity on the environment can be huge."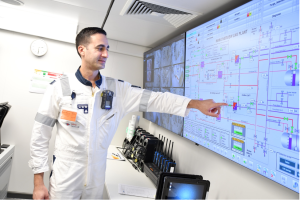 Knowing the importance of conservation from his role, he also takes personal steps while living onboard the ship to ensure that even small actions make a difference. Alessandro "goes green" by switching off lights and electronics when he leaves his cabin, using less water, and reusing towels to save water and detergent.
"Education is so important because you can help others understand the value of our natural resources. For example, with the addition of potable water fountains in the crew areas, we can actively participate in reducing the amount of single-use plastics on board."
Moving from the ships to shoreside in The Bahamas, two crew members specifically focus on leading the implementation of Disney Cruise Line's environmental management plan and local conservation strategies within The Bahamas, particularly as progress continues on Disney's new experience in Eleuthera at Lighthouse Point.
Pachancia, assistant conservation programs manager in The Bahamas, previously served as marine science officer with the Bahamas National Trust and was responsible for several marine monitoring and restoration programs with The Bahamas national parks. She has a passion for conservation and is excited to be part of the Disney family.
"I am proud to work for Disney Cruise Line for its commitment to connecting people with nature while providing a magical experience," she said. "I am most excited to contribute to Disney Cruise Line's efforts to protect wildlife by preserving native vegetation and conducting monthly surveys."
"Sustainability and conservation are important for our oceans and islands because one can't be successful without the other," she added. "Conserving and protecting marine and terrestrial habitats and wildlife can help nature help us in the future."
Bradley conservation programs manager in The Bahamas is also dedicated to local conservation strategies. Before coming to work with Disney Cruise Line, Bradley served as a science officer with the Bahamas National Trust and led conservation efforts on both private and public lands. He was even named The Bahamas' National Youth Climate Ambassador earlier this year.
Like Pachancia, Bradley is dedicated to and enthusiastic about the environment and sustainability. "I love my country, the environment, and the people who live in it, and that is why I am working to develop a future where each can thrive," said Bradley. "I'm excited to join Disney Cruise Line and help facilitate sustainable economic opportunities for Bahamians while also protecting the environment so we can better prepare for the future and unlock the unlimited potential of The Bahamas."
Want to join this magic-making crew onboard our ships or at Disney's Castaway Cay? Visit DCLjobs.com!
by Disney Career Recruitment