Disney Among Best Places to Work for Disability Inclusion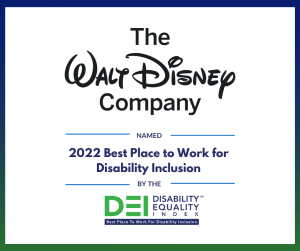 For the fifth consecutive year, The Walt Disney Company has earned a top score on the 2022 Disability Equality Index (DEI), the world's most comprehensive benchmarking tool to measure disability workplace inclusion. As a top scorer, the company was recognized as one of the "Best Places to Work for Disability Inclusion."
"At The Walt Disney Company, we are committed to ensuring that the stories we tell, the immersive experiences we create, and the products and services we offer celebrate the unique abilities of everyone," said Latondra Newton, SVP and Chief Diversity Officer, The Walt Disney Company. "Being recognized as a Best Place to Work for Disability Inclusion is an incredible honor, earned in large part by our employees around the world who are focused on creating a culture where everyone feels a sense of belonging. We are proud to support forward-thinking organizations like Disability:IN, and our long-term relationship enables us to advance the work of disability inclusion."
Launched in 2015 by Disability:IN and The American Association of People with Disabilities (AAPD), the DEI exists to help businesses make a positive impact on the unemployment/underemployment of people with disabilities. The 2022 DEI measured Disney and other top-ranked companies on culture and leadership; enterprise-wide access; employment practices (benefits, recruitment, employment, education, retention and advancement, accommodations); community engagement; supplier diversity; and non-U.S. operations.
Globally, people living with disabilities represent over 1 billion, crossing lines of age, ethnicity, gender, gender identity, race, sexual orientation, socioeconomic status, and religion. Disney continues to evolve its ongoing commitment to people living with disabilities through inclusive workplace programs and policies as well as more accessible content, products, and experiences for consumers and guests. From adopting modernized best practices to creating inclusive content such as Marvel Studios' "Hawkeye" to building more accessible spaces and accommodations across our theme parks and resorts, Disney continues to excel in disability inclusion and creating a place where everyone belongs.
Learn more about The Walt Disney Company's diversity and inclusion efforts here.
by Disney Career Recruitment