Kel Dansby Brings Boxing to a New, Younger Audience with TikTok
Question … can utilizing social media help bring young people to combat sports?
According to Kel Dansby, Sr. Social Media Specialist, the answer is definitive, yes. That's why this month ESPN debuted ESPNRingside (and ESPNMMA) on TikTok. Saturday's Top Rank on ESPN card from the Hulu Theater in New York will be the first event Dansby has attended with that account in his arsenal. Also, his efforts mesh perfectly with the company's priority to expand the audience, especially with young and diverse fans.
"We're seeing a resurgence for boxing, and TikTok is a big reason," says Kel, who joined ESPN in 2019 with a background in journalism and social media focused on boxing. "Many boxers have a big presence on the platform – Gervonta Davis, Ryan Garcia, and even the retired Floyd Mayweather. That has led to a whole wave of younger fans interested in the sport."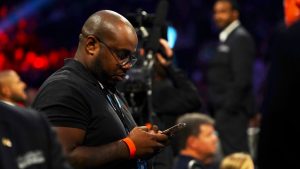 New York, NY – December 11, 2021 – Madison Square Garden: Kel during Top Rank Boxing. (Photo by Melissa Rawlins / ESPN Images)
"But they aren't necessarily interested in the top stars. Rather, it's the younger boxers, like we have Saturday night in New York on ESPN with two undefeated up-and-comers: 24-year-old Edgar Berlanga in the main event and Xander Zayas, who is only 19, as well. On TikTok, if you are relatable, you do well. Kids see these young athletes embracing TikTok and suddenly boxing is cool."
Kel says boxing on TikTok has even precipitated fans buying a set of gloves and creating their own boxing videos. "Boxing has always had a low entry cost," Kel explains. "You don't need to buy a racquet, shoulder pads, and helmet or a set of clubs. Therefore, the sport has always been diverse."
As for the actual content, boxing action is part of it, but there's much, much more. "We take fans where they can't go and don't see on television," Kel says. "We show behind the scenes – which is much easier in combat sports compared to the access allowed in pro leagues – so fans feel like they're seeing a different side to these fighters. At the UFC event recently, our most successful videos had nothing to do with what happened in the ring."
And, of course, given the limits on the platform and people's attention spans, the videos are not long. "What can we pack into 10 seconds?" Kel asks himself when on the job. "Do it correctly, and you can do that without losing your storytelling aspect."
So far, while very early, the two combat sports TikTok accounts are off to a great start. "We're only 10 days in, and we have 25,000 followers on TikTok," he states. "As for total views, ESPNRingside is at eight million, and MMA is at 15 million. That's great engagement."
A passionate fight fan, Kel is the social team's only full-time specialist programming the account. He attends 40+ events a year, including non-combat sports in Las Vegas where he lives, such as NFL and NHL. That love of boxing came from his grandmother.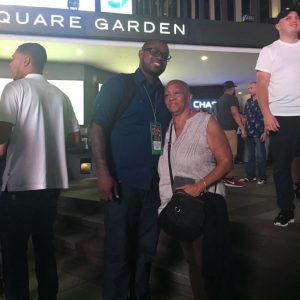 Kel with his grandmother Julia Pizzini at Madison Square Garden, who lives in Puerto Rico.
"My grandma, she is the reason I do this," he admits. "She had me watching boxing since age two years old. We watched every single fight growing up. She still watches every boxing event. Once, recently, I was visiting her and my grandfather, and Xander Zayas FaceTime me. So, my grandmother joined in, and she loved it."
Kel also feels strongly about the direction of the social media department. "All of the sports we cover are very diverse, therefore the people covering them should be as well," he adds. "I am glad to be a part of a group that prioritizes the importance of that."
Watch an evening with Kel below:
by Disney Career Recruitment