ESPN Head of Event and Studio Production David Roberts inducted into NABJ 2023 Hall of Fame
What does it mean to be part of a hall of fame?
It means a legacy well left, a job well done, recognition from your industry and a moment in time to celebrate all you've accomplished. And for David Roberts, Head of Event and Studio Production for ESPN, it means a humbling appreciation from the people who have surrounded you your whole career.
About two months ago, he got a phone call letting him know he was receiving the honor of being inducted into the National Association of Black Journalists (NABJ) 2023 Hall of Fame. According to its website, the NABJ's Hall of Fame pays homage to legendary Black journalists and communicators who have made outstanding contributions to the industry. By that definition, it's easy to see why David was included in this year's class.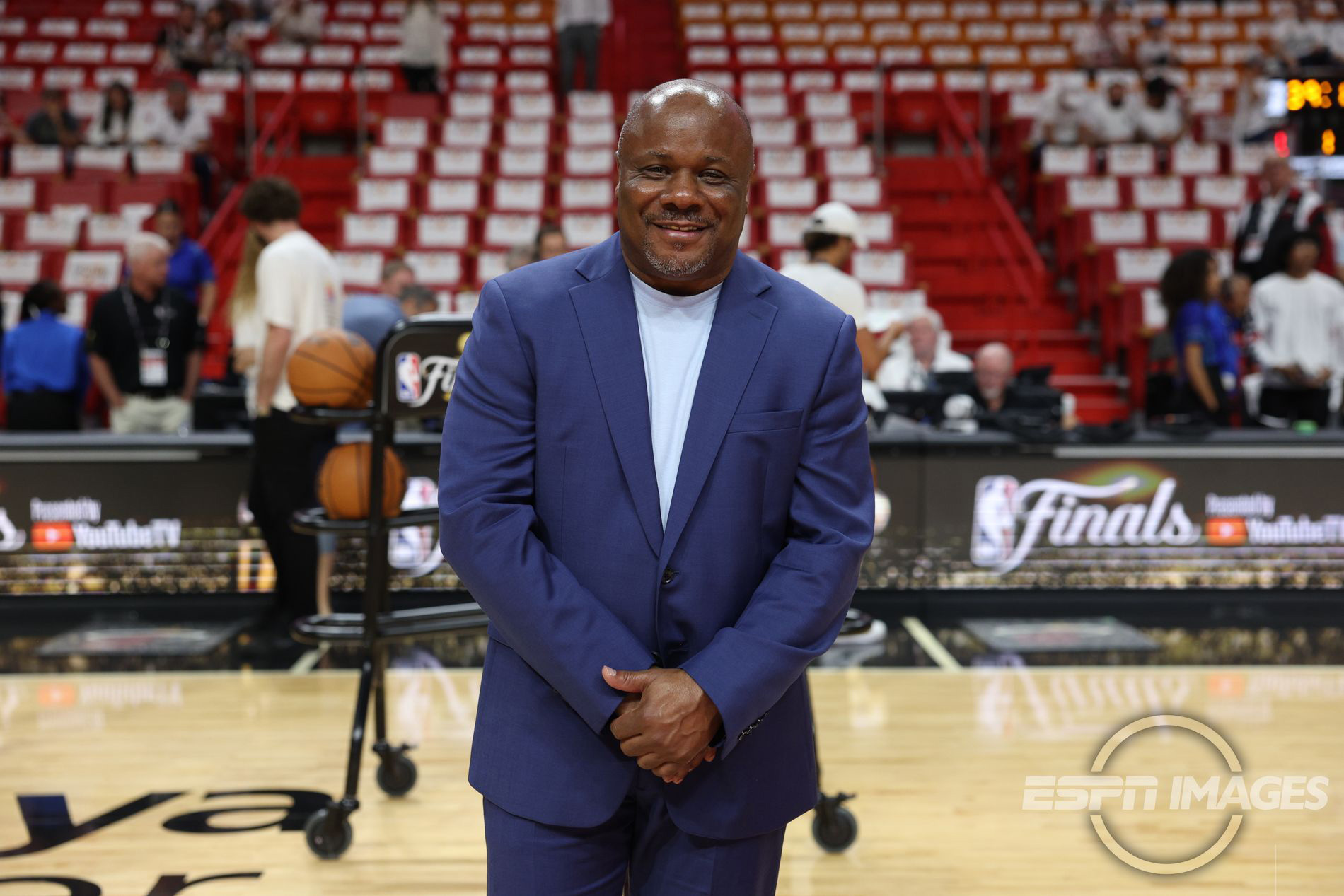 He knew he wanted to be a reporter as an eleven-year-old living in Detroit, Michigan. With a strong interest in the news, he planned a curriculum from a young age that helped prepare him for what would turn into his lifelong career by focusing on effective writing, speaking and other journalistic skills.
"My initial reporting career was in news. I did not become involved in sports until I came to ESPN 19 years ago," David said. "ESPN was actively recruiting, and they made a strong commitment to finding talented persons of color. It was impressive to see because it was a real commitment, and some real high-quality people were recruited to the company. I had an opportunity to join after spending the first half of my career on the news side, running news operations across the country."
And so, in November 2004, David joined the ESPN team as a coordinating producer where he was able to impact content across a variety of shows. Over the years, he also gained experience and leadership overseeing ESPNEWS when it was a 24-hour news channel, network radio in New York, linear television programs like First Take, evening SportsCenter, afternoon shows, and the morning show Get Up. In addition, two years ago he was promoted to overseeing the NBA, transforming the coverage and content and elevating new talent such as Malika Andrews, Richard Jefferson, JJ Redick, and more. As a result, viewership for both games and studio shows has been stronger than ever.
"It's been a progressive journey as opportunities opened up, and it put me in a good position to grow my career here at ESPN."
It was his drive to move forward and steady, strong work ethic that landed him in his current role. And it doesn't even stop at his job – David is up at 4:30 or 5 a.m. most mornings to get in a run before starting the workday! "A typical day is early. You can usually find me on a treadmill, and that's where I can prepare myself mentally for what's never the same day, 7 days a week, or 5 days a week. But – you know what - when you're in this business, you're on 24/7! If you want to be successful and really have an impact, you have to operate with that mindset, but at the same time, learn to achieve that balance that you need to stay sharp and stay focused."
Once he's gotten his workout in, then it's on to his responsibilities as Head of Event and Studio Production. These include setting the vision for the content he's producing then ensuring that the people around him can buy into that vision. He's a true believer in letting the talented people around him "do their thing" while providing guidance and feedback where needed for everyone to meet a common goal.
Video featuring Molly Qerim, Mike Greenberg and Stephen A. Smith speaking about the accomplishments of David Roberts from a previous award he was given.
It almost doesn't need to be said, but those goals have been met by David and his team more often than not, most of which he credits to the spirit of teamwork and collaboration he has fostered within himself and others throughout his career.
But what else does it take to be successful at ESPN? "You have to have a strong knowledge of the content and understand the audience that you serve for different parts of the day and different platforms. ESPN is not just a network, as some would describe it – it is a multiplatform ecosystem that serves fans anytime, anywhere. Understanding that makes it easy to set goals and hold people accountable for meeting those goals."
He relishes those moments when goals are met. "It's simply hard work, creativity, innovation and that commitment to excellence. It's fun to see when my team is moving in the same direction. I say that over and over again because it's so essential to overall success."
Then there are those moments that he's grateful for that fall a bit outside of the tactical work but come because of all the hard work. When asked if he had a favorite moment from his time so far with ESPN, he said it has to be seeing Rachel Robinson, wife of the first African American to play in Major League Baseball Jackie Robinson, turn 100 years old on the 75th anniversary of her husband breaking the color barrier and entering the major leagues. "She was brought out on the field from the bull pen and seeing the respect that she received from both teams at Dodger Stadium and then watching with her in the Magic Johnson Suite was a special moment."
As he reflects on his career and looks forward to attending the NABJ 2023 conference in Alabama this month, he's humbled by the recognition he'll receive and is looking forward to reconnecting with many people who have been along the journey with him. He also offered advice to those looking to emulate a career like his.
"I give this message to a lot of African Americans who aspire to be in this business: Come prepared to offer solutions. Understand that achieving diversity is a journey – it'll never end – but take the responsibility. Don't sit back and complain about what's wrong but come in and be part of the solution. Establish allies and be part of a team that is truly diverse, and accept the responsibility of leveling that playing field and offering ways that that playing field can be leveled so excellence is the standard no matter who you are and where you come from."
He also says to be prepared to work hard and smart so you can be in a position of making decisions. "When you're in a position to decide who is on the screen or a certain platform, and what role is made and the stories that are covered, and how the programs are formatted and what's slotted in certain time periods – there you can make a huge difference."
"If you work hard and operate with the philosophy that excellence is the key ingredient to any level of success – no matter what the position is – then you can achieve that excellence and those kind of accolades such as the NABJ Hall of Fame. So, it's quite an honor, I'm humbled, and I look forward to seeing those peers who have given me that recognition."
For more about the NABJ 2023 Hall of Fame, visit their website.
To join David on the ESPN team and see how you could be a part of bringing sports coverage and stories to fans worldwide, visit ESPNCareers.com.