Leaving a legacy: Sarah, manager, global intelligence & threat analysis
From childhood Disney theme park trips to protecting the company's brands, assets and people as a member of the global security team, Sarah has always had a connection to the magic. After following in her family's footsteps with a military career in the United States Army, she took her talents to the company that had always inspired her.
We spoke with Sarah about her career journey, passion for working in global security, and how she cultivates a skilled, creative team!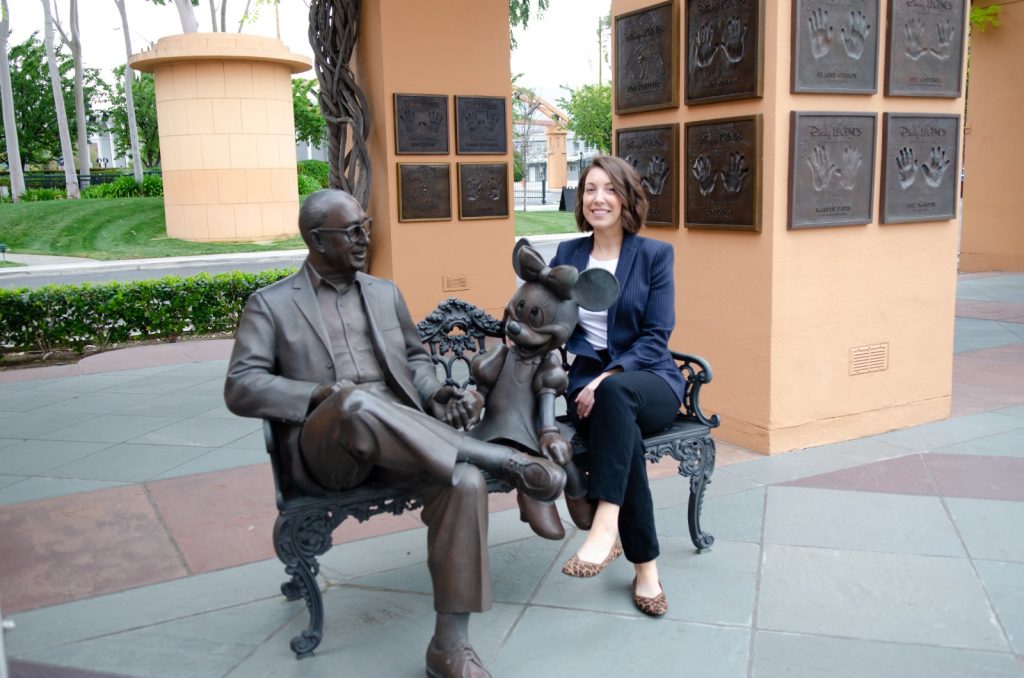 Tell us about yourself and how you found your way to Disney!
Prior to joining The Walt Disney Company, I served as a Military Intelligence Officer in the United States Army and was on active duty for about eight years, developing partner force capabilities and assessing risk in support of military operations. It was during my last deployment that I realized I was ready for a new adventure.
Like my father and his father before him, I joined the military to serve my community and my country. Through that experience, I found my sense of adventure, learned the value of hard work, and formed lasting friendships. I felt I had achieved what I had set out to achieve, and from there, I was ready to reinvent myself!
What a legacy to continue! How has it been working with Disney after your military experience?
I've been with The Walt Disney Company and the Global Intelligence & Threat Analysis team for two magical years now, and like many others before me, I started as an analyst on the team, concentrating on geopolitical developments and risk trends within Asia-Pacific. During that time, my leadership continually pushed and encouraged me to explore my potential, enhance our efficiency, and strengthen the functionality of our team.
Coming from such a heavily regimented and structured environment, I felt I could bring elements of that forward to assist with the organization and restructuring of The Walt Disney Company's intelligence architecture. A year ago, I was offered a management position overseeing the analysts' growth and optimizing intelligence processes across the company.
Congratulations! Going back a bit, what inspired you to pursue a career in global security at Disney?
A few years ago, I watched Bob Iger speak about business strategy and leadership. When describing the culture of The Walt Disney Company, he said something that resonated deeply: "We believe in respect for others, the value of hard work. Good will ultimately triumph over evil. We like the spirit of adventure. We like taking risks. We believe in resilience and the ability to pick yourself up, dust yourself off, and get back into the fight."
I remember feeling empowered and motivated by his sentiment, and I wondered how someone like myself, a member of the Armed Forces, could be of value to a company driven by creative genius and innovation. As an analyst, I knew that my professional value was not necessarily determined by my artistic talent but by my ability to assist leaders in navigating the complexities of a rapidly evolving and interconnected world in which we take these "big risks." With that, global security became my first home at The Walt Disney Company.
That is certainly inspiring! How do you bring that to work every day? Walk us through your daily role responsibilities.
I lead a talented team of intelligence professionals who provide executive teams with geopolitical insight and actionable intelligence to facilitate decision-making, resource allocation, and risk mitigation. Analysts leverage their unique geographic, professional, and cultural expertise to proactively identify threat trends, allowing leaders to maximize business opportunities while minimizing risk to The Walt Disney Company's employees, assets, guests, and brand. As a team, and with the support and collaboration of our Global Security partners, we help protect the magic of Walt Disney's legacy.


Teamwork makes the dream work! Tell us more about your team.
We are multidimensional storytellers tasked with identifying and analyzing principal risks in order to facilitate safer and more secure initiatives that will carry the organization forward. Our analysts come from different backgrounds including academia, the military, government, industry competitors, etc., all of whom are welcomed and valued.
To be both successful and fulfilled in this role, you have to enjoy solving problems. Successful candidates are enthusiastic and motivated by an intense curiosity to understand the world around them, and they are organized, enjoy discovering meaningful patterns in meaningless noise, are adaptable and receptive to change, and, at their core, are constantly accessing the bigger picture.
Speaking of bigger picture, what are the benefits of working for a large and varied company like The Walt Disney Company?
You are surrounded by extraordinarily talented individuals who constantly innovate and push the limits of what their teams can achieve. The exposure to diversity of thought and excellence motivates and inspires you to challenge yourself and expand your imagination. Working with these individuals and engaging in these creative endeavors has made me a more capable and adaptable leader.
It certainly takes all of us! How do you focus on diversity, equity and inclusion in your role?
As analysts, we are storytellers, albeit not of the fairytale variety! Still, we recognize that we have a responsibility to cultivate, value, and encourage curiosity, collaboration, and creativity from each other, our partners, and our business leaders to build a supportive environment that continues to inspire optimism and drive innovation. We strive to create a culture where all perspectives, regardless of identity or background, are heard and valued. And working for a company dedicated to improving representation makes me feel as though my work contributes to this progress and the betterment of our world.