Disney Future Storytellers Spotlight on Joshua, Intern & Hispanic Scholarship Fund Scholar and Mentor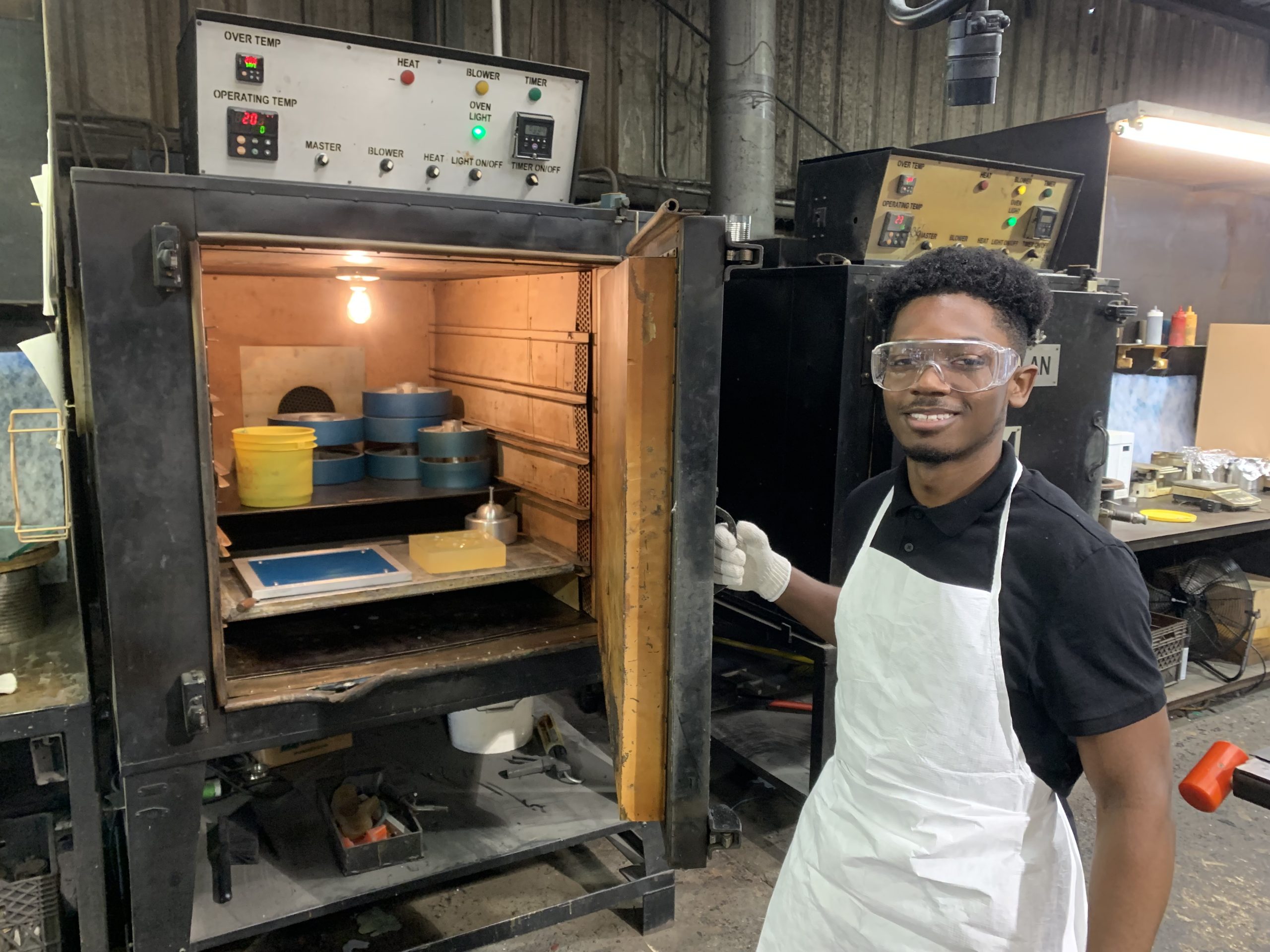 For Joshua, an engineering Disney Intern with the Global Applied Technology team at Walt Disney World® Resort, no day is the same. "My journey with Disney has been nothing short of amazing due to the variety of work I do with my team," Joshua shared. "One day I could be using machinery to figure out what material a part has, the next day I could be on a Disney cruise ship looking at slide conditions, and another day I could be doing ride testing overnight at one of the theme parks. In each instance, I am constantly learning something new and enhancing my ability to solve problems and be creative."
Joshua started with Disney last spring and is based in Orlando, FL. While he might be state side, his work makes an impact across the globe. He was even able to work on a project supporting Disneyland Paris®!
"Disneyland Paris had a ride with head padding on the over-the-head seat restraint that was too firm. I had to find a material to decrease the firmness of these pads to ensure Guest safety while abiding by international materials standards. I was able to find an alternate material and complete compression testing on the head padding, now that ride uses the padding I altered. This is my favorite project because not only did I create a safer environment for Guests worldwide, I also completed work that will have my name on it for years to come at Disney."
For Joshua, this type of impact through empowerment is what a career at Disney is all about. "That is what I am most passionate about—the journey of enhancing oneself and positively impacting others. Disney has allowed me to become a better leader and creative daily while positively impacting millions of lives worldwide."
The Walt Disney Company is committed to empowering the next generation of storytellers and innovators just like Joshua. Through social investments and programs that provide inspiration and hands-on experience, we're increasing access to careers in technology, entertainment, and more as part of Disney Future Storytellers. Since 1998, Disney has supported the Hispanic Scholarship Fund (HSF) through grants that fund scholarships, support services, programs, and events. Hispanic Scholarship Fund, one of The Walt Disney Company's long-standing partners in these efforts, played a key role throughout Joshua's professional journey thus far.
Joshua first got involved with the Hispanic Scholarship Fund during college. "I became an HSF Scholar as an undergraduate student and attended both the 2019 HSF STEM Summit and the 2019 HSF Media and Entertainment Summit. I had never been to an academic conference, nor had an internship before these two summits. These two conferences not only gifted me critical skills I still use today to land internships and full-time offers, but also allowed me to experience my Hispanic culture at a time where I never had before."
Looking back on his experiences with the HSF, Joshua recalled, "The biggest impact HSF had on me was not as a scholar but as a mentor. I was a mentor for the 2021 HSF STEM Summit, 2021 HSF Hispanic Career Pathways Initiative, and the 2022 HSF STEM Summit. Through these experiences, I was able to positively impact the lives of hundreds of HSF Scholars and be a beacon of light throughout their respective careers. It was to the point where some HSF Scholars I mentored became mentors with me in future conferences. Being an HSF Mentor gave me the ultimate gratitude because I saw how significant the impact was on the next generation of Scholars."
Serving as an inspiration and showing up authentically in the workplace are values that Joshua holds dear. "My perspective and experience may be different than others, so adding that not only makes my team better but also Disney as a whole. To bring magic to all people worldwide, all perspectives need to be heard and represented, and I want to be that to the next generation of Afro-Latino engineers."
When asked what advice he'd give to current HSF Scholars, Joshua shared, "Your journey is one of one. Everyone's journey is different, so do not base your career journey on someone else's. The start and end of your journey can be exhilarating but do not forget to enjoy the process. The process is where you will learn the most about not only yourself but the world as well. Try to be present in your current moment because that is what matters the most. Lastly, do not be afraid to try pistachio ice cream. You may think you do not like something, but you will never know until you try it. That trial may open doors to something even greater for you."
Joshua also had advice for current college students or recent graduates looking to build a career at The Walt Disney Company: "Network with as many people as you can at Disney. Disney is a large company, so try to build relationships with various departments and teams. Also, always be open to learning and trying new things. The leaders at Disney appreciate the passion of their employees the most. Give your all in everything you do, and most importantly, be yourself. Our own personalities are what makes Disney great and magical."
Thank you, Joshua, for playing such an important role in creating magical experiences for Guests around the world!
Visit DisneyPrograms.com to learn more about current program offerings.