Goal Oriented: Arda Öcal, SportsCenter Anchor and NHL Studio Host
A love for hockey and sports came naturally growing up in Toronto, Canada, for SportsCenter anchor and NHL studio host Arda Öcal, but he didn't necessarily set out with the goal of working in sports media. A son of immigrant parents from Turkey, he discovered his own path which led him to ESPN. Luckily, a surprising gig covering a video game competition led to more roles centered around hockey, and needless to say, he's been sticking to it ever since.
We recently asked Arda more about his journey, career, and why he's proud to work with ESPN.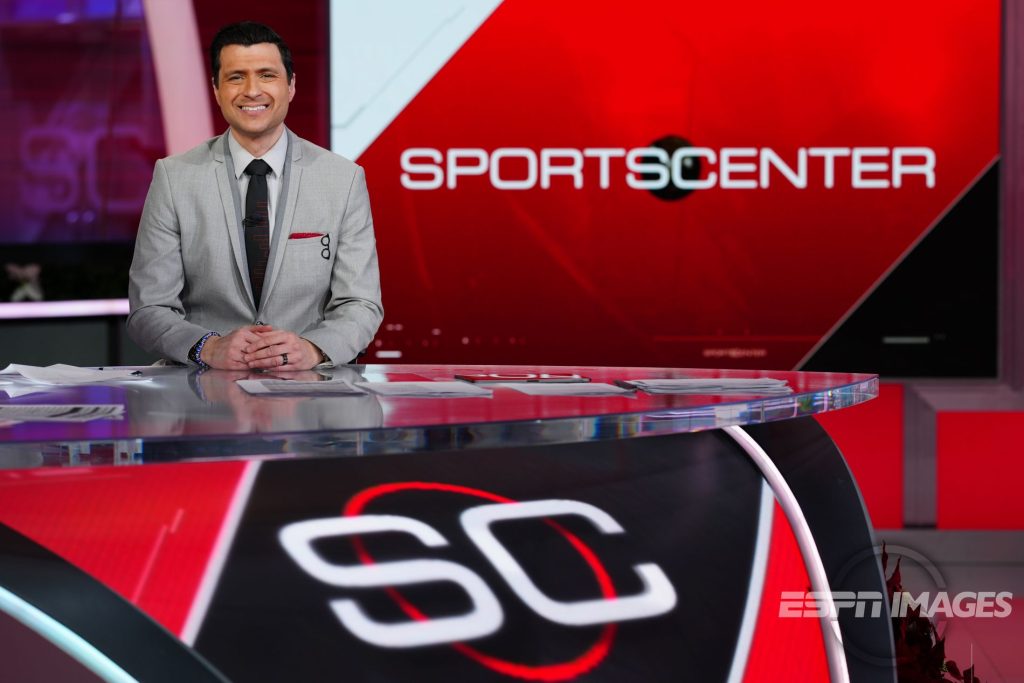 Tell us about yourself! Where are you from, and what inspired your passion for sports?
I was born and raised in Toronto, Ontario, Canada. My parents are both from Turkey. When my father immigrated to Canada in the 1970s, he started watching the Toronto Maple Leafs to integrate and make friends, and eventually, he became a fan of the team. Through him, and of course, being in a hockey-crazed country like Canada, I fell in love with hockey at an early age and never looked back. From there, I played sports in school and just never stopped.
How did you find yourself working in sports media?
The first thing I really did that made me catch the bug was reading the morning announcements in high school. In college, I'd spend nights and weekends at the local radio station or campus newspaper, not really knowing what I was doing. I didn't have any family or friends in the industry to help me out – this was all new to me – and I was paving a completely new path. I got a degree in mathematics because we all know the secret to making it in sports media is doing algebra.
After college, I worked as a project manager, and it was fine, but I spent a lot of time at the local public access channel. When I was around 27 years old, I decided I had saved up enough money and should really try and give this a shot. I would scrape by but give it an honest year or two and see where I ended up. Luckily, I haven't looked back!
What led you to work with ESPN?
In 2016, I was looking to get back into sports. I reached out to the editorial department, and they said they had an opening in esports, something I had never done at the time. But, in this business, you say yes to everything! So, my first gig for ESPN was in 2016 at the League of Legends World Championship, hosting a desk at Madison Square Garden in New York City for two straight sold-out days of video gamer competition. It was wild, and I loved it. That led to more gaming events, hosting a mixed martial arts podcast, and eventually, in 2019, I got hired full-time.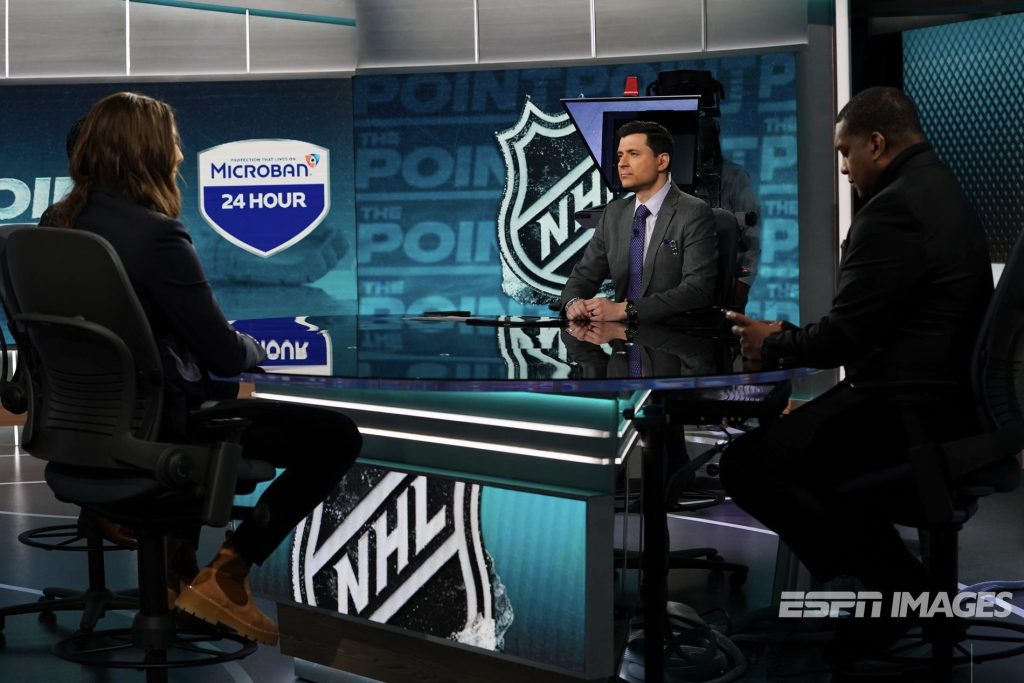 Tell us about your career journey with ESPN since then.
It's funny, in the system I'm technically listed as a "writer", and that's maybe the thing I do the least at ESPN. I was hired to host digital programming for MLS soccer, sports betting and UFC. I ended up becoming a SportsCenter anchor, a studio host for the National Hockey League (NHL) on ESPN and hosting various digital shows.
How did I do that? Well, at ESPN you can really carve your own path if you ask the right questions to the right people. Your mentors and champions in the company will help guide you and steer you in the right direction. I was lucky that I was in the right place at the right time when they were looking for more SportsCenter anchors, and also the NHL returned to ESPN, so I could raise my hand and apply. I'm eternally grateful for that.
What's a typical day in the life like for you?
It changes every day! One day I'm hosting an NHL game on ESPN. The next I'm hosting SportsCenter. Another day it's SportsCenter Snapchat. I'm filling in for Hoop Streams. Hosting a digital show for the Masters. Whether it's linear television, digital, social media – each medium has its own vibe and audience that I cater to. It's a lot of fun to think up what the best show and content will be for the people watching.
What makes ESPN such a great place to work?
The people, the storytelling, the excitement of live television – it's all a rush and privilege.
What has been your favorite moment working with ESPN?
My first SportsCenter in May 2021 was a career highlight. I'm one of three Muslims to ever host SportsCenter, the only active one and certainly the first of Turkish descent. As I was also for my first game as studio host on the NHL on ESPN. I'm the only Turkish Muslim perhaps in hockey history to host NHL games, which means a lot to me.
I also appeared in a commercial with Stefon Diggs for the Marvel film "Doctor Strange" – that was a ton of fun. We filmed it in Miami, and I didn't complain about that!
How do you focus on diversity, equity and inclusion in your role?
Diversity, equity and inclusion means everything to me. I am part of that conversation and want to be an ally and agent for change. Throughout my career, wherever I've gone, I'm usually the only anchor of Muslim faith or from a South West Asian/North African (S.W.A.N.A.) country. Early in my career, I felt ashamed of this, and thought I should change my name to Adam to blend in, get more auditions and not draw attention to myself. But now, especially at ESPN, I feel completely comfortable to embrace and celebrate my diversity.
By my count, I am one of three Muslim Sportscenter anchors in history. I am one of the very few Muslims of S.W.A.N.A. anchors across the NHL. I'm very proud to lead the charge and inspire the next generation. ESPN supports that. In fact, without even me asking, when I hosted my very first SportsCenter in May 2021, the graphics team made sure the Umlaut was on my last name, Öcal. That was a very proud moment. I can't tell you how many messages I've received from people of Turkish descent, Muslims or people from my part of the world that have messaged me that they are inspired or proud by seeing that on ESPN. It seems small, but it's very big to me and that corner of the world because we never had anything like that for a very long time.
What do you think it takes to be successful at ESPN?
You have to be passionate, work hard and care. Be kind to everyone, focus on the task at hand. The squeaky wheel does get the grease but do it respectfully. I think it takes a combination of all of those things. Know your stuff, research, put in the work, and that's where your confidence grows.
By: Disney Careers Recruitment