Heroes Work Here: Spotlight on ESPN's Rosetta Ellis-Pilie, US Army Veteran
Every day at ESPN and across The Walt Disney Company, US military veterans contribute their talents, skills and effort to producing the top-quality content, experiences, stories and more that our company is known for. We recognize the commitment and dedication it takes to serve your country, both as military personnel and military spouses, and value the leadership skills and sense of purpose it instills.
To celebrate the upcoming Armed Forces Bowl on Dec. 22, we sat down with ESPN's Vice President of Talent Development & Negotiations and US Army veteran Rosetta Ellis-Pilie as she shared her experience transitioning into her current role at ESPN, what it was like helping launch Disney's Heroes Work Here program, and skills she's brought along the way.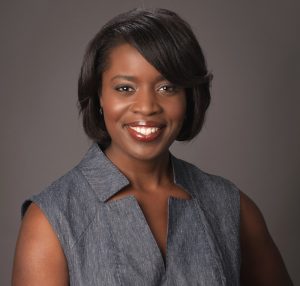 Rosetta served three years in the US Army as a unit supply specialist and armorer before graduating college then law school, and working a number of years as a law firm lawyer, then an in-house lawyer. Most of her time as an attorney was spent working in labor and employment law which aided her in her next few roles, eventually leading to her current role in ESPN's Talent Office. In her current role, Rosetta leads the efforts of ESPN's Talent Office which is responsible for hiring, developing, guiding and negotiating contracts for ESPN's public-facing Talent team across linear, digital, radio and social platforms.
"An obvious attribute that military experience teaches you is teamwork – you learn to effectively work as part of a team towards a common goal," Rosetta explains, "But there are many other attributes that I gained from my military experience that I believe has been helpful to my career at ESPN such as leadership, effective time management, organization and the ability to think and act quickly to circumstances and to pivot when warranted, to name a few. There are a great number of transferable skills that military veterans in general bring to the civilian workforce."
Rosetta further explains that there is not only a great sense of camaraderie among the veteran population, but also a great appreciation for that population by non-veterans.
Rosetta believes it is important to utilize opportunities to support the veteran population. In fact, Rosetta – along with other veterans throughout The Walt Disney Company – was involved in the launch of the Heroes Work Here campaign, a company-wide initiative to hire, train and support military veterans. From meeting with fellow veterans at a kick-off job fair to participating in a number of other outreach opportunities along the way, such as the Disney Veterans Institute, Rosetta helped kickstart what would eventually become an incredibly successful program that continues to empower and equip veterans with the tools and resources they need to transition to the civilian workforce.
"This was a win-win for veterans and our company," says Rosetta, "and this campaign was also personally satisfying for me as a veteran who was employed here before the program was launched."
To date, the "Heroes Work Here" program resulted in over 10,000 qualified veterans being hired throughout Disney – which was Disney's initial goal – and thousands of veterans being hired by outside companies who attended the Institute.
Thank you to Rosetta and all other veteran cast, crew, employees and Imagineers! Tune in to the Armed Forces Bowl on ESPN Dec. 22, 6:30 p.m. CT/7:30 p.m. EST. For more about the game, visit their website.
by Disney Career Recruitment