Meet Claire McCabe, Vice President of Branded Partnerships and Kids Unscripted Content for Disney Branded Television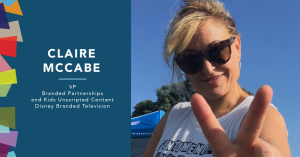 Meet Claire McCabe, the Vice President of Branded Partnerships and Kids Unscripted Content for Disney Branded Television. Claire initially joined the company through the Disney Channel in 1997, working for Gary Marsh, and stayed for about four years. Then, in 2014, she returned to the company when an opportunity came up to work for the Radio Disney Music Awards, and she has been with that team ever since.
With over 30 years of producing experience in non-scripted television, Claire is creating an inclusive environment for the employees, cast, and crew she works with and bringing more awareness about diabetes and non-apparent disabilities.
What led you to become involved with Enabled LA Think Tank, and why is it so important to you?
Initially, I wanted to create more diabetic awareness. Two meetings in, I was like, "Oh wow, there are much bigger issues than diabetes." Now I find myself advocating for everyone. I am very empathic and get really bummed out when I hear stories of what other enabled people go through. We need to support each other and make it known that every voice counts, so I try and speak up as much as I can. All our stories are important and should be told.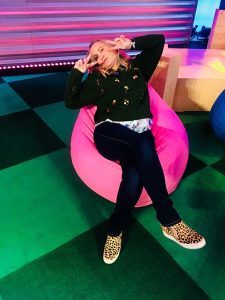 Is there a difference between the Enabled LA Think Tank and Enabled LA?
The Enabled Think Tank is part of Enabled LA. In our think tank, we are given situations that need solutions for the enabled. I really didn't think my Type 1 diabetes would introduce me to so many other divisions within the company, but we have worked with the retail group, short-form scripted, parks, you name it. If there's a question from a division, we share our feedback, which has been really cool to be a part of. I recently saw a news segment on the El Capitan special movie screenings, and I was like, "Hey, we spoke with them about what they were doing." Yes, we are behind the scenes, but advocating wherever we can.
How do you advocate for talent and crew with disabilities on set?
Regarding booking talent, I think the best thing I can do is just remind our producers that we represent everyone in the world, and our shows need to reflect that. They are all good at finding amazing talent that is reflective of our audience.
As far as crew, I was recently on set and noticed a few diabetics, which I can tell because we wear visible devices, so I know whom I could go to if I needed support. We had a micro-community; it was kind of cool to know I wasn't alone. We all look out for each other … I have a friend who hasn't been comfortable sharing her disability, but I know, so I keep a personal look out for her – I can just be there for her when/if needed.
It's also the small things. If I notice someone hasn't been drinking water, I drop it off for them. If I notice talent needs a break, I speak up and say let's take 10 – it's really nothing special; it's awareness of your surroundings and people's behaviors. People are transparent if we pay attention to our instincts.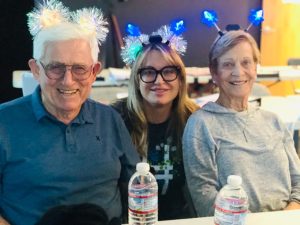 What still needs to be done to create comfortable and safe environments for all on production sets?
We need to just do it – don't overthink. I think sometimes the "inconvenience" of having to do something new can get in the way, and our minds tell us, should I say something, should I do something, what if this, what if that … Stop thinking and start doing. I am going to guess that with the number of enabled people, almost everyone has something or is related to someone who has something, so there's a good chance you are speaking for more than just one person.
I also feel we need to be upfront and not embarrassed to ask questions – I often check in if I am having a feeling: "Hey, are you good, do you need anything?" It goes a long way sometimes. I have a disease that needs help at any given moment, so I have learned to ask for help (that was a huge step for me and still is), and I think because of that, I am highly aware of my surroundings and can feel what is happening with people.
I currently work on shows that have overnight shoots, and there are just some nights I am not doing well, so I have to figure out if I need to leave, need water, a break or just talk it out with my on-set partners. And I am typing this like it's easy, but trust me, it can get me anxious, but I work through it – that is what life is all about, working through it… With friends and sometimes strangers.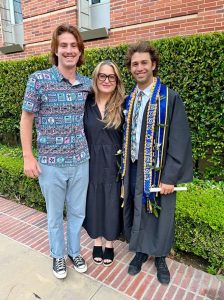 What is the best advice you've given to others about being an ally?
Practice kindness and compassion. Be empathetic; you never know what someone is really going through. It's easy to speak on others' behalf. Just do it. I think and hope Covid has made everyone a little bit more empathetic to the fact that there are invisible diseases, so just be courteous to others around you.
by Disney Career Recruitment