HBCU Spotlight on: Lauren Glover, Sr. Manager Learning & Development, Lucasfilm Ltd.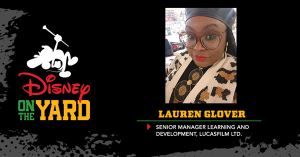 Lauren joined Lucasfilm in 2019, seeking new opportunities for growth. Now, as a Sr. Manager of Learning and Development, she assists in providing new learning and growth opportunities for other employees. The Morgan State University alumna has found herself in a role where she believes she can make a true impact and that others are receptive to the change and new learnings.
Prior to joining Lucasfilm, Lauren had a career in many different industries but felt it was time for something new. What attracted her most to her current role was the idea of working for a globally known brand and the chance to work with and learn from people around the world. Additionally, Lauren believed this role would allow her to spread her wings in a new way. She said, "I really liked that this was an exhaustive role. I wasn't going to be focusing on just one thing or element. It seemed like I would be afforded a lot of flexibility to create and do so autonomously."
As a learning and development manager, Lauren explains her role as a teacher for adults. She helps plan and orchestrate learning experiences such as workshops, seminars, workshops, and development courses, for the employees of all levels at Lucasfilm. Many of the offerings Lauren focuses on are geared toward employees at the leadership level. One course, in particular, is the course Leading Inclusively. "This course helps our leaders reframe how they are leading their teams, particularly in this virtual space," Lauren said.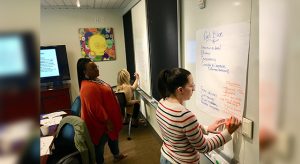 Lauren Facilitating a Learning Experience for the Lucasfilm HR Team, 2019
The virtual space has been most of Lauren's tenure with Lucasfilm. She was able to build relationships with her team in the office for about six months before being furloughed because of the Covid-19 pandemic. Leading up to her last day in the office, Lauren recalls her colleagues rallying around to support her during that time. While temporarily away from her role, Lauren's team found ways to connect with her in a more personal way, checking in with her and sending words of encouragement. These moments of uplifting connection gave Lauren a strong sense of belonging at Lucasfilm.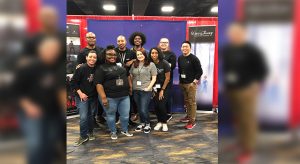 Employees from Disney, Pixar, and Lucasfilm at the Oakland College Expo, 2020 (Prior to March of 2020)
"It was so beautiful to have that experience where I didn't feel othered or like people were tip-toeing around the situation. Them doing so helped normalize everything for me. I had ever experienced an organization in that way," Lauren said.
Since returning from furlough, Lauren and her team get to continue developing learning opportunities in addition to incorporating in more diversity and inclusion-focused offerings. Although furlough was a tough experience for her, Lauren learned that she has a place where she is supported and included.
"I love the work that I do here, and I love the people I get to do it with! I love that I am a part of Lucasfilm, but I also love that I am a part of the Walt Disney family."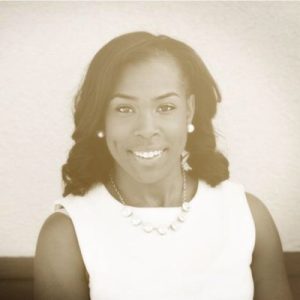 by Bethany C., Communications Specialist