A Day in the Life: Dan Downing, Senior Product Manager with Technology & Digital
If you enjoy working with all different kinds of people and thrive when supporting multiple projects or priorities, a career in product management with Disney Parks, Experiences and Products Technology & Digital could be a perfect fit for you.
With the Technology & Digital organization, you'll be encouraged to use your skills to contribute to a passionate culture of innovation. Throughout the organization, designers, data scientists, writers, project managers, engineers, and more collaborate to power the magic in our parks, aboard our cruise ships, and in Disney experiences around the world.
Dan Downing is a Senior Product Manager with Technology & Digital, and one of his favorite aspects of the role is working with a diverse team of developers and creatives across the globe on a day-to-day basis.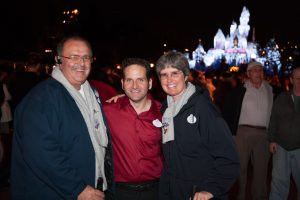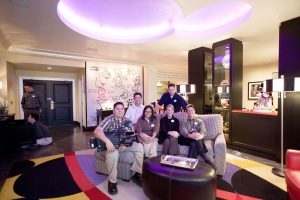 As a Senior Product Manager, Dan is responsible for diving into the vision and scope for a technology product and then working with people across many teams and functions to ensure all contributors are on the same page. "A real day in the life is always keeping the channel of communications open between business partners, users, and leadership teams, to ensure everyone is aligned about the product's vision, the roadmap, the goals," said Dan.
From communications to technology
Dan has been a Cast Member for more than 20 years and started with the company as a Custodial Cast Member. One of his passions is design, so eventually, he transitioned into roles in Public Affairs and Communications Technology. In these areas, Dan supported design and development of internal print publications for Cast, Cast intranet sites, and more. He describes himself as a lifelong learner, and over the years, he volunteered for assignments that would allow him to broaden his communications and technology skillset and learned HTML coding and website design.
With his experience creating and contributing to Cast communications vehicles, the transition into a technology Product Manager role was seamless, and his skillset set him up for success in being able to understand how to work with many different subject matter experts across Tech & Digital.
"I've been able to use my background in communications and design to really be able to communicate the goals we have for our applications, both to business partners and executives," said Dan.
Currently, one of the main projects Dan supports is the Cast Life mobile app, an internal application Cast Members use to view their schedules, get company news, log time, and more.
"Dan brings a vast breadth of knowledge to his role as Cast Life Product Manager. His experience as a front-line operations Cast Member up through his years in design and communications helps give a unique insight to the product team. This background and understanding of our Cast ensure that we are building the right digital Cast experiences tools in Tech & Digital," said Kevin Graham, Dan's leader.
Working with partners across the company
When Dan gets started on a project, he begins by collecting information from three distinct groups of Cast:
Business goals for the product from partners across the company
Operational needs from users in our parks
Executive goals to drive business and increase Cast and Guest satisfaction
Once he's collected all the preliminary information, he puts it all into a filter along with market research on similar products and related technology. On the other side of the filter, a clear set of goals and scope emerges. From that point, Dan uses his communications skills to translate the scope and goals into the lens of every role across teams contributing to the product. "We have to align all this information into a consistent vision and make sure the team understands, so they can work around that very same vision," said Dan.
Dan has enjoyed and appreciated every role he's held with the company, but overall, it's the people he's worked with and the projects he's contributed to that have been the most memorable aspects of his career. "We never have to question what we do. Our job is to make people happy, to design entertainment – so our work is always going to be entertaining and have variety," said Dan.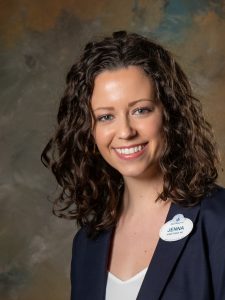 by Jenna T, Communications & Experience Manager, DPEP Technology & Digital