Meet Charlene Pugh, Analyst on the Connected Experiences Team
Charlene Pugh is an analyst on the connected experiences team, where she looks for ways to create online magic for folks who visit our digital platforms. She just celebrated her 16th anniversary with the company earlier this year, and while Disney was never on her radar as a place to work as she was growing up, she is glad the stars lined up to bring her where she is today.
Hear from Charlene about her career at Disney, her experiences with the Wakanda @Disney family, and why innovation and storytelling are so important at The Walt Disney Company.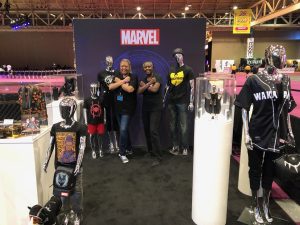 Can you tell us what you find most rewarding about your experience?
For the past four years, I have been honored to be part of the Wakanda @ Disney family. I started my experience as the lead of the consumer insights subcommittee, where I was able to affect change in the products we designed and where those products were placed. Receiving Marvel Studios' approval to display our Black Panther consumer products at the 2019 Essence Festival was a major accomplishment and springboarded our fan engagement at the NAACP National Convention and the National Association of Black Journalists (NABJ) Convention that same year. It was so exciting to witness first-hand how connected the Black community continues to be to the film, and having our Special Collection Shuri Doll, whom I had the pleasure to help design, make her debut at Essence was a moment to be celebrated.
Being part of the team that got the Halloween episode of Black-ish aired where the cast wore Black Panther costumes was also very rewarding. And having a position that afforded me a platform to use my voice and provide feedback from the Black consumer lens reinforced the importance of having Black talent involved in every phase of creating stories, products, and experiences. When I assumed the position of Wakanda's co-chair, I was given the opportunity to develop leadership skills I would not have had the opportunity to do in my day job, such as developing a five-year plan that gave me a different perspective on the decisions, resources, and strategies necessary to grow a business. I have a greater respect for the teams responsible for guiding and implementing that business necessity.
Along with my co-chair and partner-in-change, Jameelah Bealum, senior manager business development, we were able to elevate our programming to address the mind, body, and soul of our members. I will be forever grateful to our co-founder, Chair Emeritus, and Tribal Elder of Wakanda, Heather Anderson, VP Programming and Acquisitions at ESPN, for trusting us with the kingdom, and our executive champions Kareem Daniel, Chairman, Media and Entertainment Distribution, and Mark Walker, Head of Sports Business Development and Innovation at ESPN, for always demonstrating the definition of true leadership that I had the privilege to witness and learn from.
What does a reimagined tomorrow look like for you?
A reimagined tomorrow looks like a world where firsts and only-ones are no longer happening because we all have equal representation the way WE want to be represented.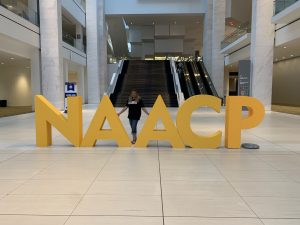 What makes Disney an exceptional place for storytelling? Can you share an example of how that shows up in your work?
Storytelling is in our DNA and at the heart of what we do. That same mindset is important when creating experiences for cast members and employees visiting our websites. From the placement of images to evoke emotions to discovering the right words to set the tone to finding social moments to engage our visitors to a balance between text and white space, our pages visually tell stories that hopefully have users coming back to find out what's new and what happens next.
Why is innovation so important when it comes to Disney's stories?
Stories are part of every culture and provide unique opportunities to discover the complexities of our histories and moments where our common humanity can shape conversations and celebrate identities. For almost 100 years, Disney has positioned itself as a leader in storytelling. And while we've created stories over that period that are beloved all over the world, we also realize that some of those stories did not accurately reflect the realities of fans in various diverse communities. It is important for us to enter our next century remembering that the images we choose to portray on screen, the stories we choose to talk about with cultures and people who don't look like us, and the messages we leave our audiences and fans with must not go against the heart of innovation: diversity and inclusion.
If you visit the Belong site, you will see nine dimensions of diversity celebrated: Asian American/Pacific Islander, Black/African American, Disabilities, Hispanic/Latinx, LGBTQ+, Multicultural, Native American/Indigenous, Veterans/Military, and Women. Isn't it time we consistently saw these groups portrayed in TV shows, films, books, games, products, etc., at the level where we no longer have firsts and only ones? I see innovation as permission to break the rules that place people and cultures in little boxes. Disney's willingness to go against traditional standards of storytelling that originate from the perspective of folks who don't look like, feel like, have values like, have life experiences like, or think like the diverse characters at the center of stories will go a long way to provoking change in not only how stories are told but whose stories are told and how we, as members of the human race, relate to each other.
Along with innovation comes the desire to honor the different ways our audiences and fans consume our content. That is why it is more important now than perhaps at any other time in our 100-year history that the content our audiences and fans are consuming embodies the principles and values that we, as a company, say we stand on. Our goal should always be to tell stories that stand the test of time and not be locked away in a vault. Our commitment should always be for the stories we present to the world to be rooted and grounded in truth-telling first, with entertainment pixie dust sprinkled in to add that flavor that only Disney can bring to life.
I am excited to hear from the voices of the folks who represent the narratives being told. I can't wait to see the characters who are born out of the authentically lived experiences of diverse creators hit the screens. I am ready to experience the game-changing content that will be created once we embrace the realization that images matter, words matter, and portrayals matter. Let's innovate on that!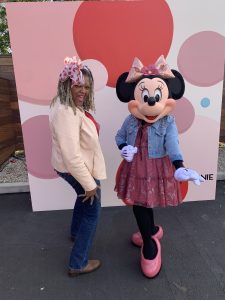 How does your team put the audience first when it comes to your work?
Our audience represents the most important asset Disney has and will ever have: the cast members and employees who visit our digital platforms, such as the Belong site. They are at the heart of every keystroke, layout design, and decision we make when developing or updating our sites. We are constantly questioning ways to reduce the clicks it takes to arrive at information, how content appears on the screen, what the emotional goals are for the site, how to ensure EVERYONE – no matter what part of The Walt Disney Company you work in – can access the content, and questioning the why behind every asset and text posted on the site. I am blessed to work with a team that is committed to getting this right and will not settle for less than an optimized experience for everyone.
You could work for any company in the world… so why Disney?
To be honest, Disney was not on my radar as an employer until the opportunity to work for the Baby Einstein Company came my way. Prior to joining Disney, I spent the early part of my career working as a public affairs specialist with the U.S. Navy and the U.S. Department of Energy. Just to clarify, I was a civilian employee and not an active-duty service member. My goal after college was to enlist because I wanted to be a pilot and was in love with the AH-64 Apache helicopters that sang to me as they flew over our house. However, my Daddy reminded me that my tendency to question authority would not bode well and that a 23-year Army vet visiting his daughter in the Brig would not be the highlight of his retirement. So, I took flying lessons and jumped out of airplanes while producing and co-anchoring a weekly news show, being a reporter, scriptwriter, and events planner. My journey to Disney was a blessing and happened because God placed me in the path of someone who knew someone who knew someone who was looking for someone. I'm grateful that He did because my time at Disney has positively shaped my life.
by Disney Career Recruitment