HBCU Spotlight: Karla Baker, Merchandise General Manager, Epcot
Inclusion and belonging are at the heart of what The Walt Disney Company and what Karla Baker does. Karla is the General Manager of Merchandise at Epcot. The Chicago native has a Disney career spanning 23 years, three theme parks, World of Disney leadership (the largest merchandise big-box location at Walt Disney World), co-leader and executive champion of WDW Pulse, and recently added Executive Champion of the Disney Programs Equity Council to her plate. Inclusion was added to the then Four Keys lineup in 2020, however, inclusivity has always been woven into Karla's career.
Karla is an alum of Alabama A&M University. Growing up attending a Catholic school, Karla had early exposure to working and interacting with people whose backgrounds differed from hers. She says, "My elementary school was extremely diverse. It was an environment where I was introduced to different cultures, and I began to understand how to work with people who did not look like me." Then came A Different World, a game-changer for Karla. "Seeing an HBCU regularly on TV motivated me to find that life. I wanted the freedom of being away from home, to be around people who look like me and were striving for the same goals that I had," Karla said.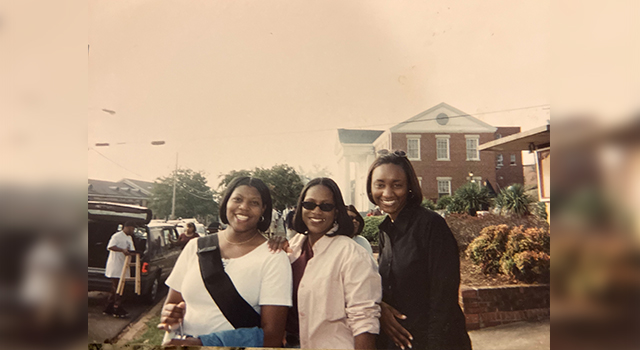 Karla on campus at Alabama A&M University with friends.
She recalls her early days at Alabama A&M and when she first felt a sense of belonging. As a first-generation college student, college was a new experience for her whole family.
"The moment my parents and I arrived on campus we were pointed in the right direction to get me set up. My parents were treated with total respect, and the school recognized they would only be there a few days. We did not have our finances in order that first semester, so the school allowed my parents to make monthly payments until the bill was paid in full. My parents and I realized right away that the people at Alabama A&M cared, they really cared enough to give me an opportunity, and they put the person before the finances," Karla explained.
One significant takeaway from Alabama A&M for Karla was the confidence that resulted in being in the majority. She said being at an HBCU gave her and other students the chance not to worry about anything other than succeeding. To be in a comfortable place where everyone looks and talks like you is something that you don't think about until you are no longer in the majority. "It gave me a different level of empathy, and it taught me how intentional you really have to be to bring people along once you are in the majority or the driver seat," she said.
This lesson on being in the majority helped Karla in her time as an Operations Manager at World of Disney, a merchandise location at Disney Springs in Orlando, Florida. It was the first time in her career that minorities were the majority in Leadership. During that time, Karla and her Team had an opportunity to develop an inclusion strategy and implement solid tactics with great success!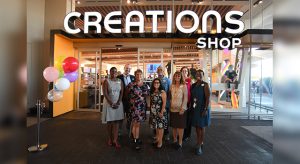 Karla Baker and Epcot team opening the new Creations merchandise location.
Karla says, "we had an extremely multicultural cast, and they taught us how important representation was, representation of their cultures and in their leadership. Here I had the chance to evolve our leadership team to look like our cast and Guest, and it worked! When you have the right representation and create an environment where everyone matters, you can drive incredible cast results and business results."
Karla says that working at World of Disney was when she felt the greatest sense of belonging for herself and collectively for her whole cast. To Karla, inclusion work benefits everyone. During her time in an executive role, Karla believes this is when she uses her influence to give back to help create inclusive work environments and opportunities for others, just as it has been done for her.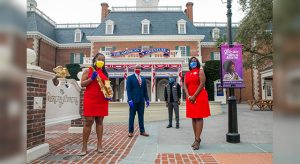 Karla with jazz musician, Charlie Parker, and Kansas City Mayor, Quinton Lucas, at Charlie's induction to the Soul of Jazz exhibit at Epcot.
"I believe my purpose in this role is to continue to add value to the business, broaden my shoulders to provide others the opportunity to have a solid foundation to confidently stand on, and help them to broaden their shoulders and pull those coming up behind them," Karla says.
Follow Disney on the Yard on Instagram @DisneyOnTheYard.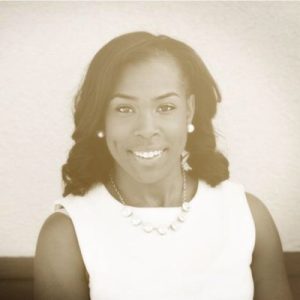 by Bethany C, Communications Specialist