HBCU Spotlight: Destiny Enriquez, Global Talent Acquisition Marketing Coordinator
Meet Destiny Enriquez, a Professional Intern with the Global Talent Acquisition Marketing Team. While attending Bethune Cookman University on a softball scholarship, she returned home to California to take a short break from school. During that break, Destiny was hired at Disneyland as a Skipper on the Jungle Cruise attraction. Learning the history of the Company and working on a popular attraction inspired her to pursue a career with Disney, utilizing skills she attained in Operations.
Now, in a role focused on Disney's strengthened engagement with historically Black Colleges and Universities (HBCUs) like Bethune Cookman, Destiny is excited for what is to come! Not only for herself but also for other HBCU students and graduates. She feels honored to be in a role where she can make a true impact on the Company and for other HBCU students like her. Learn more about Destiny, her passion for her HBCU, and how her experience has come full circle.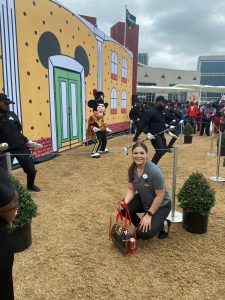 What is your role, specific title, and how would you describe what you do to a friend or family member?
I am a Marketing Coordinator with Talent Acquisition Marketing. Our team develops marketing strategies to attract talent to work at The Walt Disney Company. In my role, I assist account managers with coordinating the traditional marketing efforts to support the promotion of incentives, events, and recruitment initiatives for job opportunities across domestic parks and resorts. This ranges from digital banners, radio spots, outdoor boards, bus wraps, and more!
How many years have you been with the Walt Disney Company?
I started with the Talent Acquisition Marketing team in June of 2021. Prior to that, I spent two years as a Jungle Skipper at Disneyland.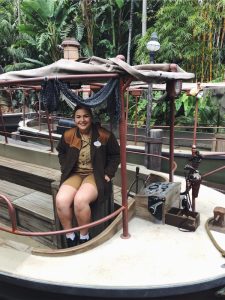 What's your Disney "why"? Why did you choose to pursue a career with Disney?
I've always loved the parks and going to Disneyland. During my junior year, I was a little discouraged in my athletic performance and I hated being so far away from my family. So I came home and started working at Disneyland in the summer. While working at the Jungle Cruise I realized how much there is to do here beyond just parks and rides. All of the history, details, and attention that went into the development of that ride really helped influence me to want to work for Disney.
What HBCU did you attend, and what influenced your decision to enroll?
When I was a senior in high school, I was recruited to play softball there. I went to Bethune-Cookman University on a full ride. At the time, I didn't know what going to an HBCU encompassed and I didn't know what to anticipate. I ended up leaving Cookman with so much more than I imagined!
How did your experience as an HBCU student help you in your role today at Disney?
Professionally it opened my eyes that as a minority you really do have to work twice as hard as others to be successful. There were a lot of things they did at Bethune Cookman that helped to prepare us for corporate America. Every Wednesday we had to dress in professional attire and if you were not dressed appropriately you were dismissed from class for the rest of the day. We had regular oral communications training and there were always opportunities to network with Bethune-Cookman alumni.
Personally, it helped me see humanity and what was going on in the world through a different lens, and how to have uncomfortable conversations with people. It really taught me the beauty of experiencing and loving other cultures but also embracing and loving my own at the same time.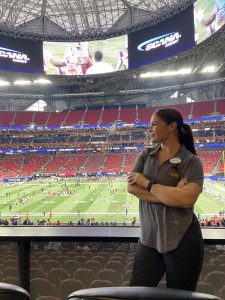 How have you supported Disney's efforts to strengthen its relationships with HBCUs?
I feel blessed and honored to be here fresh out of college. Bethune-Cookman owed me nothing, but I walked away with so much. In my role specifically, there is dedicated attention and work focused on Disney's HBCU initiatives. At Bethune-Cookman, our motto is "Enter to learn, depart to serve," so I feel like I am now embracing the entirety of my university by being in a role to help educate others about HBCUs and diversity and to inspire and give back to others by sharing my story.
I hope people continue to choose HBCUs, athletes, students, and employers. I hope people continue to educate themselves on HBCUs. There is so much talent that has not yet been unlocked at its full potential at these schools!
Learn more about Disney on the Yard and how they are dedicated to building a community for HBCU alumni working across The Walt Disney Company and providing meaningful opportunities for students.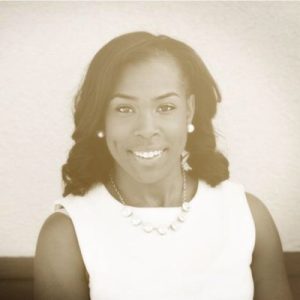 by Bethany C, Communications Specialist