Honoring Women Across National Geographic Magazine
National Geographic was founded in 1888 by a group of visionaries who embodied an era of exploration, discovery, invention, and change. With offices around the world and headquarters in Washington, D.C., today they are one of the world's largest scientific and educational institutions. National Geographic interviewed three international editors from National Geographic Magazines: National Geographic Kids China, National Geographic Traveler Netherlands, and National Geographic Magazine Georgia. Check out their interviews below:
Dou Chang has been the editor for National Geographic Kids China since its launch in 2013.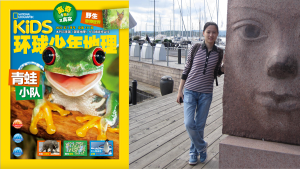 Hometown:
I was born and raised in Qingdao. Qingdao is a coastal city with beautiful scenery and a pleasant climate. There are red tiles, green trees, green mountains, and blue sea in Qingdao. These are the most distinctive colors of Qingdao.
Favorite thing about the National Geographic brand:
The outstanding explorers, Zoologists, and photographers of the National Geographic Society have worked hard year after year to uncover the mysteries of amazing nature with touching words and beautiful pictures.
Who is a woman that inspires you?
My mom, no matter at work or in life, is a good example to me.
How has being a woman shaped your work with Nat Geo?
I believe that women can be more meticulous and thoughtful at times, and I bring this to my work.
Tell us about your favorite kids' story/project and why:
One of my favorite articles is "The Seal Who Loved Me," which was published in NGK China in 2015. Six years later, I still remember the friendly, intimate, and touching underwater interaction between the seal and the photographer, Paul. The seal probably thought that Paul did not know how to hunt, so it enthusiastically showed him its hunting skills during Paul's five days of shooting. The seal took the trouble to catch penguins and sent them to Paul again and again. When it saw other seals trying to attack Paul, it protected him. This seal was so unusual and treated the photographer so kindly and gently. I was touched by the gift and surprise of nature to the photographer.
NGK China published an article called "The Story of Tofu." Tofu seems ordinary, but in fact, it has a long history. China is the first country in the world to cultivate soybeans. So we used this as an entry point, with real-life scenes and hand drawings, to tell an interesting historical story for our young readers, from the grandfather (soybeans) and father (soy milk) of tofu to the protagonist – the birth of tofu. Tofu is not only a common food but also a kind of inheritance of wisdom, culture, and diligence in the Chinese mind.
---
Barbera Bosma is a work-hard, play-hard epicurean, writer, traveler, storyteller, and managing editor of National Geographic Traveler Netherlands since September 2018.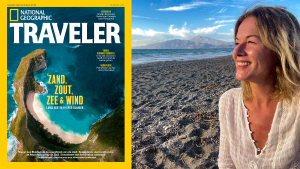 Hometown: Utrecht, The Netherlands
Tell us about a favorite project at Nat Geo:
Last year, after a few postponements because of the pandemic and not being able to meet in person, we launched our National Geographic Masterclasses, one on Travel Journalism and one on Photography. I was responsible for the Travel Journalism classes, composing the curriculum, finding, hiring, and briefing the teachers, and teaching a couple of classes myself. The Masterclass is an extensive, 3-hour long offline course, totaling 8 classes, held in our publisher's building. Around 35 students applied to learn about every aspect of travel journalism, from the history of tourism and the need to write about destinations to storytelling (how to write a lede, an ending!), production, how to turn your travels and words into money-making endeavors and how to pitch your story to magazines. It was great to see the enthusiasm in both teachers (all successful and very experienced travel journalists) and students (ranging from 19 to 63 in age, with completely different backgrounds) and to discover that I really enjoy teaching and sharing knowledge myself. This fall, we'll host a new series of classes for Travel Journalism, Photography, and going forward these will be held twice a year.
Who is a woman that inspires you?
A few years ago, I came across the story of Anne-France Dautheville, a French woman who, at 28 years old, motored across the globe from 1972 to 1981. Dautheville wanted to change the course of her life. Even though she had a good job, and comfortable and stable life, on a trip to the south of France she discovered that traveling was the only thing that made her happy—she didn't want to live a life filled with mundane worries. She was discouraged greatly by everyone around her but decided to embark on her adventure anyway. First, she drove from Paris to Isfahan, Iran, and then on to Afghanistan and Pakistan. This was a time when women were just finding their freedom and independence, and the world hadn't been as traveled and documented as it is now. There was no Google Maps, no Airbnb, no 5G, and no easy way to find out what was happening in a country.
In 1973 she became the first woman to travel the world solo on a motorcycle. There had been women traveling before her of course, but they were 'exceptional women', as Dautheville explained (NY Times, 2016): 'I am a normal woman. I am not exceptional at all. I'm not especially courageous, I'm not especially strong … it was the first time an average person could do all these things.' And while everyone around her told her she would get raped, murdered, sold to a harem—she discovered something that no one had told her: 'The moment a woman traveling alone leaves Europe, she becomes something almost sacred, that she would be respected, that everyone would want to help and would strive to protect, and that I found out later. Being a woman opened many doors for me, everyone welcomed me with open arms because traveling alone they understood that I trusted people. And so it was.' (El Diario 2018)
The idea that she decided to just go, on her own, to explore the world, with an open mind, a need for adventure and freedom, and trusting all would go well—and looking so good while doing it—is incredibly inspiring to me.
How has being a woman shaped your work with Nat Geo?
I think that being a woman opens a lot of doors—once you're in. I've never felt any resistance or judgment or sexism in my place of work and at Nat Geo, I was received with open arms. Out in the world, however, it's a different thing. I travel a lot, often by myself and as a woman, that means you always have to be careful. I've never had anything bad happened to me, but yes, I've been followed, intimidatingly approached on streets and in bars (in most cases in European cities) and I have felt vulnerable and not able to be who I am in certain places. I've also had other women warn me about certain areas or walk with me in places they knew could be dangerous for women—which I thought was a great idea, strength in numbers. I believe (and have experienced) that most people are good and not out to rob or kill you, but the places I try to avoid are those where people that have nothing to lose outnumber the ones that do.
As far as the magazine goes, I think I don't necessarily focus more on women travelers or very consciously work more with women writers and photographers, but at the same time, it could very well be that more women and women's stories find their way into the magazine because I search them out a bit more. It's so cool and inspiring to see how more and more women claim their place in the world as guides, scientists, explorers, and adventurers, and for me to be able to give them a stage. But also: hospitality is very much a women's business—anywhere you are invited into a home, there's a woman running the place with stories to tell.
At the end of the day, what I want is to make an inspiring and inclusive travel magazine—with the best people, be they women, men, or anything in between—that speaks to everyone. If anything, I hope the magazine is as inspiring to women as it is to men.
Tell us something about you that might surprise us.
My dream is to go to the moon one day. I have always been fascinated by the moon and the universe, but becoming an astronaut was never an option—my math skills are nonexistent. Perhaps there will be opportunities to go as a space tourist or space travel journalist in the future—although I would have to fight a long and hard inner struggle about what this will do to my carbon footprint.
---
Natia Khuluzauri has been editor-in-chief of the Georgian edition of National Geographic Magazine since 2017. She first set foot at headquarters in 2015, when she lived in Washington D.C. as a Carnegie research fellow. (And she met Yulia Boyle "under the stars," which refers to a popular Nat Geo HQ meeting location, learning some NG parlance.) She's currently working on a Ph.D. in science communication.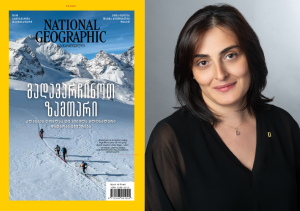 Hometown: Tbilisi, Georgia
Tell us about a favorite project at Nat Geo.
There are so many but four are special to me for their missions: Pristine Seas, Photo Ark, the Out of Eden Walk for the story of humanity, and Photo Camp for enabling children to step into the magic world of photography. From our local articles, I would name last year's Tusheti transhumance, which won the EU Prize for Journalism and was picked up by the flagship .com and several editions.
(Here is a recent story from NGM-Georgia about abandoned Soviet bunkers.)
Who is a woman that inspires you?
The Georgian novel Woman with a Kerchief is about a simple peasant who draws on her inner strength and dedication to raise her children and live a dignified life. The novel's last sentence reads: "Great people are lost without monuments." This woman is the face of all those amazing women we come across in our lives. Sometimes it's hard to notice them, but once we do, we admire them. After the collapse of the Soviet Union, we had several hard years with no running water, electricity, gas, or money. Women still managed to provide for and educate their children, in hopes of a better future for the next generation. These everyday heroic acts are incredible examples of strength and dedication. My mother is among them. At this moment, I also think of the Ukrainian mothers and women soldiers.
How has being a woman shaped your work with Nat Geo?
Being an editor of National Geographic is challenging regardless of gender. This yellow frame provides such a great spectrum of possibilities, but it also puts a huge responsibility on all who represent it. Being a woman often requires extra energy to be heard, and my work with Nat Geo requires other extras—a doubled sense of responsibility, extra attention to every detail—and then an overwhelming feeling of joy and happiness every time I hold a new issue in my hands. It is equally amazing to see the result of the uncompromising work of our team. I always want every new issue to be better than the previous one.
Tell us something about you that might surprise us.
I created a book about the ancient Georgian script when I was 8! It was published some years later and several schools even used it as a tool. A teacher had taught us Asomtavruli (the script). After I boasted that I could read the fresco inscriptions at a 12th-century church that summer, I managed to recognize only several letters. It made me sad, and when I got home from that trip, I took out a notebook, made a cover, and started writing. In later years, my mother showed it to one of my professors and they got my consent to publish the book. Only then did I understand it was a simple but original idea that came into a child's head and could help others to learn. I dedicated this little work to my first teacher. Another thing that might surprise you: I was a professional folk dancer!
Learn more about the unique opportunities they have for you to be part of a world-class institution, a strong global brand, and an organization with a rich history of scientific discovery and exploration.
by Disney Career Recruitment