Professional Intern Spotlight: Damien Jenkins – Talent Acquisition Marketing Account Management Intern
Meet Damien, a professional intern with Talent Acquisition Marketing supporting account management. In this role, Damien assists with marketing initiatives to support recruitment efforts for brands we know and love such as ESPN, Disney Studios, and even Disney Programs. As a recent college graduate, Damien brings different perspectives and ideas to the team he supports, especially as it pertains to attracting early talent. As he progresses through his internship, Damien hopes to grow within this role as a valued contributor to his team and build a supportive network to help him successfully navigate The Walt Disney Company.
What is your role, specific title, and how would you describe what you do to a friend or family member?
As an account management intern, I support many areas of the enterprise with their recruitment marketing efforts. Some areas I support are Disney Programs, Disney on the Yard, Corporate, Disney General Entertainment, ESPN, and Disney Studios. This is a client-facing role and I am responsible for assisting my team with project management by handling and passing assets between the client and our team as well as helping us meet project deadlines.
Working with Disney on the Yard specifically is rewarding because I get to be part of work and conversations that are important and highly visible at The Walt Disney Company right now. It is really exciting to actually contribute and see that my perspective is valued because I just graduated from a historically Black college and because I am new to Disney and see everything with fresh eyes.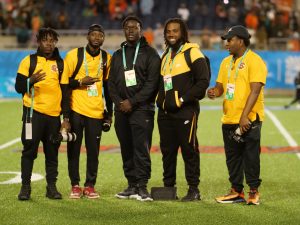 Why did you choose to pursue a career with Disney?
I wanted to work somewhere where my background and previous work experience would be honored – where I could use what I learned in college to contribute to a team and learn new things to expand my skill set. I also wanted to work somewhere where creativity is embraced.
How have you enjoyed your experience as a Disney Professional Intern?
Being a Disney professional intern has been awesome! I have learned a lot and met a lot of people, and I have come to find that the optimism and enthusiasm other employees have for their jobs creates a really good work environment. I feel comfortable, and I can see myself not just working for Disney but thriving here.
Something that surprised me about my internship was the reach and visibility of this role from very early on. Because of the businesses I support, I could be interacting with someone from my team in one meeting then someone from Pixar in another, and the span of job levels always surprises me as well. Working with the people who bring our favorite brands to life brings a sense of humanity to Disney. That person who works for Marvel or Pixar is a person and Disney employee just like me!
How did your college experience help you in your role today at Disney?
I went to Bethune-Cookman University and I feel that I was well prepared for professional work settings after graduating. My university was adamant about professional and business etiquette such as how to properly communicate via email, in meetings, and even in text messages. I learned all of this from my professors and classmates in a formal way but also just in how they carried and presented themselves. This was an asset for me when I came to Disney, I believe because it allowed me to focus on learning other things.
My hope is that my professionalism and the things I learned from Bethune-Cookman will allow me to help in keeping the door open for other people that look like me.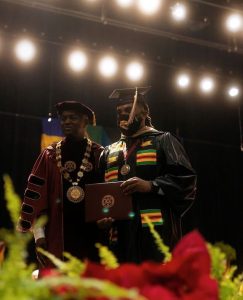 What do you want other HBCU students and alumni to know about Disney on the Yard?
I think HBCU students and alumni should know that Disney on the Yard makes a continuous effort to give us visibility and inclusivity to The Walt Disney Company. Our culture is remarkable and everyone involved in this program intentionally showcases that culture in the best way possible.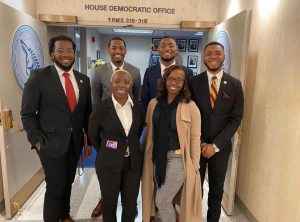 As a recent HBCU graduate, it's really rewarding and I feel very fortunate to support this work with the company. I get to be a part of conversations where my perspective is valued because of my experience and that is really great for me!
Learn more about Disney on the Yard and how they are dedicated to building a community for HBCU alumni working across The Walt Disney Company and providing meaningful opportunities for students.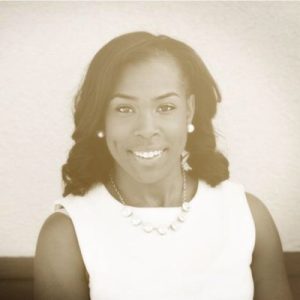 by Bethany C, Communications Specialist