Celebrating Administrative Professional Week
This week, The Walt Disney Company recognizes the incredible employees who – as administrative professionals – bring the magic to life across the Company! Their unique contributions are an integral part of the impact we make through the stories we tell and the experience we create. Join us as we celebrate all our amazing administrative cast and employees around the company.
To close out this special week, we talked to a few of our cast members and employees to learn more about what is it like to create magic behind the scenes in an administrative role at The Walt Disney Company.
Shawn McDaniel, Executive Assistant Corporate DE&I
Michelle Moreno Secretary Global Security, and Thirza Caldwell, Administrative Assistant Cast & Park Operations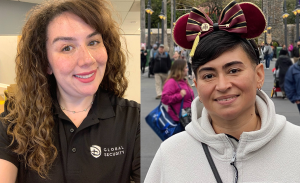 Left Photo: Michelle Moreno Right Photo: Thirza Caldwell
Why did you choose to work for Disney?
Michelle:
I've always loved Disney! Ever since I was little, I wanted to be part of this magical family. I wanted to help bring as much joy to others that Disney has brought to me.
Thirza:
I have always loved Disney since I was a child. Back in 2014, I had an opportunity to work as a temporary admin to an executive who was just beginning to build his team. After about a month, I knew that Disney was where I wanted to stay. The comradery between other admin partners, the work culture, and the values of the company are what really made me realize that Disney was going to be it for me. Unfortunately, I did leave the company in 2019 due to personal reasons but realized that I needed to come back. No other role was going to measure up and no other company was going to fulfill my career wants and needs the way that Disney could. So, in 2021, I returned to Disney as an admin assistant in Tech & Digital.
How do you feel you make an impact/magic in your role as an administrative assistant?
Michelle:
I support my teams so they can go forth and support our guests, cast members, and executives. I help to create a foundation so my teams can be set up for success.
Thirza:
Although admins are behind the scenes, we make it logistically possible for our leaders and teams to be where they need to be, to be able to do what they need to do, in the most efficient way possible. We are the ones that determine the "where" and "when" so that our leaders and teams can focus on the "how."
What's your favorite part of your role as an admin?
Michelle:
I like that there is so much variety. One day I can be at my desk all day and the next I'm supporting one of my leaders at Disneyland and the next I'm working with different teams to put together a special event. Every day is a new adventure with new challenges and new collaborators.
Thirza:
My favorite part of my role as an admin is working for an amazingly supportive team, and this extends to my admin partners across our organization. I work every day wanting to give my team the best of me because they deserve nothing but.
What projects have you worked on that you are most proud of?
Michelle:
I'm really proud of the work I do with the Bergs. I enjoy connecting with others in the Woman's Inclusion Network at Disneyland. Not only that, I love sharing my skills with the committee so we can work together to bring our special events, newsletters, and web pages to life.
Thirza:
Any project that involves recognizing our front line, guest-facing cast members. Disney knows how to do recognition and it always makes me proud when I can play a part in saying "thank you for all that you do for our guests".
What do you think it takes to be successful at Disney?
Michelle:
Flexibility, patience, and a curiosity.
Thirza:
To be successful at Disney, you must be open to change. Whether it's a change in role, in your team, or in your overall organization. At the end of the day, the end goal is the same, to bring magic to our guests. And you do that, no matter what your role is in the Walt Disney Company.
Jon Wilson, Senior Executive Assistant Disney Advertising Sales
Thank you for supporting the magic and making your own. Read more stories from our amazing administrative professional over at our LinkedIn page.
by Disney Career Recruitment