For Sports Fans by Sports Fans: Spotlight on Sierra, ESPN Production Coordinator
For Sierra Galanza, ESPN production coordinator, sports have always been a part of her life. Growing up in the Bay Area of San Francisco, California, her dad was a basketball coach for more than 20 years, and she herself played basketball and volleyball while also running track. However, after an injury and realizing she would not be pursuing a career as an athlete, she began to wonder what kind of career she wanted to pursue.
"In high school, I never really knew what I wanted to do. I wasn't sure what I wanted to focus on or major in at college," Sierra said. "I didn't know what my path was going to look like."
With this in mind, she considered the things she already knew she liked: sports and people. "I love connecting with people. It made sense for me to go into communications with an emphasis on sports because it was something that I truly felt connected to. It felt true to who I was."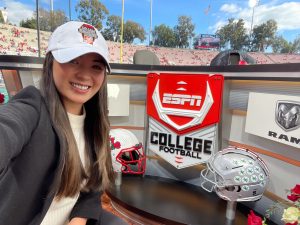 She moved east to attend the University of Tennessee Knoxville, and it was there she developed her next sports love – football. At the same time, she did indeed follow her passions and majored in journalism and electronic media with an emphasis on sports.
This pursuit and her expanding world of interests in sports led her to the Sports Journalism Institute (SJI) and launched what would become her career in sports media. "SJI is a program that promotes diversity and inclusion in the sports world. You apply for that program and they match you with an internship, and I got matched with ESPN! ESPN has really helped me get a better overall view of what you can do working in sports. There are so many different things you can do with the company."
"A lot of people can relate to this," Sierra continued, "but committing to an internship post-grad is scary. You don't know where it's going to lead if it's going to end with a full-time job, but I knew I wanted to gain ESPN experience, and at the very least, see how sports media was done at that network level."
Eventually, Sierra says it became a no-brainer to accept the internship, and she began working at ESPN soon after. As she started during baseball season, she found herself cutting baseball highlights for SportsCenter – but not for long. Her internship was cut short two weeks early because she had been accepted as a production assistant (PA) in the ESPN Next program, the company's recruitment and development program focused on building a workforce empowered to contribute creativity, diversity, and insight to content, culture, and business.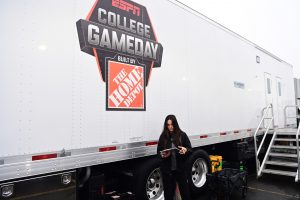 It was this move to the ESPN Next Program that brought her to covering the sport she was hoping to work with all along and would lead to yet another step in her career with ESPN. "When I started, I was cutting college football and NFL highlights for SportsCenter on my the weekends, and then my weekdays, I was working as a PA on NFL Live."
While in the ESPN Next Program, Sierra worked in roles such as content associate and production coordinator, all while focusing on producing football content for the NFL and college football. During this time, she was able to explore the company more, pick up stretch projects to develop and grow her skills, and take the time to think about what she wanted to do moving forward in her career. Thanks to the program, she was able to determine that based on her skills and careers goals, she was the best fit for the production coordinator (PC) role, and was able to apply to and be offered that role after her program.
"I would describe a PC as the middleman between production and everyone else," Sierra explained. "Let's say, for example, with the college football national championship trophy. The trophy may be on-air with ESPN for ten seconds. There are a huge amount of steps and a lot of people involved in order to make that ten seconds of television happen. And all those groups – whether it's marketing, the College Football Playoff Foundation, the actual trophy handler, studio producers and directors, all of those folks – funnel through the production coordinator team and management operations in order to create that moment on television. So, we're very much a group that connects all the pieces."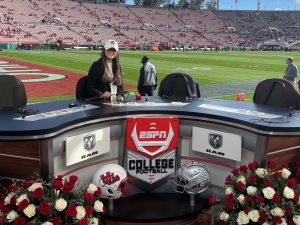 Sierra says her role involves a lot of problem-solving, planning, and teamwork – something all athletes and former athletes will understand. These skills especially come into play when coordinating larger show efforts like College Gameday, a show that Sierra worked on all season.
"We go to a new school each Saturday, every single week, and we don't decide where we're going until the week of," Sierra said. "Once we decide which campus or city we'll be in next, there are hotel contracts that have to be solidified, we have to book travel, we have to book guests on the show, we hire local help – there are all these things that go into creating the show, and my team and I put all those pieces together."
Throughout the college football season, Sierra had many highlights to put in her own reel, but her favorite moments came at the Army-Navy game and The Rose Bowl.
"The Army-Navy game was the first game I did solo as a production coordinator," Sierra said. "That was a really big moment for me because it was the first time that I had the confidence of like, 'Oh – I can do this and I am good at this and I can pull this off.' That was a pinch-me moment, for sure!"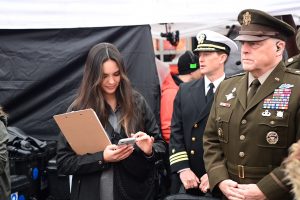 Growing up Californian, she understood the magnitude and importance of the Rose Bowl game. The game is usually played in Pasadena, CA. Many know it for the parade of flowers that occurs in the morning, but sports fans know it for being a game that can determine conference champions and who goes to the national championship.
"There's not a lot of production coordinators who can say they worked both the Army-Navy game and The Rose Bowl solo, and I mean, there are even members of my team who have never done The Rose Bowl before," Sierra said. "So, to be able to do that my first year was something I was particularly proud of."
For many a sports fan, working with College Gameday or ESPN, in general, would be a dream come true – and Sierra feels the same way. But when it comes to the best part of her job now that she is living that dream, she says it's seeing the end product come to life after working hard to meet deadlines and put everything together.
"There is a large number of things that need to get done to make the show come to life," Sierra said. "It's a three-hour show, which in the TV world is a really long time, and so to do a show that big is incredible. Knowing that I have a hand in making that magic happen is so rewarding because it makes the long day's work worth it."
"That feeling never gets old to me, even though I'm not touching the actual content of the show anymore. I'm still excited when I watch ESPN."
But the thing that Sierra values most about her work? "I don't think that a lot of people, in general, are fortunate like we are as Disney employees to be able to say that our work affects and touches millions of people around the world."
"That's something, when it's all said and done, that no matter how hard the day, it makes it work it and exciting. Working for this company truly is something magical."
Ready to join Sierra and the rest of the team at ESPN? Explore available roles and apply now at ESPNcareers.com!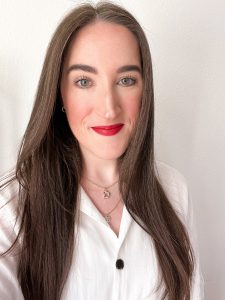 by Brianna G, Senior Communications Specialist