Wishes Do Come True: Celebrating World Wish Day at Walt Disney World Resort and Disneyland Resort
Since the wish that inspired the founding of Make-A-Wish® was granted, Disney and Make-A-Wish have worked together to make more than 145,000 wishes come true, including the very first official wish, which took place at Disneyland Resort. Wish kid alumni (i.e., former wish recipients) say that the wish marked a turning point for them in their treatment—giving them strength, joy, and a greater sense of hope for their future.
While these past few years have been challenging for everyone—wish granters included—we are so excited to share some exciting wish-granting announcements today with all of you!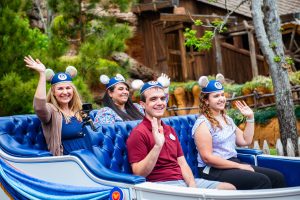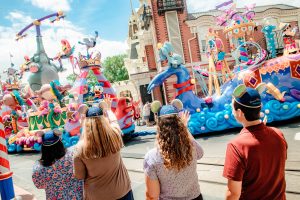 Walt Disney World Resort made magic for two wish alumni—now cast members—who were invited to take on the very special role of Grand Marshals during the Festival of Fantasy parade at Magic Kingdom Park. Guests enjoying the parade may have also noticed an EARidescent license plate on the iconic Grand Marshal vehicle—the Walt Disney World Resort specialty license plate benefiting Make-A-Wish of Central and Northern Florida, which recently soared above half a million dollars in total contributions (and counting). Yep, you read that right—more than half a million dollars raised so far to help make future wishes come true!
At Disneyland Resort, you will soon see the iconic blue Make-A-Wish shirts again as wish kids return to our park! We welcomed three wish kids to join us at the first-ever Disney Junior Fun Fest, a one-day event celebrating the entertaining and music-filled stories of the preschool television network's hit shows at Disney California Adventure park. Wish Kids Kemuel, Noah, and Levi were the guests of honor in the parade of beloved Disney Junior characters.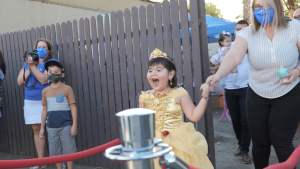 We all know the incredible power of wishes for kids facing critical illnesses—just like 6-year-old María's wish to be a princess. María's wish came true complete with a virtual royal visit, all in Spanish, from Princess Belle. These transformational wishes are more than just special moments in time. They can be life-changing and create an impact that stays with a wish child—and the millions of people who make them come true—for a lifetime.
These exciting milestones continue the powerful momentum of returning offerings across Disney parks and resorts. During the past two years, we've taken a very gradual, intentional approach to health and safety protocols. Recent trends and guidance have provided opportunities for us to bring back some of our most beloved magic, like wish-granting. While not all wishes can be granted immediately, we anticipate gradually ramping up our wish-granting efforts over the course of the coming months.
So, you see—wishes really do come true! Stay tuned for more magical wish-granting stories on the Disney Parks Blog. Check back every Friday to see more examples of how we're inspiring a better world through the power of stories, and visit our CSR website for a more comprehensive look at our social responsibility efforts.
by Disney Career Recruitment