Heroes Work Here: Disney Employees and Family Honored by Army Veteran
Ann Marie and her husband Ary have been a part of the Disney family for over 25 years. Recently, at a job fair at the Coronado Springs Resort, their son Nicholas, 18 who just got back from boot camp, was presented with two Challenge Coins from an Army Veteran and Disney Salute ambassador.
Jimmy, Army Veteran (right), and Matt, Disney Salute ambassador (left) with the Rosa Family at the job fair at Coronado Springs Resort.
Challenge Coins and military service go back a lot farther than our modern age. Historically, challenge coins were presented by unit commanders to recognize notable achievements by a unit member. Today, these coins can be seen used within and outside of the military, even with organizations having their versions.
The Walt Disney Company has an enduring tradition of support for those who enlist in the military, as well as their families and veterans, and that extends to challenge coins. These coins are part of the Company's efforts to embrace the traditions held dear by its security departments and other areas where military veterans have come to work after their service.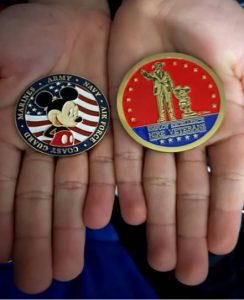 The two Challenge Coins that Nicholas was presented with.

These coins were presented to Nicholas as a sign of gratitude, welcoming him home and thanking him for his service. As early as 5th grade, Nicholas aspired to join the military. His grandfather, a Marine who fought in the Vietnam War, would share stories with Nicholas about the time he served, which was a big reason he wanted to join the Marines. He followed suit and started his career in high school as part of the United States Naval Sea Cadet Corps (USNSCC) and the Colorguard Commander and, after graduating, joined the Marines.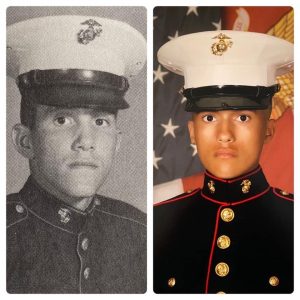 Photo of Nicholas and his grandfather in their Dress Blues.

Just returning home after being away for eight months to complete boot camp, Marine Combat Training Battalion (MCT), and Military Occupational Specialties (MOS), he is currently a Reservist at the local base in Orlando, working as a Small Arms Repair Technician until the fall when he will be starting his bachelor's degree in Homeland Security. To stay busy this summer, he will follow in his family's footsteps and join the Disney family as a part-time shallow-water lifeguard.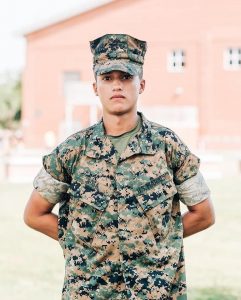 Nicholas in his Marine Corps Combat Utility Uniform.
Also, at the job fair, Ann Marie, her husband, and her other son were presented with Salute pins, which are given to cast members/employees and their families who have a strong connection with the Armed Forces. Ann Marie shared, "it is not just the person in the service, but the entire family. We must support them during their entire journey."
A big part of being a member of the Armed Forces is family; whether you are attached immediately by being a mother, father, or sibling or just being a supporter, they are an extension of you. They are Americans that are out there sacrificing their lives, fighting for freedom, and playing a significant role in what we have as Americans here in our country. So, Ann Marie encourages everyone to support them in any way that they can.
As a mom, Ann Marie said that "it was really hard to hear that my son wanted to go into the service, but you have to let your kids go on their own path. You have to give them the wings to fly and be there to support them."
After completing his bachelor's degree, Nicholas will continue his military career in order to follow his goal as an Active Marine Corps Officer.
For more information about Heroes Work Here, a company-wide initiative to hire, train and support returning veterans, visit https://heroesworkhere.thismomentone.com/.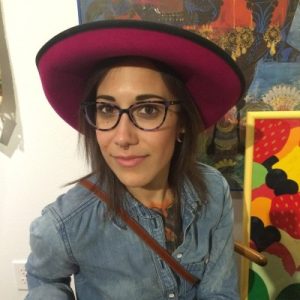 by Christine T, Digital Marketing Communications Specialist