Making the Dreams You Wish Come True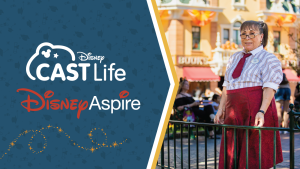 Since 1950, Disney's Cinderella has taught us that if we keep believing, our dreams will come true. And there's no better testament to a dream-come-true than the story of Fran Melendez, merchandise hostess at Disneyland Resort.
While earning a degree had always been a lifelong dream for Fran, she never thought it would become a reality at the age of 78—especially after previously dropping out of college. However, with some help from Disney Aspire, a program Fran calls "the best thing that ever happened to her," her lifelong dream came true.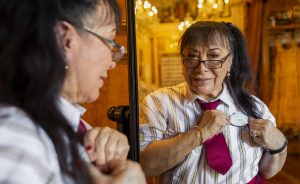 Fran was born in Orange County, CA, in 1944 and joined Disney in 2015 after a successful 34-year career with the US Postal Service. When Disney Aspire was announced, Fran knew it was the extra bit of magic she needed to hold of her dream yet again.
"I never thought I'd get my diploma, until the Aspire program," Fran said. "It really opened it all up for me, and it made me so happy. I wanted to try it; I wanted to get that piece of paper. I was really inspired to do it."
Fran had the dream, but the path didn't come without its challenges: she hadn't been a student for a very long time and was worried she wouldn't have the skills and abilities to succeed. However, through the extra support she received from Disney Aspire and her instructors, she successfully earned a B.A. in Liberal Studies from UMass Global—and finally got the piece of paper she'd been dreaming of.
" I'm so pleased Disney has offered me the opportunity. Who else would have offered me that?"
Fran even had the opportunity to put her unique story into her academics, writing a dissertation about her experience and the impact Disney has had on her putting her #DreamsWithinReach – a piece she calls "The Best Workplace in the World."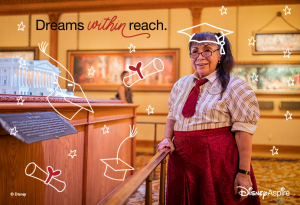 Check out Disney Aspire for more information. For more #DisneyCastLife stories, follow the Cast Life Blog.
Disney Aspire is the most comprehensive education investment program of its kind, offering 150+ programs at a network of educational institutions nationwide. As part of The Walt Disney Company's commitment to supporting its employees and cast members, Disney Aspire puts #DreamsWithinReach by removing key barriers to enrollment and inspiring career mobility.
by Disney Career Recruitment