Three Things: Inside Our New NHL Creative with Hockey Hall of Famer Mark Messier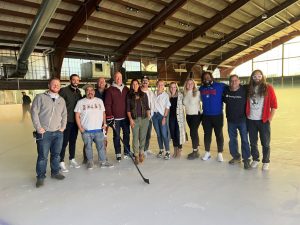 Lucas Ferraro, senior director, Sports Marketing, shares a behind-the-scenes look at the making of "That is Hockey," the creative marketing campaign for ESPN's second season back with the National Hockey League, and what it was like working with hockey legend Mark Messier.
To promote the start of the 2022-23 National Hockey League regular season, Lucas and the creative team worked with Hockey Hall of Famer and ESPN analyst Mark Messier as the "voice of hockey" to further establish ESPN and ESPN+ as the "home of hockey."   
Leaning into the rising young stars, future hall of famers and overall competitiveness of the game, the spot aims to illustrate that hockey is the best it's ever been and ever-evolving.
On how the concept for this season's anthem came together:

 Our key insight for this year's campaign was that today's hockey is more competitive with the closest games, most offense, and more young stars combined with future hall of fame veterans in recent memory – ultimately making it the most captivating it's ever been. Our creative agency, Fallon, along with our internal creative partners at Grande & Leonard, did a fantastic job of taking this insight to heart and delivering on an impactful campaign concept. The result was "That Is Hockey," which taps Mark Messier to deliver this powerful message and remind everyone that ESPN/ESPN+ is the premier destination for hockey fans.



On how the athletes and highlights featured in the spot were chosen:

 It was important for us to showcase a variety of star players to showcase the full extent of the incredible level of talent the League has on display today. From young stars and prolific goal scorers like Auston Matthews and Connor McDavid to a guaranteed future Hall of Famer in Alex Ovechkin to an incredible goaltender in Igor Shesterkin, and of course, the reigning Stanley Cup champion Colorado Avalanche, there is no shortage of amazing hockey on display in this piece.



On what it was like working with hockey legend and Hall of Famer Mark Messier and how he contributed to the project: 

Mark was amazing to work with from start to finish. The moment we presented this idea to him he was fully invested, to the extent that he was willing to review and workshop the script together. This ensured everything was represented in his authentic voice along with the leadership he has exemplified his entire career. It was a true honor to work hand in hand with such a legend of the sport, and his performance in the campaign undoubtedly elevates the work to new heights.
The season began in North America on Tuesday, October 11, with an opening night doubleheader Face-Off on ESPN and ESPN+ in a rematch of last year's Eastern Conference Final with the Tampa Bay Lightning visiting the New York Rangers at Madison Square Garden and the Los Angeles Kings hosting the Vegas Golden Knights at Crypto.com Arena.
by Disney Career Recruitment