Bringing Audiences Together: How The El Capitan Theatre and Broadway's The Lion King Expand Accessible Storytelling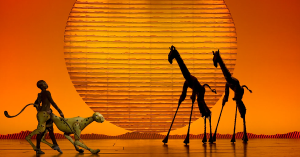 In celebration of Disability Pride Month, we went behind the curtain on some recent Disney initiatives that continue to explore ways to make our stories more accessible for everyone.
Disney Media & Entertainment Distribution (DMED) is collaborating with KultureCity, a leading nonprofit focused on sensory accessibility and acceptance, to offer sensory-inclusive movie screenings at Hollywood's historic The El Capitan Theatre. Leveraging KultureCity's expertise, The El Capitan Theatre is providing an inclusive moviegoing experience that can be safely enjoyed by audiences with sensory needs:
The experience starts before families leave their homes with a "social story" that informs attendees what to expect from the moment they arrive in the parking lot to the conclusion of the event.
At arrival, attendees are welcomed by trained staff into a judgment-free zone.
To reduce anxiety, the theatre features an expedited check-in process in a calming lobby with dimmed lighting, pre-made snacks, a mobile Sensory Station, and monitors turned off.
Audiences can enjoy the movie in a theatre with reduced capacity of only 100-200 attendees and, upon request, may receive a sensory bag with noise-canceling headphones, fidget toys, a feeling thermometer card, and more.
After a successful pilot in June with Disney and Pixar's Lightyear, sensory-friendly screenings returned in July with Marvel Studios' Thor: Love and Thunder at The El Capitan Theatre in Hollywood.
"Our goal is to ensure all audiences feel welcome at Disney's home on Hollywood Boulevard," said James Wood, VP and General Manager, The El Capitan Theatre. "We plan to show at least one sensory inclusive screening for all new releases at The El Capitan, to bring the magic of our movies to life in a way that promotes acceptance, understanding, and comfort for our guests."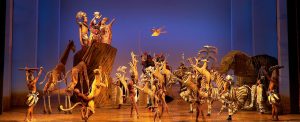 At Disney Theatrical Group, the team has also made improvements to increase accessibility in the ground-breaking production, The Lion King. For some time, DTG has provided the following for all of their Broadway productions:
Wheelchair accessible seating and companion seating at the lowest price points
Preferred seating for blind/low vision and deaf/hard of hearing guests
Scheduled open captions, ASL Interpreted, and sensory-friendly performances
On-demand assistive listening devices, closed captions, language translation, and audio description
In efforts to continue to improve the theatre-going experience for all guests, the team recently consulted focus groups and learnings from the field of disability artistry to elevate their audio descriptions for blind/low vision guests. In order to ensure that these guests were able to experience the same emotional journey through audio description as sighted guests do through the on-stage visuals, they interviewed all of the designers and choreography teams to craft a new audio description script with a licensed musical theatre audio describer. Talent from the show was then hired to record and bring the script to life. Audiences can enjoy a pre-show audio tour of the visuals as well as in-show descriptions.
In Show Audio Description Sample
Pre-Show Audio Description Sample
One of the best things about seeing a movie or theatre production is doing so with others, whether it be friends, family, or community members. By working to bridge accessibility gaps, we can enhance the experience for everyone, allowing more meaningful memories to be created together.
Photo Credits: (top) by Brinkhoff-Mogenburg; (center) by Joan Marcus
by Disney Career Recruitment