Disney LATAM Helps Build Sustainable Public Schools, Contributing to a World in Balance
Over the past several years, The Walt Disney Company Latin America (LATAM) has been supporting TAGMA, a civil association dedicated to developing innovative projects focused on education and sustainability, to help build a network of sustainable public schools in Latin America. Disney first helped to support the creation of a school in Argentina in 2018, followed by schools in Chile in 2020 and Colombia in 2021. These schools incorporate sustainability practices into construction and curriculum and inspire communities to develop greater balance with the natural environment.
Building a World in Balance
These innovative and sustainable schools are typically constructed with approximately 60% recycled materials such as tires, plastic and glass bottles, aluminum cans, and cardboard, among others. Additional construction practices are applied to make greater use of renewable energy and establish self-sufficiency in generating electricity, heat, running water, and organic food.
The model for these schools also includes the creation of open areas that provide native vegetation to support the ecosystem around them.
Promoting Educational Practices for Environmental Care
Sustainability practices are also integrated into the educational curriculum, focused on teaching fundamental principles of sustainability, including water harvesting, water treatment, renewable energy, waste management, food production, passive thermal conditioning, and human sustainability. When not in use, these schools often also serve as community centers to educate and engage the surrounding community on sustainability.
"As part of The Walt Disney Company Latin America, I'm very proud of being part of this educational and innovative initiative, which is aligned with our daily work to ensure that the planet is in balance," says Belén Urbaneja, Director of Corporate Social Responsibility, Brand Management and Diversity, Equity and Inclusion, The Walt Disney Company Latin America. "We believe it is possible to create a better future, and we confirm this through these types of programs that care for the environment, its species, and ecosystems and by creating experiences to inspire our audiences to connect with nature and adopt sustainable habits."
While each school follows TAGMA's approach to sustainable construction, the local economic, social, and political context also impacts the application of sustainability in both the curriculum and communities. In Uruguay, for example, a food sovereignty program was developed to connect classrooms to the journey of the seed from the vegetable patch to the kitchen, while the school in Chile is working with farm animals to support the learning of children with disabilities.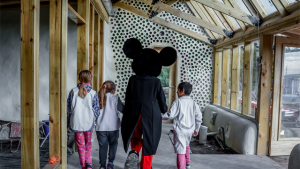 Learn more about TAGMA's efforts to regenerate ecosystems through environmental education by visiting its website.
Check back every month to see more examples of how we're inspiring a better world through the power of stories, and visit our new CSR website for a more comprehensive look at our social responsibility efforts.
by Disney Career Recruitment