Employees and Cast Members Create Magic for Athletes at Special Olympics USA Games
The 2022 Special Olympics USA Games Orlando took place at the ESPN Wide World of Sports Complex at Walt Disney World, where more than 5,500 athletes and coaches from all 50 states and the Caribbean came together for a week of competition, social inclusion, teamwork, sportsmanship, and fun. The Games also brought employees from across The Walt Disney Company together, to deliver magic and inspiration to athletes of all abilities.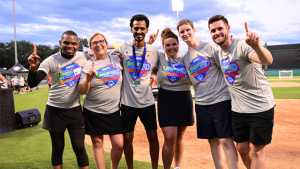 As part of the Games, both ABC and ESPN's networks and platforms served as the homes for coverage of the 2022 Special Olympics USA Games, as ESPN is not only the global broadcast partner for all Special Olympics World Games and USA Games but the global presenting sponsor of Special Olympics Unified Sports. Dedicated to promoting social inclusion through shared sports training and competition, Special Olympics Unified Sports brings people with and without intellectual disabilities together to play, train and compete.
In an effort to ensure athletes, coaches, families, and fans had a magical week of having fun, Walt Disney World employees volunteered their time at both the Games and throughout the Theme Parks, where many members of the Special Olympics community met their favorite characters, watched shows and fireworks, experienced rides, and took part in Magic Kingdom's welcome parade. Thanks to these volunteers, Special Olympics athletes and their guests left Orlando with a lifetime of memories.
ESPN also hosted the second-ever ESPN Special Olympics Executive Unified Challenge, where Tina Thornton, Head of Content Operations and Creative Surround, competed on behalf of ESPN. Thirty-five Disney VoluntEARS, along with celebrity guests, also took part in the Challenge, and they were teamed up with Special Olympics athletes to compete in a multi-sport relay race that included soccer, basketball, and football challenges.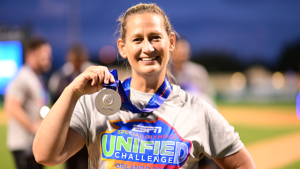 "Being a part of a Unified group was an incredible experience, and I was so proud to represent ESPN," said Thornton. "I was teamed with a Special Olympics Youth Ambassador named Evan who was a true competitor! For me, competing in the Unified Challenge allowed all of us to recognize, celebrate and demonstrate the power of inclusion, while also highlighting some of the best qualities of sports: teamwork, sportsmanship, and having fun."
The 2022 Special Olympics Fan Zone helped athletes, volunteers and fans have fun, relax and engage in new experiences. ESPN hosted a booth, which brought the heroic superpowers of Special Olympics athletes to life, by utilizing cutting-edge technology from the ESPN Edge team and artwork and IP from Marvel. This innovative experience paired each athlete's heroic qualities with the Super Heroes that possess out of this world powers. The result? Special Olympics athletes and visitors were able to show off their powers and pose with their favorite Marvel Avengers Super Heroes.
"Special Olympics means so much to me," said ESPN reporter Victoria Arlen, who covered the Games for ESPN. "As someone who has had to overcome challenges, I know firsthand the power of inclusion and celebrating what you can do versus what you cannot… Every day there is moment after moment of not only incredible athletic achievement but also athletes competing on a massive stage and defying the odds."
by Disney Career Recruitment