Bringing the May the 4th Celebration to Fans Who Need It Most
This year, Enterprise Social Responsibility, Lucasfilm, shopDisney, Disney Publishing Worldwide, and Disney Corporate Creative Resources joined forces on a special May the 4th delivery for patients in children's hospitals and other places of care. The deliveries include iconic products such as lightsabers and action figures, adaptive costumes designed for children in wheelchairs, activity packs, books, and more.
Since 2006, we've collaborated with Starlight Children's Foundation on a Disney Delivery program that reaches over 450 children's hospitals across the United States. Leveraging the power of our beloved brands and stories, each delivery includes toys, games, books, movies, and other special surprises to connect pediatric patients and caregivers with our beloved stories and characters and deliver joy when it's needed most.
To celebrate the fans and the delivery, Disney, Lucasfilm, Starlight, and VoluntEARS helped deliver the products to kids.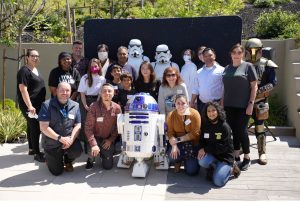 "I was motivated to volunteer to give back to families in a way that will hopefully contribute to some escapism and some delight and joy," said Craig Derrick, Executive Producer Lucasfilm. "To see the joy and the delight on everybody's faces brought forth by this day and by the fantasy of Star Wars is quite special. I feel very privileged and blessed to be a part of it in some small way."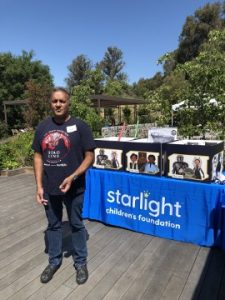 Disney Magic Maker and ER physician Dr. Sameer Bakhda also joined in to make the event special. Dr. Bakhda, a devoted Star Wars fan, was selected as one of the 50 amazing Disney Magic Makers for his efforts in helping to raise more than $100,000 for Starlight Children's Foundation.
"When you are a patient of any kind, but especially when you are a kid, so much of it is difficult to understand, and so just that touchpoint of something familiar, putting on a gown with R2D2 or Chewbacca, seeing something that is familiar takes a little bit of that stress and anxiety away from what is a scary time," says Dr. Bakhda. "Having something that is familiar and close to your heart really makes all the difference in the world. Whether it's Disney characters or Princesses or Star Wars, just having that ability to bring something that is familiar to kids in an unfamiliar environment makes a world of difference."
May the Force be with all those who have contributed to bring joy when it's needed the most.
Check back every Friday to see more examples of how Disney is inspiring a better world through the power of stories.
by Disney Career Recruitment