Culinary Program Alumni Spotlight: Alberto Womack, Duty Manager, Typhoon Lagoon Water Park
Meet Alberto, an alumni of the Disney Culinary Program who has surfed some awesome waves in his career at Walt Disney World® Resort! In his six years with Disney, Alberto has impacted parks, resorts, and now water parks by always keeping his cast and guest experience top of mind.
This incredible journey for Alberto started on his Culinary Program. Working at Sunshine Seasons at EPCOT, he says, was the best location for him. "At Sunshine Seasons you use multiple cooking techniques that you learn in culinary school. There was a grilling and roasting station, a garde marger (cold item and salad prep) station, an Asian wok station where lots of techniques and skills are used, and a bakery. Every single skill I learned in culinary school, I used and refined while working here," Alberto says.
Alberto also credits keen time management, attention to detail, and tidy, efficient food production skills to working in the open, guest-facing kitchen at Sunshine Seasons. Although much of his program involved back-of-house work, Alberto says he also learned a lot of interpersonal skills in this role, especially working with guest and cast who spoke different languages.
After completing his Culinary Program, Alberto recalls a conversation with his leaders where he explained he was ready for the next step in his career. He was looking for something that encompassed his culinary background but also allowed him to be creative and work more closely with guests. "I knew that was what I wanted to do, so I was going to find a way to make it happen," Alberto says.
After a few years of building relationships, challenging himself professionally, and taking on different roles to expand his skillset, Alberto found himself in a role that allowed him to fulfill those dreams.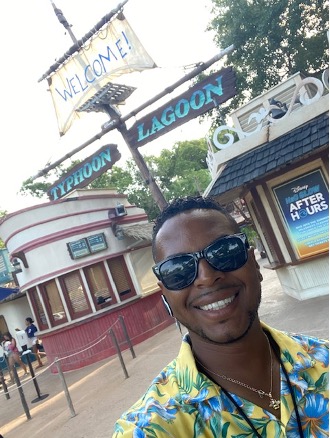 "I was given a permanent role as a full-time leader at the water parks where I'm now able to dive into different areas I've never thought I'd be able to do! I work side-by-side with chefs on menus, modification requests, and item sourcing to create our guest offerings. It's great partnership because I understand food safety and the level of service and what is expected from a Disney chef from serving in that role before," he says.
In his new role as a duty manager at Disney's Typhoon Lagoon Water Park, Alberto is responsible for maintaining a safe, enjoyable atmosphere and experiences for guests who visit. Alberto has also played a vital role in creating uniquely Disney offerings such as creatively themed food and beverage menu items – even some of the items you will find at the H2O Glow After Hours event!
Something Alberto emphasizes from his career journey is that things don't happen overnight. He explains that he had to build the trust of many people around him before being given the opportunity to add new items to a menu. "I knew my talents and what I had to offer. I always applied feedback from my leaders and peers and kept sharing my ideas with them. Now I have developed and featured over 30 menu items at the water parks and five novelty souvenir cups," Alberto explains.
In addition to his day job, Alberto is also a Programs Champion for the water parks. "I wanted to be a Programs Champion to share all that Disney has done for me, to share what's possible for participants, and to be a listening ear for them," Alberto explains. In May, Alberto shared a proud moment with some of his participants amidst preparations for the return of H2O Glow After Hours. Knowing that Alberto is a Disney Programs alumni helped them realize where a program can take you and the contributions you can make to Disney!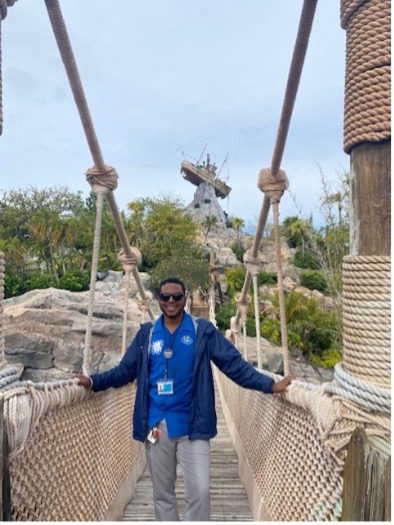 When thinking of current participants, Alberto says "I always try to reassure participants that right now you may be working as a park greeter or in food and beverage, but you can still find a path to your Disney dream job! I want them to always think about what they want to do and how their current role or location can lend to a future role. There's so much value to gain from each shift on your program!"
If you are on a program or thinking of applying for a Disney Program, Alberto encourages you to be open and stay motivated! You never know what opportunity you may find yourself in!
Ready to start your Disney Programs journey? Visit DisneyPrograms.com to learn more about our offerings. You can even apply to the Disney Culinary Program right now!