Participant Spotlight: Culinary participants deck the halls of the Grand Floridian Gingerbread House
'Tis the season for presents, caroling and giant gingerbread houses! Two Disney Culinary participants had the sweet opportunity to work on the iconic gingerbread house at Disney's Grand Floridian Resort and Spa.
Ellis Gardiner and Madelyn Valenzuela first met their freshman year of college, in their very first lab class. They have been friends ever since, even studying abroad together!
The two friends decided to apply for the Disney Culinary Program together, and were surprised and excited to end up working in the same location – the bakery at Disney's Grand Floridian Resort and Spa. Ellis says that one of their favorite parts of their Culinary Program has been cycling through the various stations: "I like doing everything with culinary, so it's kind of hard to narrow down what I like to do, so it was nice to work in a place where they put you on every station so you can see what kinds of things you like, what you're good at and learn everything."
One of the opportunities Ellis and Madelyn have had during their program was to work on the gingerbread house that is constructed each holiday season in the lobby of Disney's Grand Floridian Resort and Spa.
Madelyn worked on the two walls at the front of the gingerbread house, where guests can purchase delicious treats such as cookies, yule logs and more, as well as on the flooring that the decorations stand on. "I am quite proud of my wall," says Madelyn, "because when building the wall, if not done properly, the gingerbread could start falling and then drop to the floor." The wall was Madelyn's favorite part of the house to work on, saying, "It was really interesting to see the house completely bare, and then to have all the gingerbread on it. It was a really proud moment when it was all complete and done."
Ellis worked on the shingles of the house, spreading chocolate on them and helping to put the house together. Ellis says that they were nervous since it was their first time working on the gingerbread house, but they were partnered with another cast member who showed them where everything goes. Ellis's favorite facts about the gingerbread house are that the gingerbread is recycled as food for bees after the holidays, and the sheer amount of ingredients that go into creating this larger-than-life display. "A lot of people don't realize just how much that really is," explains Ellis. "When you see it all being made, it takes months to make all of the pieces and get enough made to put up on the house."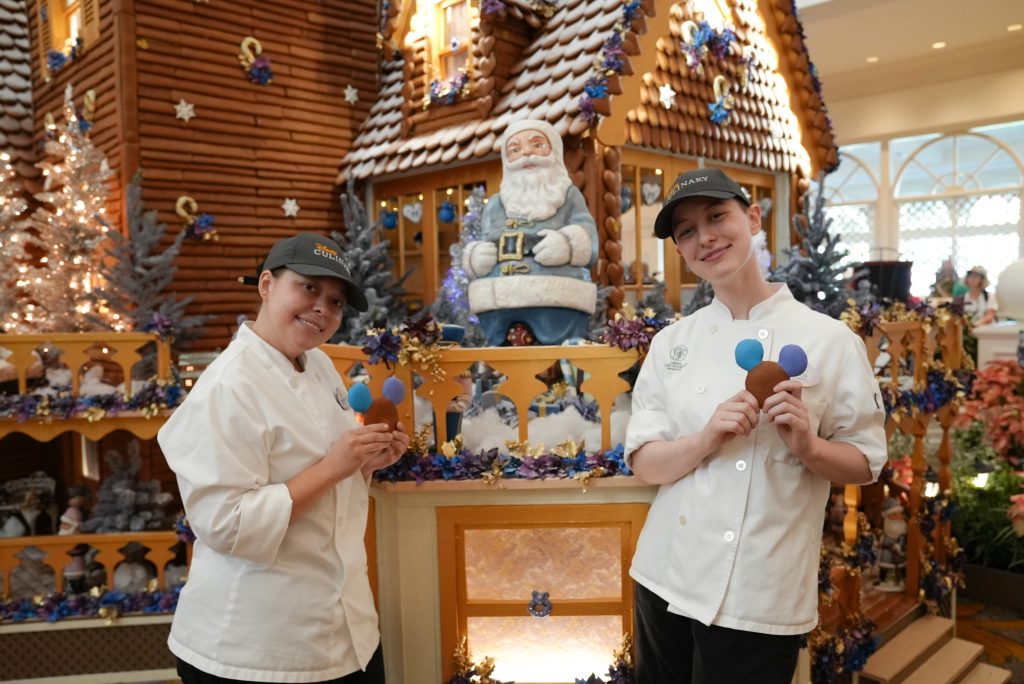 Both Ellis and Madelyn have enjoyed the many opportunities they have been able to take part in through the Disney Culinary Program. Madelyn states that the number and variety of activities has been a highlight of her program. "One thing that is special about the Disney Culinary Program is that there are so many opportunities to network, to see behind the scenes how attractions and the kitchens work, and all the activities that are available to sign up for," says Madelyn. "I could make Mickey ears, play BINGO, go on trips to the aquarium and more."
Ellis agrees that the events have been one of their favorite parts of their program. "Disney Programs hosts a lot of talks with chefs from different locations, and even going to the Flavor Lab." Visiting the Flavor Lab has been Ellis's favorite activity: "We got to go in and look at the kitchen, they told us their process for setting up restaurants and developing the menus, and we got to try some food and talk to the chefs for a really long time pretty casually."
As they look to the future, both Ellis and Madelyn plan to stay with the company. Madelyn recently completed her program, and has moved into a full-time role at Disney's Yacht and Beach Club Resort. Ellis will also be going full-time after their program, and will continue to work in the bakery at Disney's Grand Floridian Resort and Spa.
Madelyn's advice to anyone considering doing the Disney Culinary Program is to talk to Culinary Program alumni and ask what they thought about the program and to share their insight. "This program is definitely a life-changing opportunity and it can open a lot of doors for an individual," states Madelyn.
Ellis, who is originally from Alaska, points out the ease of moving to Florida for a Disney Program, even if you are traveling a great distance. "Disney sets up a lot for people, like housing and transportation; being able to figure out where your location is and getting everything set up for you. I think it really helps, because a lot of people come from far away," says Ellis. "I don't live anywhere near Florida, so for me, having help with getting that set up made it a lot easier."
Ellis and Madelyn's favorite facts:
It takes a team three months to create the gingerbread shingles used to decorate the house.
The chocolate Santa weighs 88 pounds and is hand-painted. The nutcrackers and snowmen are also hand-painted!
Before working on building the house, they had to take a safety class to use construction equipment to reach the tallest spots on the house. The gingerbread house is close in size to a two-story house!
It takes 700 pounds of dark chocolate, 1,050 pounds of honey, 800 pounds of flour, 140 pints of egg whites, 600 pounds of powdered sugar and 35 pounds of spices to create the gingerbread house.
The gingerbread is glued onto the house with royal icing, made out of powdered sugar, pasteurized egg whites and cream of tartar.
There are 23 hidden Mickeys on the gingerbread house – try to find them all!
Want to make your very own gingerbread creation? Check out the official recipe on the Disney Parks Blog. Visit DisneyPrograms.com to learn more about the Disney Culinary Program.