Celebrate Women's History Month at Disney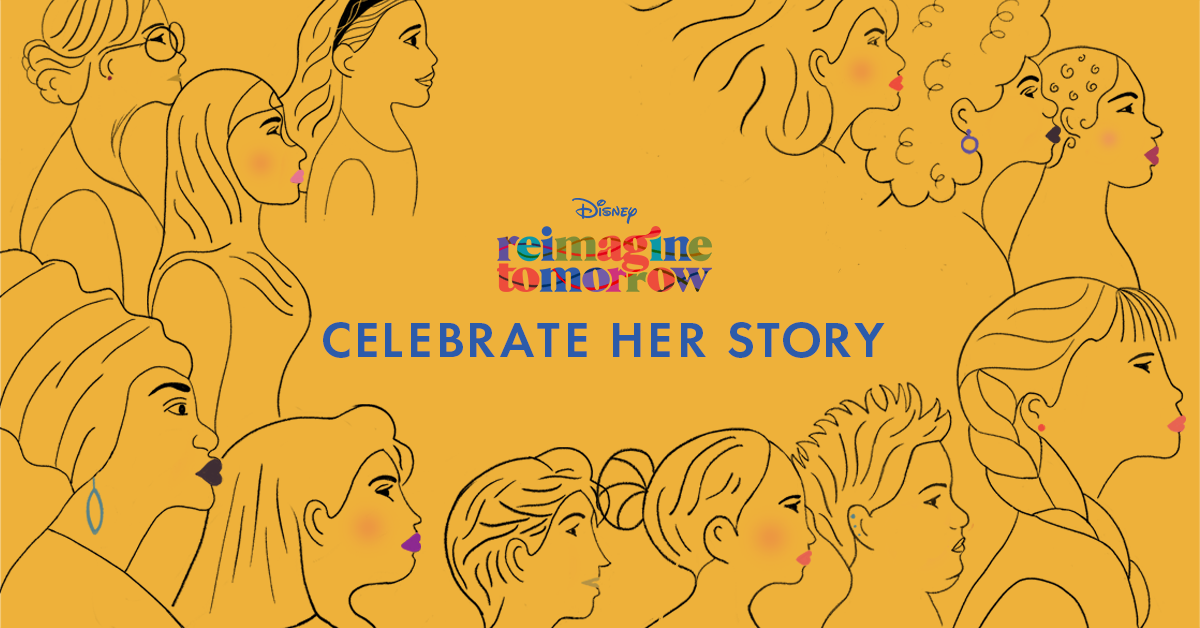 March kicks off Women's History Month, and at Disney, we're taking the time to uplift women and their stories. From our employees to our consumers and fans, our celebration will highlight women all around the globe.
We're celebrating women's stories through the power of our unparalleled storytelling, iconic brands, creative minds, and innovative technologies.
"Both the young and the young at heart have always been inspired by the stories we tell," shares Jill Estorino, President and Managing Director at Disney Parks International. "However, now and in the future, with a concerted commitment to diverse storytelling, I believe that every child will be able to see themselves and their families in our stories—really see themselves and also be seen. The impact that diverse storytelling has on a person's confidence is profound and I am very proud of the work we are doing to drive this forward."
"We are already seeing the impact of newer stories such as Encanto and Coco on younger kids," adds Aashini Shah, Vice President of Finance and Business Planning at Disney. "I know this is only the beginning and I hope to continue to see more diverse representation across all content and not just a few titles a year. I hope this content continues to inspire and empower younger generations."
At Disney, we continue to innovate and create content that is inspiring, authentic, and inclusive. We've also made progress to enhance our workforce diversity over the last two years, with women representing more than 50 percent of our global workforce and 43 percent of our executive population. Learn more about our workforce data on the Vision page of ReimagineTomorrow.Disney.com.
There are numerous ways to celebrate Women's History Month and International Women's Day (March 8) throughout March and beyond:
Disney+ brings female-first and female-led narratives to the forefront by spotlighting female trailblazers and role models both on- and off-screen through Celebrate HER Stories, featuring titles such as Turning the Tables with Robin Roberts (Season 2); Restaurants at the End of the World; Doogie Kamealoha, M.D. (Season 2); and Prom Pact.
Celebrate International Women's Day on March 8 with a marathon of Marvel's Moon Girl and Devil Dinosaur on Disney Channel, or a curated day on Freeform with the leading ladies of The Simpsons, followed by A Star Is Born (2018), I Feel Pretty, the loveable women of The Office, and a new episode of grown-ish.
Celebrate the phenomenal Women of Marvel with a new issue releasing March 9. From seasoned veterans to up-and-coming talent, this cast of writers and artists gives their own spin on beloved heroines, showing the fire, mystery, grace, and joy that makes them phenomenal women.
Check out women-led stories all month long on National Geographic channels, including Lost Treasures of Rome: Women of Pompeii and Lost Treasures of Egypt: Four Queens, and more.
Turn up the volume with the Disney Girl Power playlist, created by Disney Music Group, wherever you stream music.
ABC News will highlight inspirational female leaders and women-owned businesses throughout the month across several programs such as The View, ABC News Live, and Deals & Steals with Tory Johnson.
ABC Owned Television stations will honor the month through Our America: Women on a Roll, which highlights diverse women and girls who are making a difference in their neighborhoods by uplifting and defining skate culture.
ESPN will celebrate the breadth and depth of diverse female athletes and female-led stories with a Women's History Month collection on ESPN+ and content aired on ESPN networks.
If you're visiting Disney Parks, you can find new topiaries featuring Tiana and Encanto at Epcot, as well as a Minnie Mouse flowerbed at Disneyland Park. Plus, Downtown Disney will showcase all-woman bands and Disney Springs Art Walk will feature female artists. Be sure to check the Disney Parks Blog for a Foodie Guide featuring dishes by female chefs.
Learn more about the stories of talented employees across Disney and its iconic brands through features and stories on your favorite branded social media channels.
We are all greater than a single story and we all deserve to feel seen, heard and understood, not only during heritage months, but year-round.
More surprises from your favorite Disney brands will be shared throughout the month, and be sure to follow @ReimagineTomorrow on Facebook, Instagram, and Twitter to share ways you plan to celebrate the month.