Honoring Native Voices with The Walt Disney Company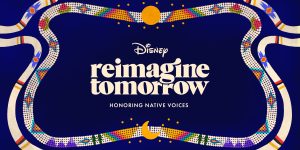 Native American Heritage Month celebrates the contributions of the diverse and intersectional Native American and Alaska Native communities to U.S. history and culture.
Through transformative storytelling and a focused approach, Disney is uniquely positioned to honor the diversity of Native American and Indigenous communities and increase the visibility of Native American and Indigenous leaders, employees, talent, and creators.
"For too long the voices and images of Indigenous people have been erased, misappropriated, or disrespected, so I am so thrilled to hear and see all of the folks who will lift us up and remind us of all of our beauty and the importance of listening to each other as fellow human beings," shared Rey Rodriguez, Assistant General Counsel and Executive Champion of Disney's Native American Business Employee Resource Group (BERG).
By Honoring Native Voices, we can increase visibility promote allyship, and deepen our culture of belonging by building culture competency among leaders and employees.
"I am looking forward to sharing and highlighting Native American cultures with the theme of Honoring Native Voices and focusing on The Creators, The Leaders, and The Wisdomkeepers," shared Dawn Jackson, manager of audience management and leader of Disney's Native American BERG.
There are numerous ways our audiences can celebrate Native American Heritage Month with Disney throughout the next month and beyond. Networks such as ABC News, ABC Owned Television Stations, and National Geographic will all spotlight voices from Native American and Indigenous communities.
At Disney, inclusion is for everyone. Reimagine Tomorrow is our way of celebrating, highlighting and amplifying underrepresented and untold stories as well as championing the importance of accurate representation in media and entertainment. We are all greater than a single story and we all deserve to feel seen, heard, and understood, not only during heritage months but year-round.
"Many Native traditions view the world from the perspective of whether we are in balance – in balance with nature; in balance with ourselves; in balance with others; and in balance with the divine. Looking at people and things through this 'balance' approach is much less judgmental and more productive because there is nothing intrinsically wrong with the innate person," says Rey. "A reimagined tomorrow looks like one in which each of us, individually and collectively, becomes more in tune with these basic concepts. The work is to demystify the false narrative that we are each alone and instead tell a new story of interconnectedness, empathy, and compassion."
Keep an eye on your favorite Disney brands throughout the month for more surprises, and check out @ReimagineTomorrow on Facebook, Instagram, and Twitter to follow along in the celebration and share ways you plan to celebrate the month.
by Disney Career Recruitment