Celebrate Voces Unidas with The Walt Disney Company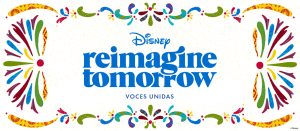 Voces Unidas celebrates the vibrancy of Hispanic and Latinx cultures, and honors the unity of the voices, communities, heritage, and traditions woven throughout Spanish- and Portuguese-speaking countries.​
From September 15 through October 15, during the anniversaries of the independence of many Latin American countries, The Walt Disney Company uplifts stories of Hispanic and Latinx cultures around the world.
Through transformative storytelling and a focused approach, Disney is uniquely positioned to honor the diversity of Hispanic and Latinx communities by amplifying the voices of leaders, employees, talent, and creators.​
In celebration of Voces Unidas, we will continue to support culture and unity by building programming to retain, develop, and advance equity for all Hispanic and Latinx talent and their allies across Disney. 
"There are so many incredible events, both in person and virtually, taking place throughout the celebration across our destinations that it's hard to narrow it down to just one," shares Javier Moreno, Senior Vice President of Disney Destinations Sales Solutions.
"I am excited to vocalize and share the rich and diverse stories within our own Latinx community. The cultural diversity within our identity is important to educate for our allies and familia," says Claudia Durón Burke, Career and Education Program Manager at The Walt Disney Company, and one of the leaders of the Voces Unidas celebration within Disney's Business Employee Resource Groups (BERGs).​
Disney encourages and fosters creativity, growth, equity, inclusivity, and diversity across the businesses, bringing awareness to and highlighting the multifaceted experiences, diverse backgrounds, and impactful contributions of Hispanic and Latinx people. 
"I am looking forward to bringing all the events and content to life, and seeing the reaction of many around The Walt Disney Company! I am looking forward to watching our heritage month planning team succeed and be filled with joy when they see their ideas come to life," adds Janneth Fuerte, Analytics & Insights Analyst at The Walt Disney Company, and another leader of the Voces Unidas celebration within the BERGs.
There are numerous ways our audiences can celebrate Voces Unidas with Disney throughout the next month and beyond. Here are just a few highlights:
Dedicated content hubs on our streaming services across the Disney Bundle – Disney+'s 

Hispanic & Latin American Stories

, Hulu's 

Hispanic & Latinx Stories

, and 

ESPN+Más

Inspirational specials and themed programming on our networks, such as our ABC Owned Television Stations' "Our America: Visibilidad," National Geographic Channel's "Latin America from Above: From Baja to Patagonia," and new episodes of "Ultra Violet & Black Scorpion" on Disney Channel
Tasty treats

highlighting the flavors of the Hispanic and Latin American cultures at both Walt Disney World Resort and Disneyland Resort
Disney Aspire, our education investment, and career development program, offers eligible hourly employees and cast members 100% tuition up front at a variety of in-network learning partners. Amongst those partners are several Hispanic Serving Institutions. HSI's are accredited degree-granting public or private, not-for-profit institutions of higher education with 25% or more total undergraduate full-time/equivalent Hispanic student enrollment. California State University, Fullerton, University of Arizona, Valencia College, Fullerton College, and the University of Central Florida are our in-network HSI's, helping to serve our employees and cast members put their #DreamsWithinReach.
At Disney, inclusion is for everyone. Reimagine Tomorrow is our way of celebrating, highlighting, and amplifying underrepresented and untold stories as well as championing the importance of accurate representation in media and entertainment. We are all greater than a single story and we all deserve to feel seen, heard, and understood, not only during heritage months but year-round.
"Reimagine tomorrow is an opportunity for all of us to make a change, to write a new story where we all belong. It requires determination, courage, being selfless, and having accountability for our acts. As leaders, we do have a significant responsibility on paving the way throughout this journey," shares Gisela Mendoza, Vice President of Linear Ad Operations.
"A reimagined tomorrow looks like a place where we can all continue to make a difference in the world. Where we can all feel seen, heard, understood, and where we can all continue to work together to bring joy and happiness to our families at home and around the globe," shared Janneth.
Keep an eye on your favorite Disney brands throughout the month for more surprises, and check out @ReimagineTomorrow on Facebook, Instagram, and Twitter to follow along in the celebration and share ways you plan to celebrate the month.
by Disney Career Recruitment