Celebrating a Milestone – ReimagineTomorrow.Disney.com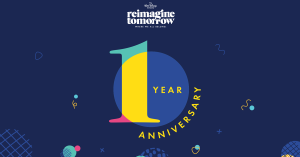 On September 1st, 2021, The Walt Disney Company launched its large-scale platform for amplifying underrepresented voices and untold stories, ReimagineTomorrow.Disney.com. The site features news and highlights, workforce diversity data, and inclusive storytelling across the company.
From spotlighting unique personal stories to introducing creative musical explorations of classic Disney songs, the Reimagine Tomorrow site invites everyone to see themselves and their perspectives represented in meaningful ways.
To mark the one-year anniversary of the site, we're adding more original content to celebrate the diversity of Disney. Something we're especially excited about it is the introduction of five musical artists as part of our Recital of Remixes page. This original music series presents up-and-coming, independent artists reimagining beloved Disney songs. Fans can look forward to discovering these new artists from various backgrounds and genres as they put their own unique spin on the classic "Go the Distance" from Disney's "Hercules,"(1997) now available to stream on Disney+. The new artists, to be announced during D23 Expo, will take part in special live performances at this year's D23 Expo. Stay tuned for their reimagined songs to be released via Walt Disney Records everywhere songs are streamed on September 9.
Nearly 100 years ago, Walt Disney set his company on a path that would revolutionize the entertainment industry, and the ReimagineTomorrow.Disney.com website is just one of the many ways we are sharing stories that reflect our ever-changing world.
by Disney Career Recruitment