ESPN Powers the First Black Sports Business Symposium
For sports fans not dreaming of hitting the court or playing on the field, working in sports media at ESPN is the ultimate dream.
This past June, ESPN was excited to encourage, support and even maybe make those dreams come true at the first-ever Black Sports Business Symposium powered by ESPN, an annual event that unites, cultivates, illuminates, and celebrates Black professionals and students in the sports business industry at all career levels. The symposium serves as the number-one destination for Black talent acquisition, engagement, and development within professional sports, spanning leagues, teams, agencies, and beyond.
Held in Atlanta, Georgia, at the Mercedes-Benz Stadium, this three-day event drew almost 2,000 attendees and consisted of numerous panels, sessions, speakers, and networking opportunities. Check out just some of these sessions on YouTube.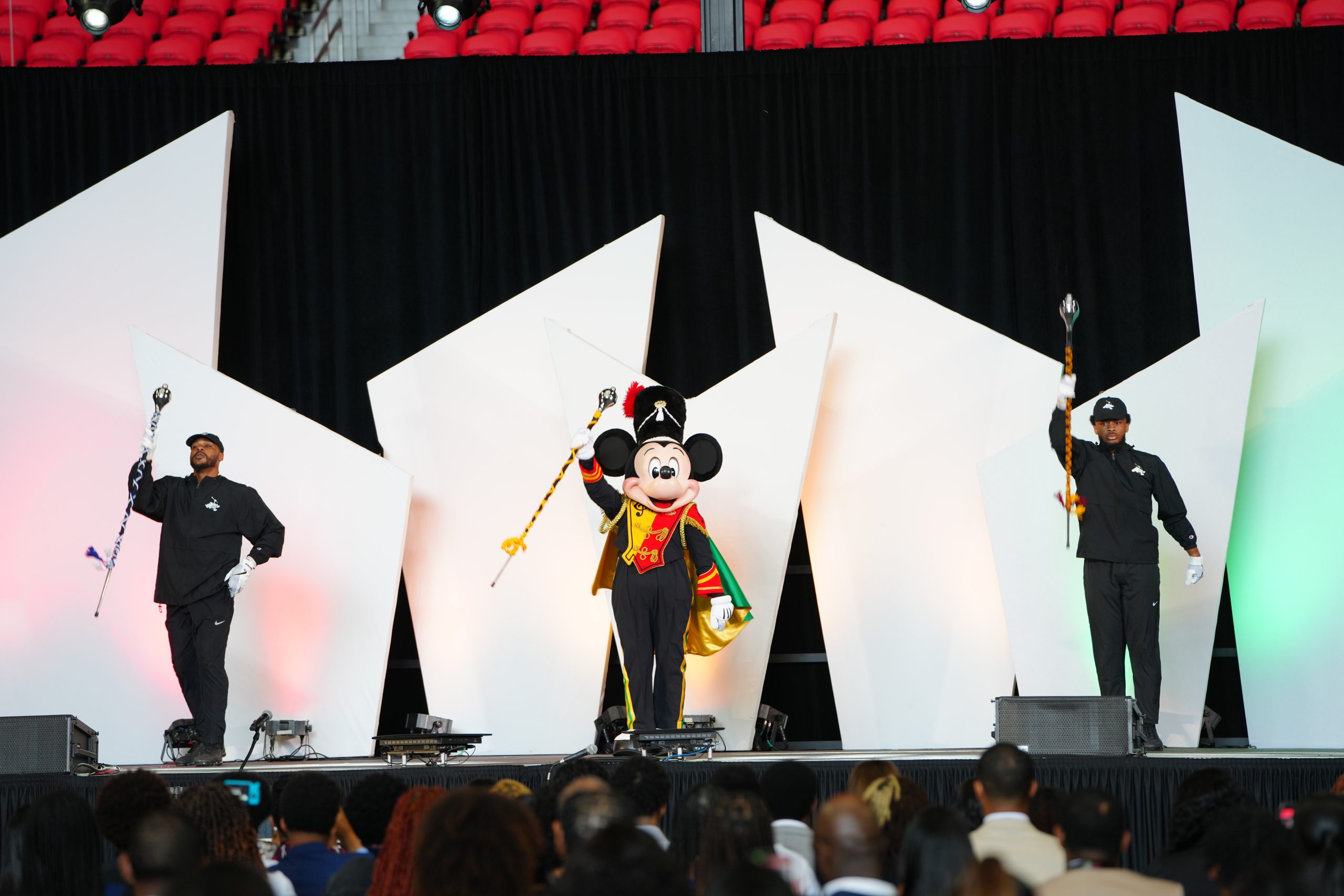 As a sponsor, ESPN had plenty of fun surprises in store for participants, including kicking things off on day one with a performance by Drum Major Mickey Mouse and drum majors from two Historically Black Colleges and Universities (HBCUs). Not only did this performance give everyone the energy they needed to start the day, but it was also a great way to introduce and showcase Disney on the Yard, Disney's commitment to the development of internships, mentorship programs, and career growth opportunities for HBCU graduates and Black talent at all levels.
Speaking of which, another highlight of day one was the HBCU Fireside Chat featuring Disney on the Yard. Hosted by Jay Harris of SportsCenter and including speakers John T. Grant, ESPN Executive Director – MEAC/SWAC Challenge Kickoff and Celebration Bowl, and Dayna Lee, Disney on the Yard outreach and engagement manager, this session provided its audience with an overview of Disney on the Yard, career advice from the panelists, and another appearance by Drum Major Mickey Mouse – including an opportunity to take photos with Mickey Mouse after!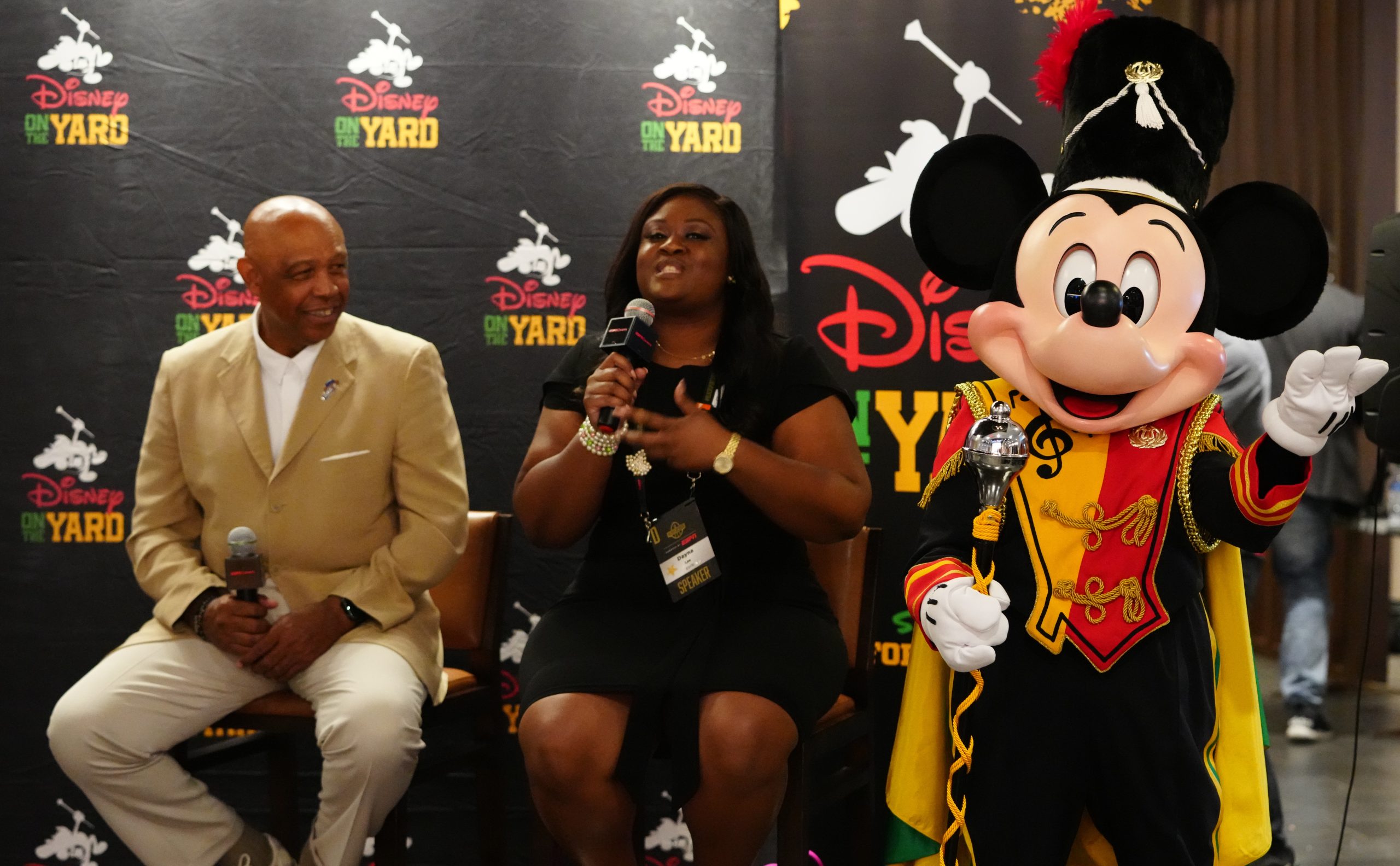 Closing out the day were two must-see events. First, two-time Super Bowl champion and head football coach at Jackson State University Deion "Coach Prime" Sanders headlined as the day's main speaker. Chatting with host Steve Wyche, NFL Network senior correspondent, from the stage set up on the Atlanta Falcon's playing field, Sanders spoke about the future of sports and empowering Black college athletics.
Second was one of the largest speed networking events! With hundreds of people in attendance, everyone was able to connect with up to 20 new professionals in just an hour. Talk about making your moment count!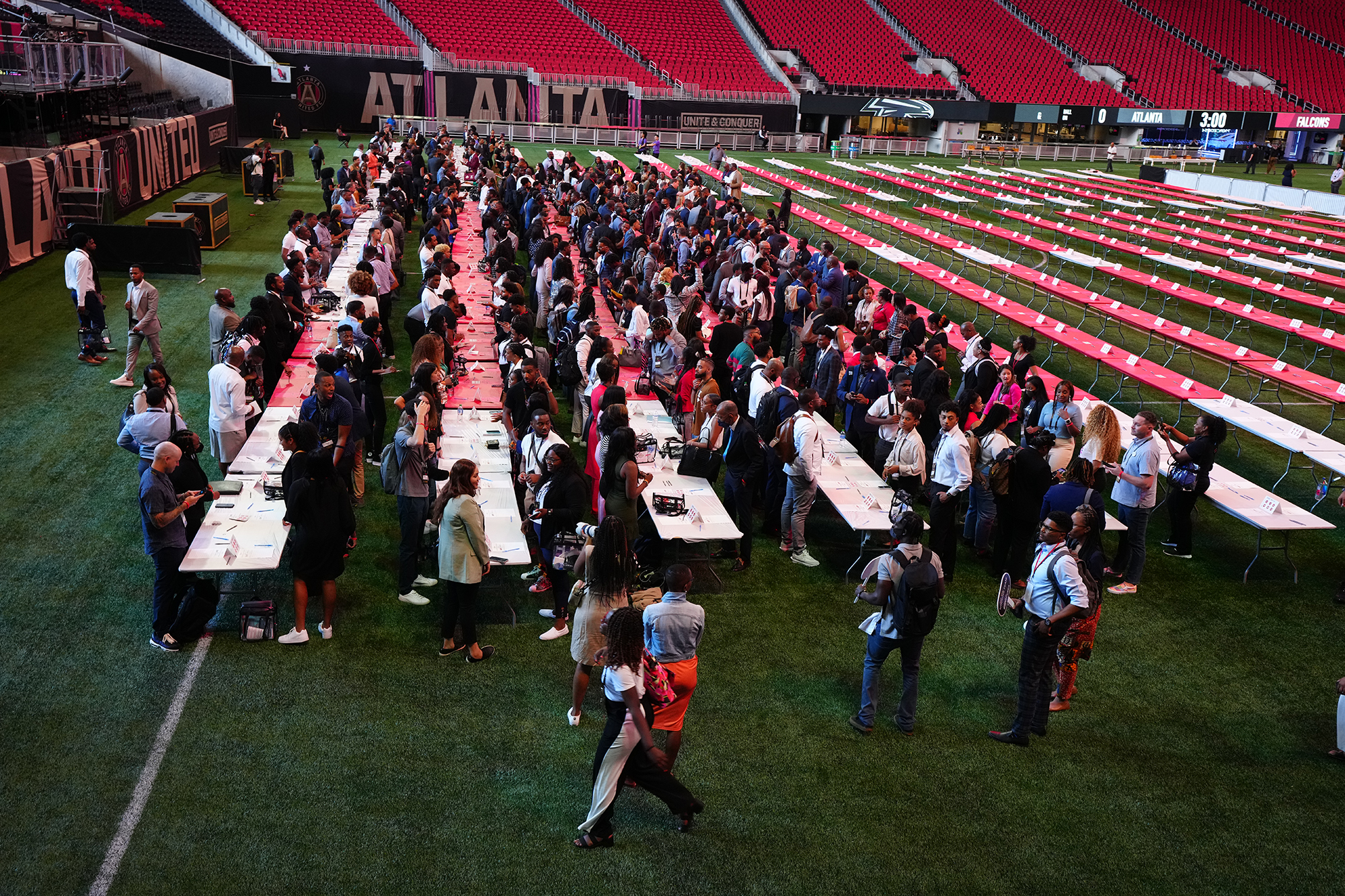 Day two and three were all about networking. Almost every single ESPN recruiter was in attendance and more than willing to speak with and help attendees. We saw many relationships begin and develop over these few days, and we can't wait to see where this seemingly small start takes everyone! Who knows – maybe we just found the next great SportsCenter host!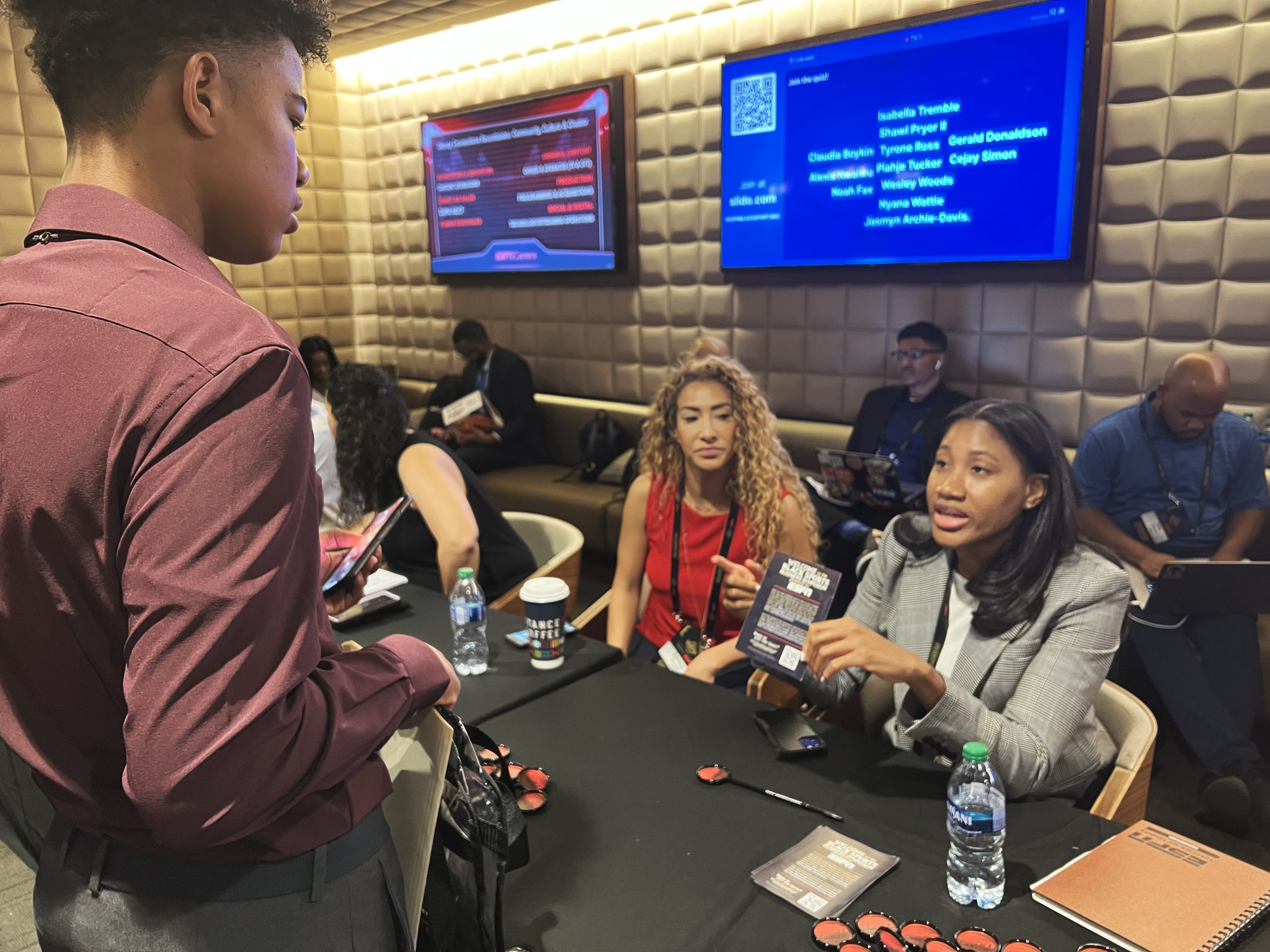 In addition to the many direct networking opportunities, there were almost endless amounts of speakers and panel topics to choose from, no matter your interest. From ESPN social media to celebrating 50 years of Title IX, professionals and students were able to hear from those with experience in their desired field and a shared passion for the sports industry.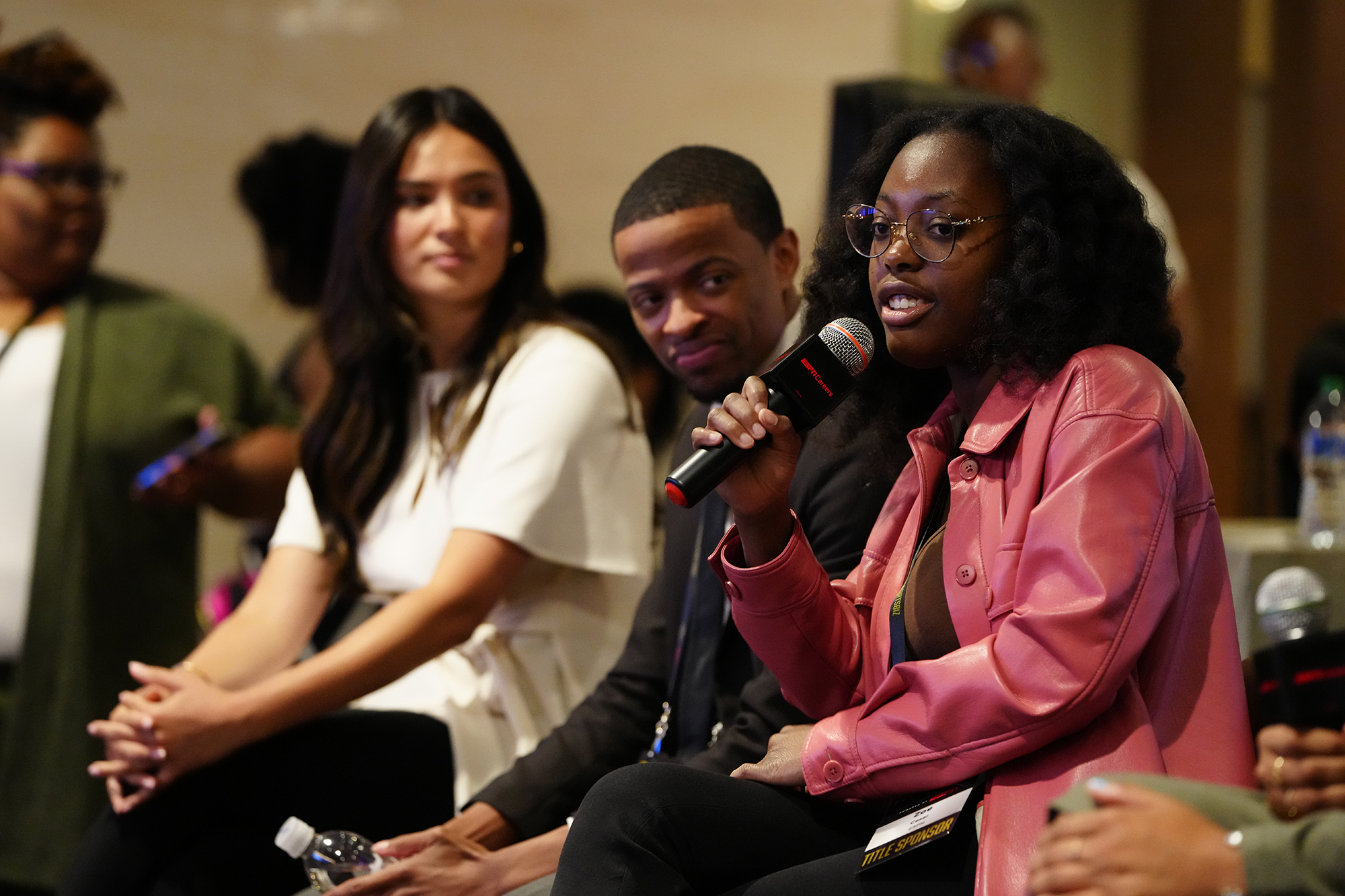 But wait – there was even more! ESPN photographers were there to provide new professional headshots for attendees, and those interested could even sign up for on-air talent auditions right at the symposium. ESPN Edge, a division of the sports business development and innovation team at ESPN, was also there to demonstrate how ESPN uses the latest technology to bring sports fans even closer to the action. Participants were able to see what it's like to be ringside at a bout or drafted as the number-one pick by their favorite NFL team through virtual reality (VR) and augmented reality (AR).


But the best thing about the Black Sports Business Symposium? ESPN will be able to hire attendees they met at the symposium to join the ESPN team and are currently in the hiring process! Even more were directed to apply to currently available roles for further discussion and interviews. We're so excited to welcome these new team members to ESPN and know this is just the start of a great career.
Of course, none of our recruiting activations could have been possible without our recruiting programming taskforce; here's a photo with some of the members of the team!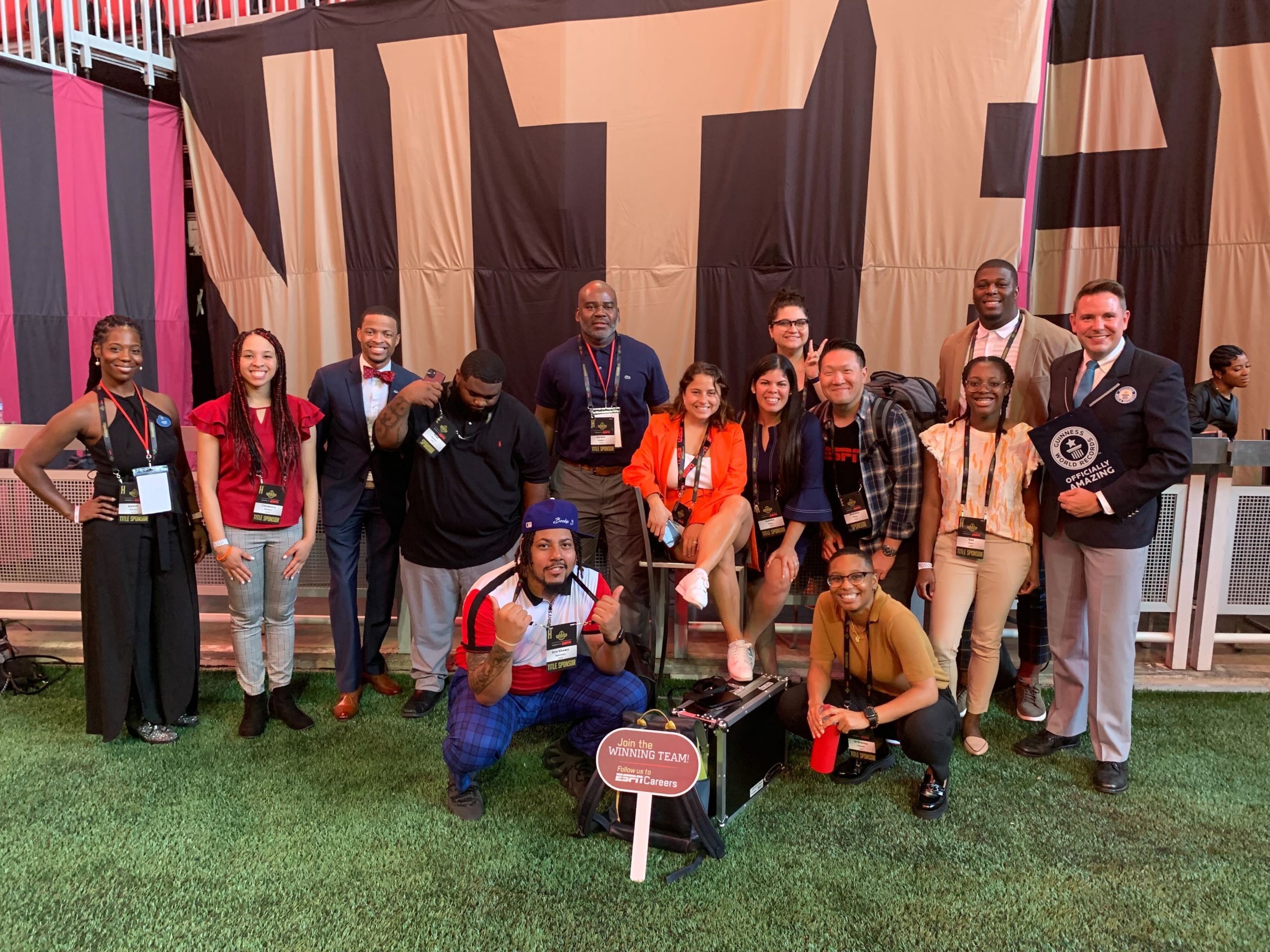 We want to give a big thank you and shout out to the following who were instrumental in putting this amazing event together:
Selvish Capers Jr., Sr. Talent Sourcer, ESPN
Andrew Johnson, Associate Account Executive, Disney Ad Sales
Domi Flores-Wong, Content Curator, Disney Vacation Club
Zoe Cesar, Sr Data Engineer, Disney Technology
Daphne Goujon, Guest Services, Disney Store
Crystal Gentry, Managing Post Producer, ESPN
Dayana Falcon, Talent Mobility Manager, ESPN
Cleopatra Shabazz, Associate Producer I, ESPN
Brianna Williams, Associate Editor, ESPN
Brandon Wong, Supervisor Production Operations, Disney Streaming
Te'Drenna Coleman, Creative Coordinator, ESPN
One of the crew members, Selvish Capers Jr., said it best: "Words can't fully express my excitement, and fulfillment while being at the Black Sports Business Symposium this past week. This event is a game changer for the industry, but more importantly, for the community."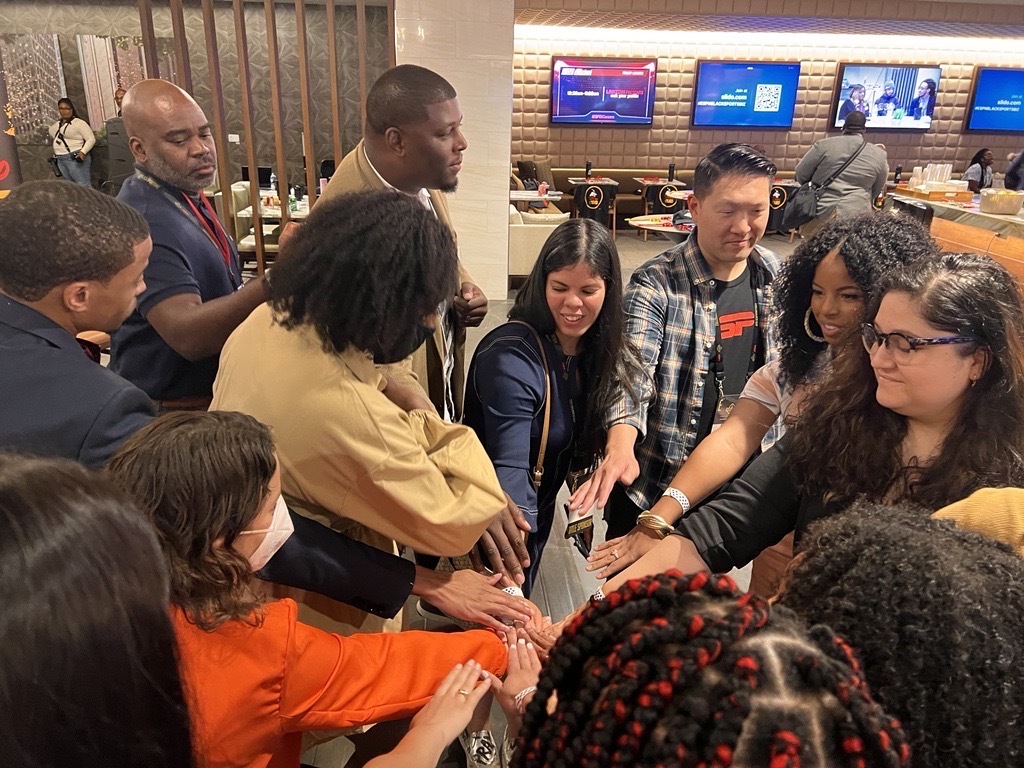 Weren't able to attend but looking to join our winning team? Explore available roles and apply today at ESPNCareers.com!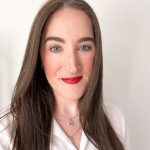 by Brianna G., Senior Communications Specialist